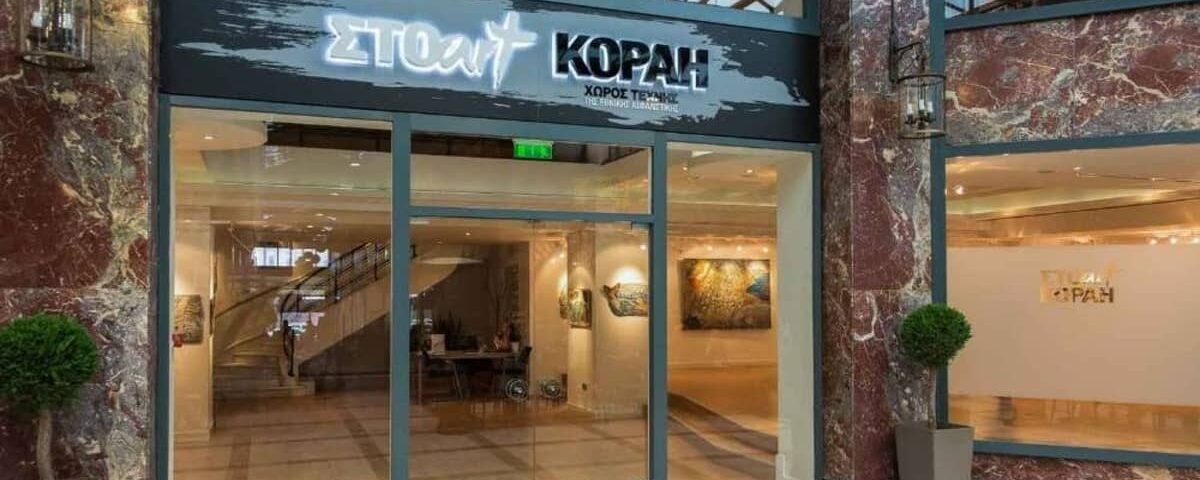 "STOart KORAI", The Art Space of Ethniki Insurance
Monday – Friday: 10:00 – 20:00
STOart KORAI
The Art Space "STOart KORAI", in Korai 4, was created by Ethniki Insurance with the aim of becoming a reference point in the cultural life of the country. It is a multifaceted art space in the heart of the city, a place to welcome renowned artists and showcase new talent; a hive of creativity.
The historic building of Korai 4 was not chosen at random. This choice reflects Ethniki Insurance's adherence to the ideals of art and culture and the company's constant support to society as a whole.
Ethniki Insurance never managed to move into this building, which was built in 1938, due to its use by German troops during the Occupation. The Memorial Site 1941-1944 is located in its basement; it is a unique monument which has been operating as a visitable site since 1991, under the responsibility of the company.
To date, the following exhibitions have been held:
Retrospective exhibition of mosaics by Lydia Sarri: April 28 – June 12, 2015
Tassos Syntelis Exhibition titled "The New York Season": July 16-30, 2015
Exhibition by Apostolos Giagianos and Giannis Koutsouris titled "From the world of comics and cartoons": September 8 – October 30, 2015
Exhibition of insurance policies from the private collection of Evangelos Spyros titled "Insurance policies with historical and artistic value": 6-13 November 2015
Exhibition by Christos Efstathiou: November 18 – December 16, 2015
Group exhibition by "greekartists.info" titled "The Greek Game in Art": December 22, 2015 – January 21, 2016
"75 years of Art Theater Karolos Koun" – 75 exhibits, June 1 – July 27, 2017
"The Unknown Konstantinos Maleas – Works of the period 1901-1910″, December 19 – November 9, 2017
"ARCHETYPES Summary of the decade 1990-1999", March 7 – April 19, 2017
Petros Zoumboulakis, "Faces in the depths of time", November 14 – December 14, 2017
Pavlos Samios, "Lovers of the earth", October 9 – November 8, 2018
"Andreas Vourloumis", September 4 – October 4, 2018
"Thaleia Flora-Karavia & Sofia Laskaridou. 113 years later ", February 5 – March 7, 2019s
Giannis Koutsouris, "That way… or another", April 16 – May 14, 2019
"Stories of Athens: Works from the collection of AGET", February 12 – March 12, 2020
"Senior Exhibition of the School of Fine Arts, 2020", June 30 – July 30, 2020
Specifically, on Friday, January 27, at ...More
"I. Mastroopoulos: Paintings and enamels" at the ...More