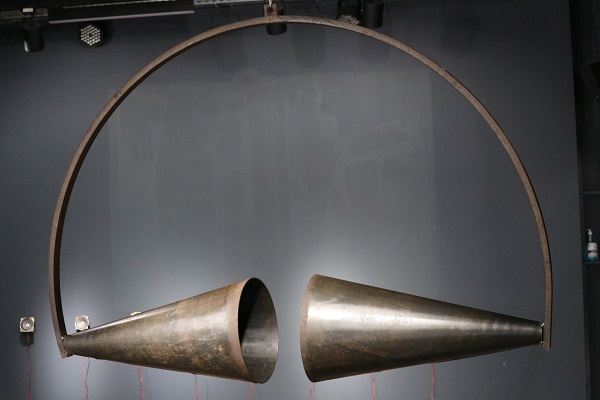 In 2011 he was admitted to the Aristotle University of Thessaloniki in the School of Fine Arts, with professor G. Tsakiris. In 2017 he graduated from the department of Visual and Applied Arts with Honors. He lives in Larissa and works as an Educator/Artist in education since 2019.
In the artist's work we find a variety of ideological and symbolic readings. The central core of the work is the reuse of the object, where it always has identity, wear, substance and materiality. The artist created an immaterial alphabet, where the idea and meaning dominate the reading of the work, focusing on the identity of the object he chooses the "discarded objects" where history, dysfunction and time become the primary structure of his art. To his credit, he has a permanent project at the French Institute from the exhibition "Unknown Object, objet in-connu" (2018), two solo exhibitions "Object's origin, rejected", Alimos Cultural Center, Athens (2018) and "The amputated finger", JOIST innovation park, Gallery Braggart, Larissa (2022). He has also participated in a large number of exhibitions, including:
Team assignments
2012:
– "INSPIRE", Macedonian Museum of Contemporary Art, Thessaloniki.
2013:
– "ISPIRE", Macedonian Museum of Contemporary Art, Thessaloniki.
– "Re Art", Goethe Institute, Thessaloniki.
2014:
– "Art Athina-REM-BRAND name project", Athens.
2015:
– "Ode to the Sea", Piraeus Archaeological Museum, Athens.
– "27th International Art Exhibition", Istanbul.
2016:
– "Logos – Noise", University of Macedonia, Thessaloniki.
– "Ode to the Sea", Hellenic Cultural Foundation, Odessa, Ukraine.
– "Vanishing point", Alatza Imaret, Thessaloniki.
2017:
– "ex libris AUTH", Aristotle University of Thessaloniki.
– "Through fire and iron", Lola Nikolaou Gallery, Thessaloniki.
2018:
– "BRidges", Yedi koule, Thessaloniki.
2019:
– "Fantasy vs Geometry", Lola Nikolaoy Gallery, Thessaloniki.
– "Generations 1960-2019", Museum of Contemporary Art, Heraklion.
2021:
– "MIND YA, DON'T GET ILL", Bensousan Han, Thessaloniki.