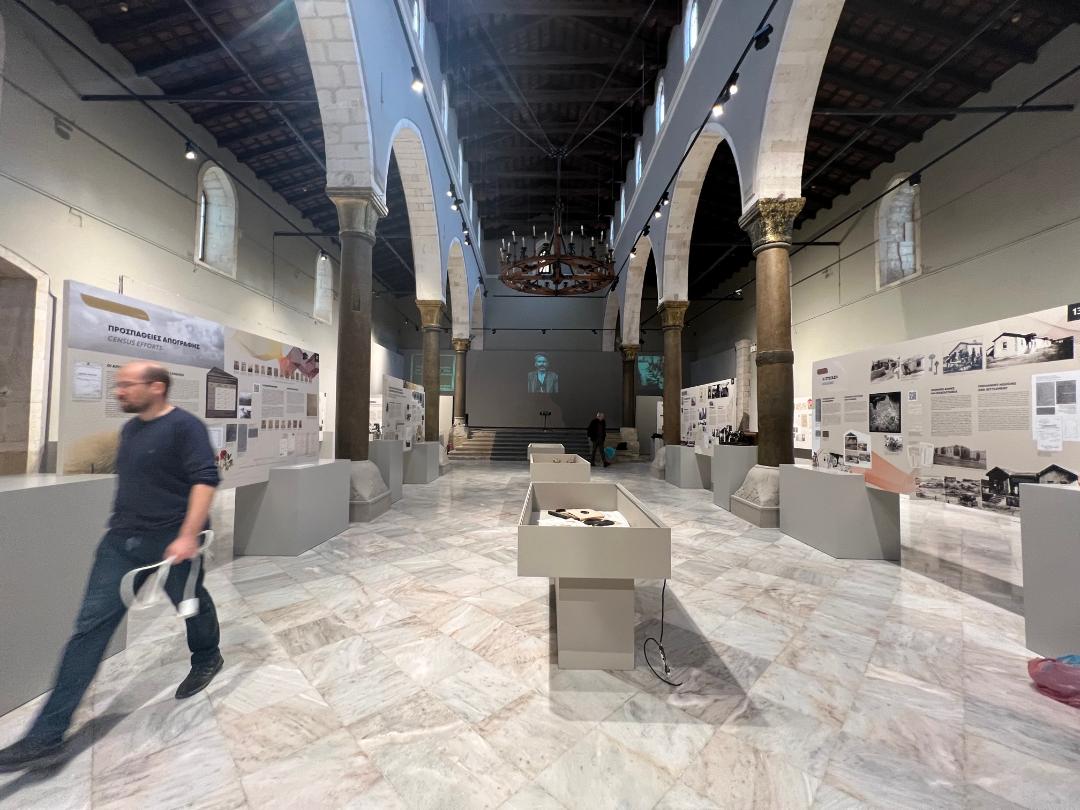 "People weren't talking. They did not want to recount the bad events they experienced. Why did they think they would come back?"
"The Church of Panagitsa [in Heraklion] that was built, was a mutual result. In essence, this temple was built by the Vourliotes for the Virgin Mary Vourliotissa who was burned in Vourla".
"All these people were farmers, most of them. They had vines, they made raisins, they had tobacco, they had olives and their gardens".
(Excerpts from narratives of persons of Asia Minor origin of the second and third generation)
The effort of the refugees of the Asia Minor Catastrophe for the preservation of their identity and collective memory, The Adventures of their integration in the local community and their contribution to the formation of this society, are presented through the important exhibition hosted from January 4 to February 10, 2023 at St. Mark's Basilica, in Heraklion.
The exhibition, co-organized by the Society of Cretan Historical Studies / Historical Museum of Crete, the region of Crete and the municipality of Heraklion-Vikelaia Municipal Library, will be inaugurated on Thursday, January 5 at 18.30, with greetings from the Archbishop Mr. Eugenios, the regional governor of Crete Mr. Stavros Arnaoutakis, the mayor of Heraklion Mr. Vassilis Lambrinos and the president of E.C. I.M. Mr. Alexis Kalokairinos. The exhibition will be open from Wednesday, January 4, at 17.00′.
The anniversary exhibition for the centenary of the Asia Minor Catastrophe is hybrid, with valuable materials and archival documents (digital and physical) developed on twenty illustrated surfaces with texts and additional digital information (with portable devices through QR codes established by Ekim with the successful exhibition on Crete in 1821), material documents in special showcases but also free in space, as well as excerpts of oral testimonies of second and third generation refugees. Emotional charge in the exhibition adds The Musical work of Odysseas Grammatikakis "like hunted doves", based on excerpts of oral testimonies, specially ordered for the exhibition by E.C. I.M.  The exhibition is also supported by projections of visual material.
The ten-member scientific team of the young historians of e worked for its creation.C. I.M. together with the researchers and staff of the Vikelaia Municipal Library. The project is managed by the president of E.C. I.M. Professor Alexis Kaloutsakis with General Curator The chief curator of the Historical Museum of Crete Agisilaos Kaloutsakis.
For the realization of the exhibition, archival and material evidence was used from the collections and Library of the Historical Museum of Crete and the Vikelaia Municipal Library, while the provision of documents by associations of Asia Minor, Services, Institutions and individuals was essential.
During the exhibition there will be educational tours/activities in schools and other groups by the contributors of the exhibition, scientific collaborators of E.C. I.M.
Opening hours: weekdays: 09.00-14.00 and 17.00-21.00, Saturday: 09.00-14.00, Sundays & holidays: closed.