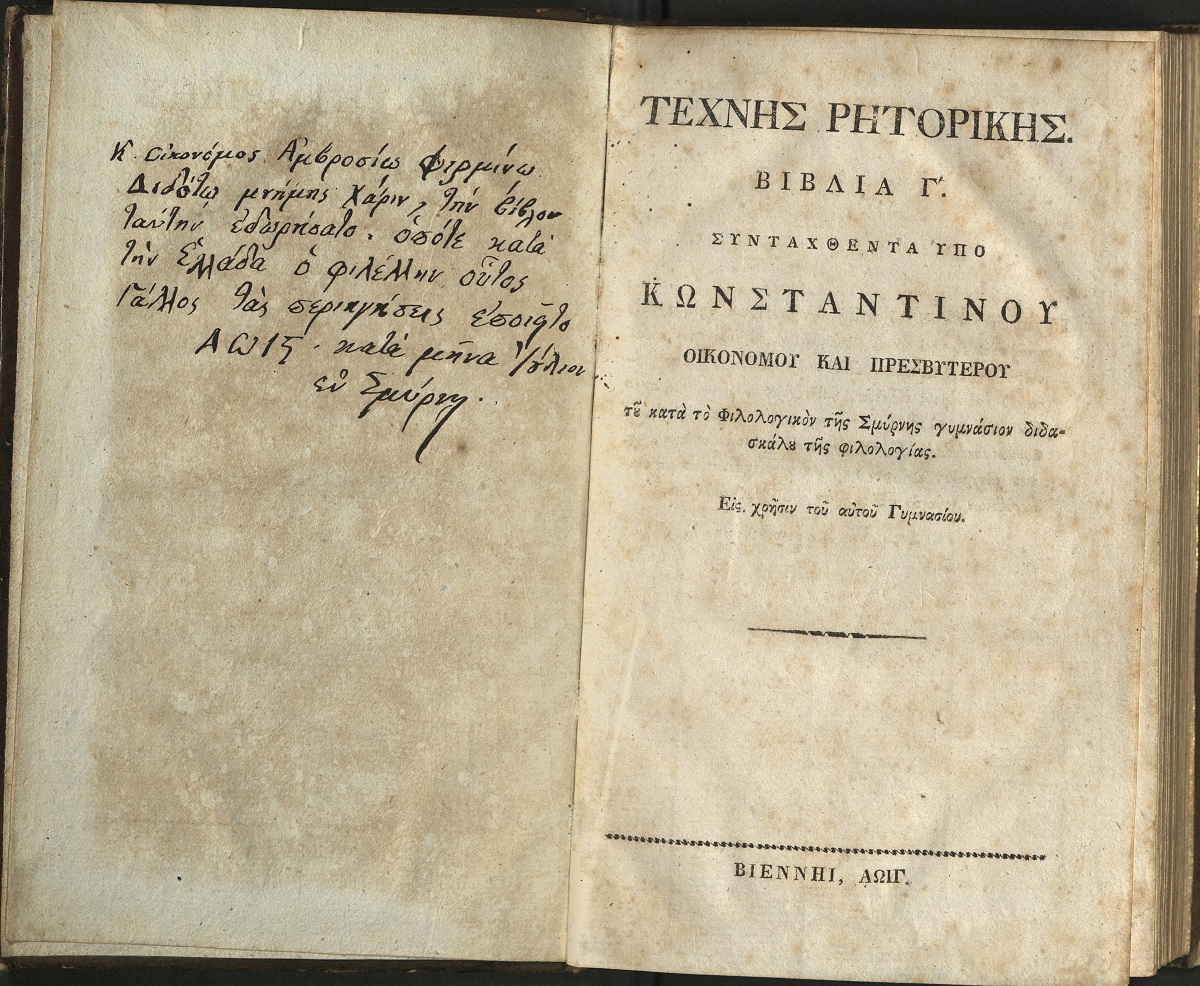 Among the countless treasures of the National Library of Greece, one can now find Lyrika (1825) by Athanasios Christopoulos, as well as the Ars Rhetorica (1813) by Konstantinos Economos ex Economon.
Athanasios Christopoulos' Lyrika (1772-1847) was published eleven times during the poet's lifetime, the first of which was in Vienna in 1811. The 1825 edition of which we speak here is the sixth in a row. Its special significance lies in the fact that it is the first book of literature printed in Athens. It was printed in the short-lived printing press established in Athens by Colonel Leicester Stanhope (1784-1862), with the printer Nicholas Varotsis of Amfissa, who had learned the art of printing in Venice. The printing house was dismantled and destroyed after the reoccupation of Athens by Kioutachis in 1826 during the second siege of the Acropolis. Until today we knew that this edition survives in a single copy preserved in the Gennadius Library. The doctor N. P. Paisios located a second copy, which he bought and donated to the NLG. The copy of the NLG bears a handwritten inscription or inscription of hereditary:
J. Emerson
London <,> May 1829
From the Rev. Charles Sloane
It is interesting to add that Emerson was a great friend of Dickens and that the great writer has dedicated his last complete work Our Mutual Friend (1865) to him.
Concerning the work of Constantine Economos, he printed his Rhetoric in Vienna, for the use of the students of the famous Gymnasium of Smyrna, where he taught (the Gymnasium would be closed during the crisis that broke out in Smyrna in 1819). The copy comes from the personal library of the famous publisher, Hellenist and writer Ambroise Firmin-Didot (1790-1876) and bears a handwritten dedication by Economou to Didot:
Κ. Οικονόμος Αμβροσίω Φιρμίνω Διδότω μνήμης χάριν, την βίβλον ταύτην εδωρήσατο, οπότε κατά την Ελλάδα ο φιλλέλην ούτος Γάλλος τας περιηγήσεις εποιείτο. ΑΩΙϚ [1816] κατά μήνα Ιούλιον εν Σμύρνη. 
The tours to which Economos refers are the long journey of the great student of Korais to Greece and the East in 1816-1817, which he recorded ten years later in his book Notes d' un voyage fait dans le Levant en 1816 et 1817 (1826).
The President of the Electoral Council of the National Library of Greece, Stavros Zoumboulakis, notes: "And this book is added to our collections, thanks to the generous donation of our friend N. P. Paisios of the National Library of Greece. The two volumes were delivered to the National Library by the students Panagiotis I. Paisios of the 2nd Gymnasium of Lakkion, Leros and Konstantinos I. Paisios of the 1st Primary School of Lakkion, Leros. Let them all accept from this place our warmest thanks".