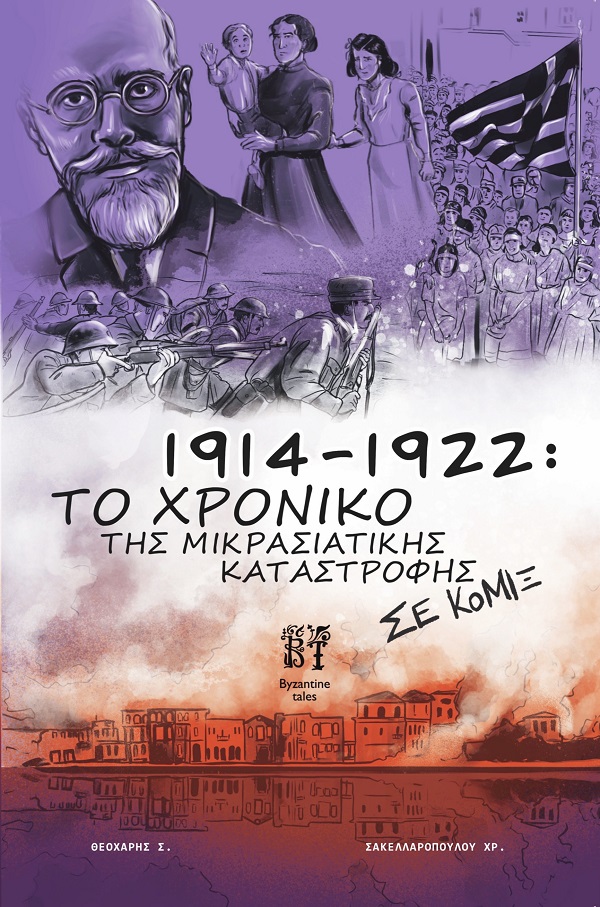 Title: «1914-1922 the Chronicle of the Asia Minor Catastrophe in comics»
Author: Theocharis S. – Sakellaropoulou Chr.
Kind: Comic-Graphics
Published By: Byzantine Tales
Language:Greek
Year of release: 2022
Pages: 256
Dimensions: 24 x 16 cm
At the beginning of the 20th century the vast Ottoman Empire is a giant with glass legs. Europe is progressing by leaps and bounds and has increased its influence on the lands of the decadent empire. The Greeks are benefiting from this western economic penetration and are coming to control much of the country's trade, industry and banking system. Throughout the Ottoman territory, new Greek schools are constantly opening and cultural associations are created to promote Hellenism.
The small Greece of 1830, which reached as far as Lamia, has doubled its territory and population after its military victories against the Ottomans and Bulgarians in the First and Second Balkan Wars (1912-1913). Its new borders include Macedonia with Thessaloniki, Epirus, and the islands of the Northeastern Aegean, which are a stone's throw from the coast of Asia Minor.
Up to that time, the main idea of the approximately 2.5 million Greeks/Roma of Asia Minor and Constantinople was to replace Turkish rule and take control of the empire or claim equal rights with Muslims by living in a multi-ethnic state. But the expansion of the Greek state created a new ambition, the union with Greece.
This idea becomes a one-way street from 1908, the time when Turkish nationalism is born and plans to get rid of all Christian minorities in the Ottoman Empire. The Greek and Armenian communities together make up about 1/3 of the total population of Asia Minor, and are the main targets of the Turks.
The situation will spiral out of control in 1914, the year of the beginning of a global conflict that will bring about a huge geopolitical chaos in the East. The question is who will benefit from this?
This book tells, in 256 pages in comic book format, the story of the most tragic event in the entire history of Hellenism. It attempts to build an understanding of the events as a result of actions taken over time. That is why the period 1914-1922 was chosen. A crucial period of time, not only for Greek history, but also for world history.
In order to make the events as historically reliable as possible, the entire narrative has been based on a reputable bibliography presented at the end of the book. Similarly, all illustrations have been based on primary visual material from photographs of the period.