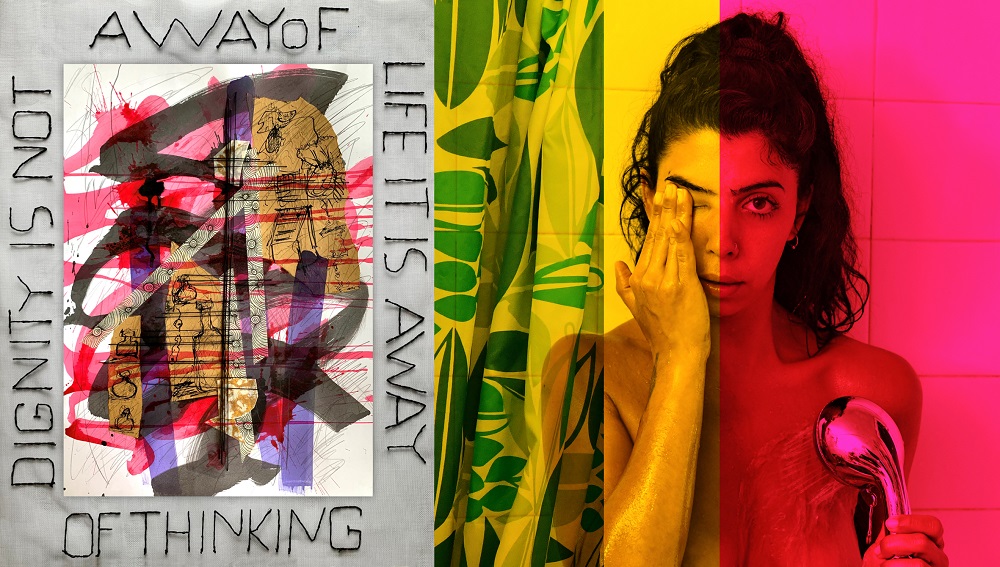 The Platforms Project celebrates its tenth anniversary and presents the largest art event in its history so far with a multifaceted parallel programme of talks and workshops, videos, children's programmes, performances and parties.
Platforms Project 2022 – Independent Art Fair will be presented this year, from 13 to 16 October 2022 at the "Nikos Kessanlis" Exhibition Space of the Athens School of Fine Arts (256 Piraeus, TK 182 35 Agios Ioannis Rentis) with workshops, performances, talks and talks by the participating groups.
As a nursery for young artists, where experimentation, research and the formation of an artistic identity is a constant challenge, the ASFA exhibition space is, this year again, the ideal choice for the Platforms Project.
The project is directed by Artemis Potamianou and Michalis Argyrou. Artemis Potamianou is the artistic curator of Platforms Project 2020-21.
Platforms Project is an international exhibition that always aims to present the independent art scene as it is expressed through group initiatives of Greek and foreign artists working in Greece and abroad. The Platforms Project contributes steadily to the search for solutions to contemporary artistic and theoretical questions posed internationally and the indicative mapping of artistic action as it is produced today in the artistic platform groups.
The Platforms Project, this year, presents platforms from 26 countries (USA, Cyprus, Greece, Canada, Netherlands, France, Mexico, Venezuela, Argentina, Brazil, Chile, Chile, Ethiopia, Russia, Turkey, Netherlands, Germany, Italy, United Kingdom, Austria, Sweden, Belgium, Denmark, Switzerland, Poland, Ukraine, Australia), having received hundreds of applications after its open online call.
Platforms Project 2022 will involve 62 platforms with more than 800 artists, expanding the global network that has been built and communicated over the last ten years through the Platforms Project:
AC Institute + AC Books (USA),  ACEY Europe (Cyprus, Greece), άμετρον [art space] | ametron [art space] (Greece), AMV (Canada), Antennes Art Collective (Greece), ArtCode (Greece), artplatform |elsewhere (Holland), ASSOCIATION THEATRE DIONYSOS & APOLLON (Greece, France , Canada, USA, Mexico, Venezuela, Argentina, Brazil, Chile, Ethiopia, Russia, Turkey, Holland, Germany, Italy), ATHENS STREET ART FESTIVAL (Greece), Αυτοβιογραφικά Συστήματα | Autobiographical Systems (Greece), berlinerpool (Germany), Binary art group (Cyprus), Bureau d'Art et de Recherche Roubaix (France), Cable Depot (United Kingdom), CUBE ART EDITIONS (Greece), Darling Pearls & Co (United Kingdom), DAS ESSZIMMER – space for art+ (Germany) ΔΙΠΟΛΑ | DIPOLA (Greece), Dogma Athens (Greece), Eco Flaneur  (Greece), Ed video (Canada), EN FLO (Greece), EULENGASSE (Germany), EX-MÊKH (Holland), flat1_offspace (Austria), fragment S (Sweden), Fragments of truth (Greece), GREYLIGHT PROJECTS (Holland, Belgium), GROPIUS LOUNGE (Greece), H-M-S (United Kingdom), ID:I GALLERI (Sweden), IFAC arts (USA, Greece), IN VIVO (Greece), Ins All (Austria), Ινστιτούτο Μεσογειακής Κουλτούρας | Institute of the Mediterranean Culture (Greece), intermission museum of art (USA, Holland), JAW (United Kingdom), ΚαλλιέργειαΚαλλιέργεια | CultivationCultivation  (Greece, Denmark), La Scala Trun (Switzerland), LELE ART SPACE (Poland), METAPOLIS (Greece), ΜΕΤΑΦΡΑΣΤΕΣ | META-FRASTES (Greece),  Mnky Bizz Group (USA),  Museum of Forgetting (Swe) TILT platform (GR) MAMA contemporary (CY) (Sweden,  Greece, Cyprus), ΟΡΙΖΟΝΤΑΣ ΓΕΓΟΝΟΤΩΝ | ORIZONTAS GEGONOTON (Greece), personal identity (Greece), POW WOW (Greece), Project 2 (Greece), Rhythm Section (Germany, G. Britain, Ukraine), Sans Titre, Tourcoing (France) , SCOTTY (Germany), Sthlm2 (Sweden),  Straße der kollektiven Kunst (Holland), Supercluster (Belgium,Australia), SYNERGIA 22 (Greece), Τεχνοπαίγνιον art group | Tehnopaignion art group (Greece),  The Red Boat Projects (Greece), The School of Environmental Sciences – Artist Residency Program (Canada),  >top Transdisciplinary Project Space (Germany), Topp & Dubio (Holland), WEDO (Greece), Window of FAME (Switzerland)
Alongside the presentation of the Platforms Project 2022 exhibition, there will be workshops, talks, performances and workshops. The Platforms Project is not a faceless event but an artistic community full of energy, freshness, giving time and space to an alternative art that could not be expressed elsewhere.
FREE ENTRANCE

Platforms Project 2022 timetable:
Exhibition opening: Thursday 13 October 2022 at 18. 00 – 22. 00
Exhibition Duration: Thursday 13 October 2022 to Sunday 16 October 2022
Hours of operation:
Thursday 13 October, 18. 00 – 22. 00
Friday 14 October to Sunday 16 October, 12. 00 – 21. 00
Brief Background:
The Platforms Project has been presented since 2013 for ten consecutive years and is an annual international gathering of platform art groups. It is an international exhibition that aims to record the way in which art groups operate and to create channels of communication and cooperation with other countries. In the framework of the Platforms Project, from 2013 to 2022, 332 platforms – actions of artistic groups from 39 countries (Greece, Italy, Cyprus, Switzerland, United Kingdom, Germany, Austria, Austria, Bosnia and Herzegovina, Sweden, Netherlands, Canada, New Zealand, Finland, France, Russia, Serbia, Kosovo, USA, Ukraine, Argentina, Turkey, Benin, Spain, Belgium, Czechoslovakia, Australia, China, Hong Kong, Indonesia, Yemen, Iran, Mexico, Venezuela, Venezuela), Brazil, Chile, Chile, Ethiopia, Denmark, Poland, Ukraine, and Panama) with more than 8,500 total artists from the 5 continents
Most of the platforms that participated in the Platforms Project established friendships and partnerships with each other.
In 2020 and 2021, due to the pandemic, the Platforms Project created an online exhibition, Platforms Project NET, which was a digital meeting and networking place for art groups from all over the world, giving the opportunity to the general art-loving public to get in touch with the works and artists of the groups. It was the first online foie in Greece and the second in the world. Platforms Project Net 2021 was visited by viewers from 82 countries and had more than 315,000 views.
It is a programme that tries to offer the visitor an insider's view of contemporary artistic creation, the experience of the fermentation and collaboration of artistic practice without focusing on the commercial part of art, but which promotes a more alternative – experimental perspective.
By referring to the following link you will hear testimonials from interviews with participating artist groups from previous events: https://audiomack. com/artist/platformsproject
Website: www. platformsproject. com
email: [email protected]. com