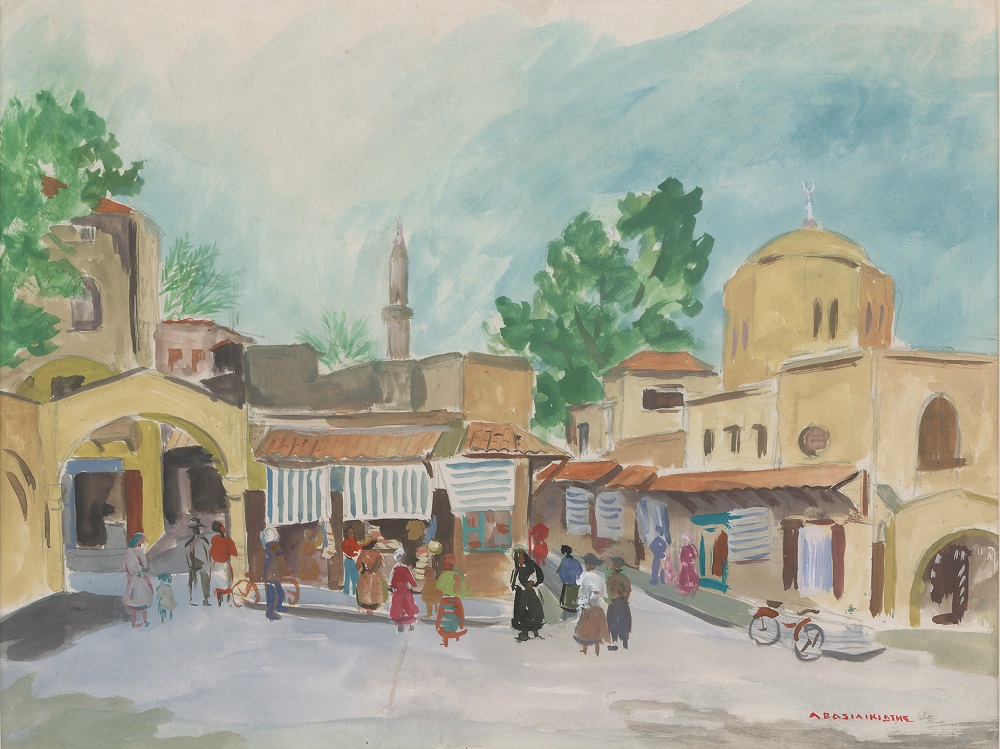 A retrospective exhibition of Aristotle Vasilikiotis (1902-1972), a well-known-unknown painter of the 20th century, on the occasion of the 50th anniversary of his death, will be hosted from Friday 14 October on the 1st floor of Teloglion. Born in Evpatoria, Crimea, which he left due to the October Revolution, Vasilikiotis carved his own path in art with his main stops in Greece, France, Ethiopia and Egypt.
Through 60 works (oil paintings, gouache, watercolours, etc.) by the artist and archival material presented for the first time, his love for the exotic – the different, which he cultivated during his years of residence in Ethiopia – is highlighted, as well as his inspiration from the Greek landscape (Aegina, Pelion, Attica) with an emphasis on Mykonos. The personal ties he developed with the Cycladic island after his marriage to the Myconian woman Froso Axiotis, sister of the literary artist Melpo Axiotis, show another side of its idyllic beauty, which escapes the confines of the maniera of white houses.
"Mykonos is something he loved and painted a lot. But at the same time he feared its 'picturesqueness' that might push him into ease. He was not interested in either 'tourist' or 'photographic' painting. This was the message he tried to pass on to his students, whom he trained for years in his studio," says Mrs. Amarylida Vasilikioti-Weiler, the artist's daughter.
The mature works in the exhibition are those that mark Aristotle Vasilikiotis' return to the literary tradition of his hometown. Free from any compulsion, he turned to the memories of his childhood, when he read from the original works of the Ukrainian-born writers Nikolai Gogol ("Vili", "The Nose") and Vladimir Korolenko ("The Dream of Makar"). "In these works, the strong contrasts of mainly complementary colours dominate, forming wide bands. The artist became bolder in comparison with the two previous decades of his artistic career and turned more towards abstraction, or rather simplicity and the highlighting of the key, the basic, without ending up in abstraction. His turn to his roots, to Russian literature, is, in fact, his last, unknown contribution to painting and his most modern work, which – if he had lived longer – might have led him to another unexpected change of course," says the curator of the exhibition, Dr. Christina Tsagalia.
The exhibition is accompanied by a bilingual publication which will be available at the Teloglion (159A Agios Dimitriou St.), at the Mikro Teloglion (32 Kar. Dil) and at the Foundation's e-shop.
Opening: Friday, October 14, at 19:00
Duration of the exhibition: 14 October – 4 December 2022.
Exhibition opening hours: Tuesday, Thursday, Friday 9:00-14:00, Wednesday 9:00-14:00 & 17:00-21:00, Saturday & Sunday 10:00-18:00.