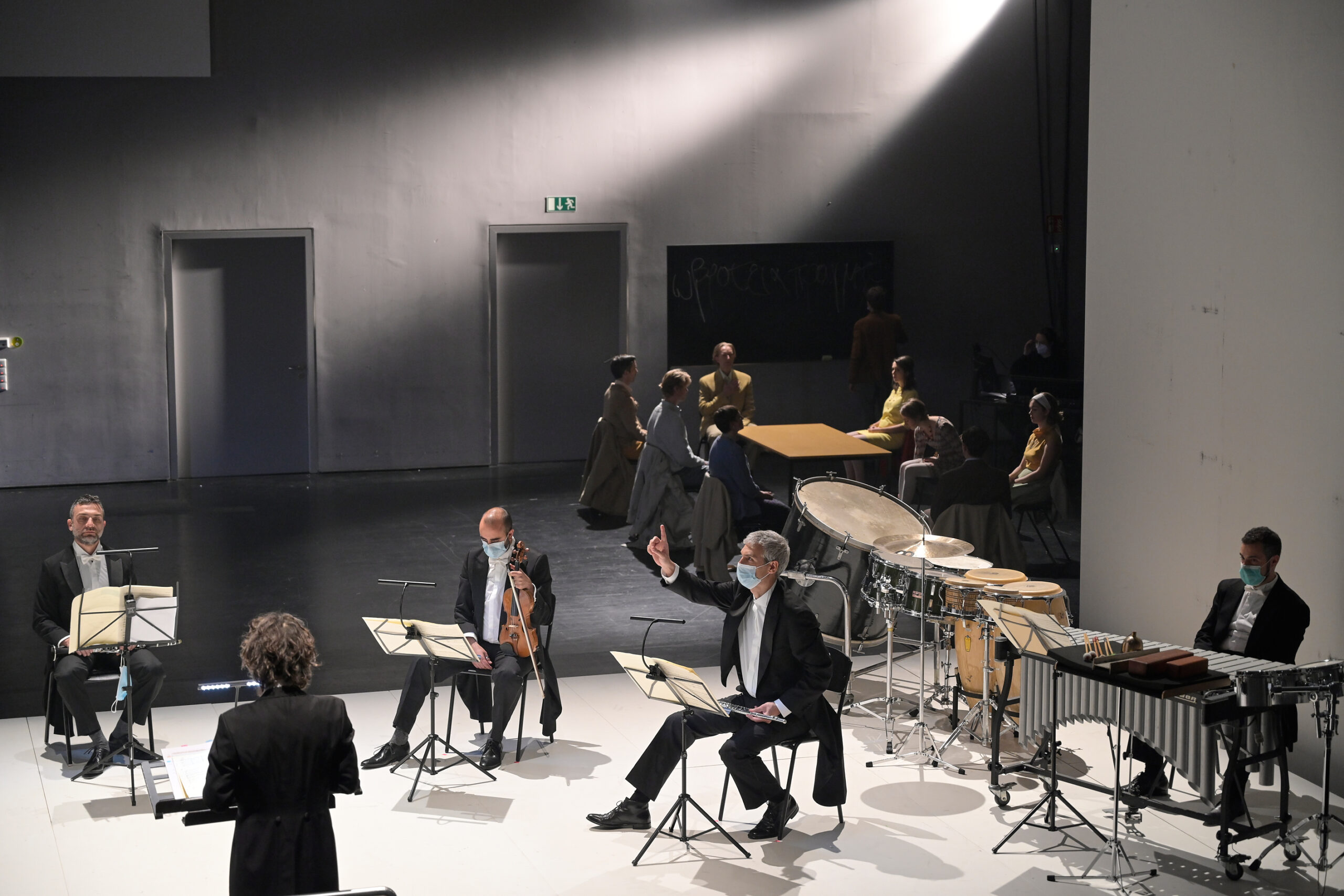 Music inside and outside of Stegi
Once to be realised
Six encounters with the unclassified project files of Jani Christou directed by Michael Marmarinos
By Beat Furrer, Barblina Meierhans, Olga Neuwirth, Younghi Pagh-Paan, Samir Odeh-Tamimi and Christian Wolff
15 – 17.4.2022| Panteino University and Stegi |20:00
Michael Marmarinos and six contemporary music theater composers contend with the unsorted archives of Jani Christou's works in a performance that resembles ancient drama, but also social sculpture.
Internationally recognized as Jani Christou, Yannis Christou is considered one of the greatest Greek avant-garde musicians of the 20th century.In the last years of his life Jani Christou created nearly 130 sketches for compositions to be realized later on. He was only able to work out a few of them before his untimely death in a car accident in 1970 on his 44th birthday. Most of these visionary drafts were never realized in the just under 50 years following his death, and only now will become the foundation of a new music theater work.
Together with the renowned Greek director Michael Marmarinos, six composers, who are among the most distinguished creators of contemporary music theater, will tackle Christou's designs from 15 until 17 of April in the main stage of Stegi at the Once to be realized.They encounter them with their own musical language, explore them, let themselves be inspired, and work their way through them, in order to use their own means and their own ideas to continue and write on into the future. The result is a music theater that is as much an archaic drama as a social sculpture. Together with Beat Furrer, Barblina Meierhans, Olga Neuwirth, Younghi Pagh-Paan, Samir Odeh-Tamimi and Christian Wolff.
H διεθνής συμπαραγωγή της Στέγης έχει ήδη παρουσιαστεί στην Μπιενάλε Μονάχου και τη Γερμανική Όπερα του Βερολίνου και κάνει τώρα πρεμιέρα στην Ελλάδα.
A woman in black, a sound continuum interrupted by an explosion, crowds storming the stage, traffic lights, the deafening singing of the cicadas on Chios in the midday heat, performing in an ensemble as a cipher of social constellations, invoking the metaphysical other, composing as an attempt to break with the musical syntax, or even as a "slight pressure against the limit of meaning": The cosmos of the Greek composer Jani Christou is labyrinthine branches in the richness of his suggestive images and designs.
He transgresses the purely musical to the integration of scene, text, and image, and at the same time departs from the realms of art, and he sees political and social elements as compositional material, he creates a performance in tangible landscapes and cultural spaces. And ultimately it remains a prophetic design, ONCE TO BE REALISED.
https://www.onassis.org/el/whats-on/once-to-be-realized-jani-christou-michael-marmarinos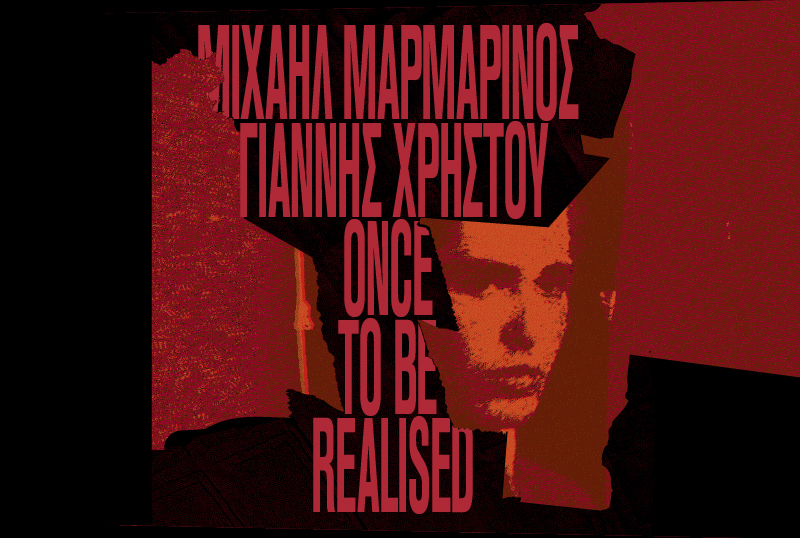 CREDITS
STAGE DIRECTOR   MICHAEL MARMARINOS
ASSISTANT STAGE DIRECTOR   LEA THEUS
SET DESIGN, COSTUMES & VIDEOS   YORGOS SAPOUNTZIS
ASSISTANT SET DESIGNER   MARTIN KU
DRAMATURGE   SEBASTIAN HANUSA
CONCEPTION   LENIO LIATSOU
CONDUCTOR   CORDULA BÜRGI
LIGHT DESIGN   STEFFEN HOPPE
MEZZO SOPRANO   PIA DAVILA
BARITONE   MATTHEW COSSACK
PERFOMERS   MARIUS BÖHM, MEIK VAN SEVEREN
PERCUSSION (OLGA NEUWIRTH PIECE)   ROBYN SCHULKOWSKY
ENSEMBLE DISSONART
CLARINET   ALEXANDROS STAVRIDIS
VIOLIN   THODOROS PATSALIDIS
DOUBLE BASS   YANNIS HATZIS
PERCUSSION   KOSTAS ARGYROPOULOS
CANTANDO ADMONT
SOPRANO   FRIEDERIKE KÜHL
SOPRANO   ELINA VILUMA-HELLING
MEZZO SOPRANO   ANNIKA WESTLUND
MEZZO SOPRANO   HELENA SOROKINA
TENOR   HUGO PAULSSON STOVE
BARITONE   MATIAS BOCCHIO
Michael Marmarinos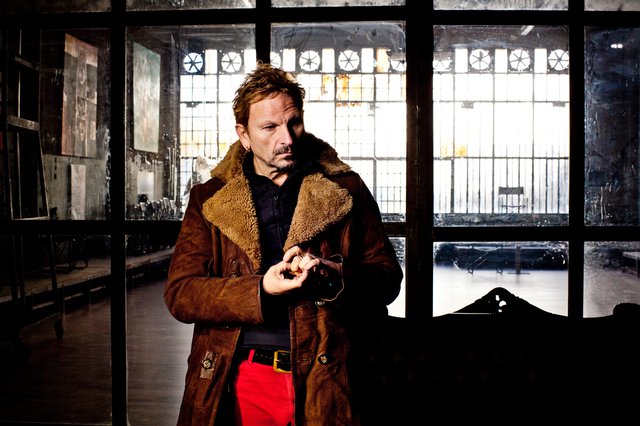 Michael Marmarinos was born in ATHENS and studied neurobiology, theater, and stage directing.
In 1983-84, he founded the nationally and internationally acclaimed theater company "Diplous Eros," which was later renamed "Theseum Ensemble." Since then and over the course of 30 years, numerous productions were created and performed at the National Theater of Greece in ATHENS; the National Theater of Northern Greece in Thessaloniki; the ONASSIS STEGI; the Stavros Niarchos Foundation Cultural Center; the ATHENS and Epidaurus Festival; Volksbühne on Rosa-Luxemburg-Platz, Berlin; Tumanishvili Teater in Tbilisi, Georgia; Wrocławski Teatr Współczesny in Wroclaw, Poland; and Comédie-Française in Paris, France, among others.
He also worked as a director or was invited to festivals in countries such as Austria, Belgium, China, France, Georgia, Germany, Japan, South Korea, the Netherlands, Poland, Russia, Serbia, Spain, Switzerland, and Venezuela. In addition, he has acted in numerous theater productions and films. Michael Marmarinos collaborated in international co-productions with Albrecht Hirche; Heiner Goebbels; Rimini Protokoll; VeenFabriek in the Netherlands; Paul Koek; and, as part of the Epidaurus Festival, the Japanese Noh theater group NOH – Nekia.
He's a member of the International Heiner Müller Society and the International Bioenergetic Analysis Institute. He was president of the Greek organization of the ITI (International Theater Institute) from 2006 to 2009. He teaches at university departments in Patras and Nafplion and has been an Assistant Professor at the Faculty of Fine Arts, Aristotle University of Thessaloniki, since 2006. He was awarded the Mikhail Tumanishvili Prize in Tbilisi, Georgia, and the title of the Chevalier de l'Ordre des Arts et des Lettres from the French Ministry of CULTURE.
VENUES
The performance has as a starting point Panteion University (136 Syngrou Avenue), passes through the underpass of Syngrou Avenue , and ends at the Onassis Stegi building
LANGUAGE
In German and English with Greek Subtitles
Προπώληση Φίλων: 31/03, 17:00
Προπώληση Γενικού Κοινού: 04/04 17:00
TICKETS
Onassis Stegi Friends presale: from 31 MAR 2022, 17:00
General presale: from 4 APR 2022, 17:00
Full price: 18 €
Reduced, Friend & Groups 5-9 people: 14 €
Groups 10+ people: 13 €
Neighborhood residents: 7 €
Unemployed, People with disabilities: 5 €
Companions: 10 €
Group ticket reservations at [email protected]
ELECTRONIC TICKET SALES
The digitalticket / print@home service is available for online ticket purchases. Open the pdf on your smart device, alternatively save your ticket on your android or IOSwallet or print it and enter directly into the hall.
TICKET PURCHASE LINE
211 1981784
FRIENDS OF STEGI TICKET LINE
2130178200
TICKET OFFICE AT THE HOUSE (Sygrou 107)
The ticket offices of the Roof will remain closed until further notice
Security instructions for COVID,  HERE