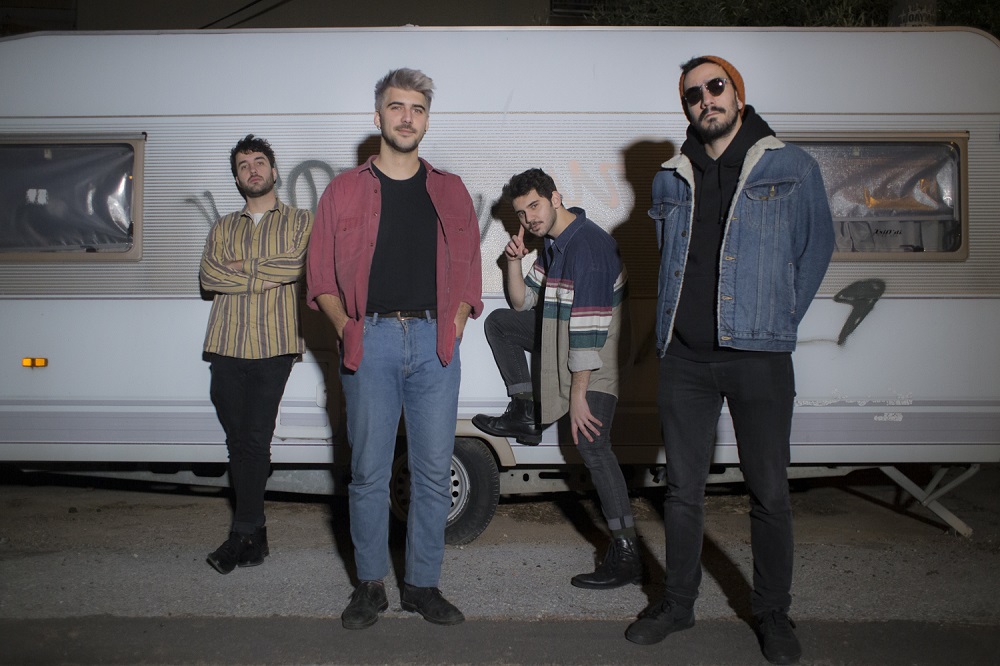 On Friday 7, Saturday 8 and Sunday 9 October, the contemporary Athenian music scene will meet for the third consecutive year at the Stavros Niarchos Foundation Cultural Centre's (SNFCC) Dome for Music Escapades: In Orbit v.3, a three-day festival that answers the question "what music is currently coming out of Athens?". Greek and English lyrics, guitars, rhymes and samples, the sound of the western metropolises and the wink to the East – all this in a three-day event that maps the city's music, satisfies all tastes and invites the Athenian audience to either reconnect with acts that have been "lost" in the past two years or to get to know new ones.
On Friday, October 7, the night is dedicated to hip hop with Negro of Moria, Moose, Ofili and Kareem. Saturday, October 8, is a diverse night, with a common starting point and basis in electronica by Sworr., Mononome, Iota Phi and Vassilina. On Sunday 9 October, at the closing of the three-day event, the guitars are connected to the amplifiers and Athenian rock unfolds in the different proposals of The Bonnie Nettles, Godsleep, XOAN and Odysseas Phone Orchestra.
Music Escapades.
The festival programme is as follows:
Friday 7 October, 20.00 | Hip Hop
Kareem
Founding member of the ATH KIDS collective that characterized the Athenian 10s, Kareem Kalokoh entered the music game before he turned 18, releasing his first works on Soundcloud. Together with his precious collaborator Valentin Rivera, they renewed Athenian urban culture, representing the new face of a multicultural capital. His music has travelled all over Europe, and even the legendary New York label Def Jam has shown interest in him.
Ofili
With a diverse sound and a brand name that reaches the top of the world, Francis "Ofili" Adetokounbo represents a different proposition in hip hop coming out of Athens. The older brother of Giannis Adetokounbo enriches his sound with different elements such as afrobeats and dancehall, sometimes flirting with trap, while he has just released his EP Rise, which includes the title track from the film that tells the story of his family's fairytale story to fame.
Moose
Born in Nigeria and raised in Athens, Moose (Mamus is his real name) is one of the strong cards of the new Athenian rap scene with a big weapon in his impressive flow. He has collaborated with many of his great peers, such as Negros of Moria and Ofili on "Like Giannis" which was heard everywhere as an ode to Giannis Antetokounmpo, and has just released his second solo album titled Street Talk.
Negro of Moria
He was born in Ampelokipi, is of Ghanaian descent, grew up in Kypseli. He equally loves Snoop Dogg and Stelios Kazantzidis, Marko Vamvakaris and Bob Marley. He also answers to NTM57, calls himself "Black Greek", he is called "Kofi the Naughty". He is a temperamental Afro-Hellenic, a rap rebel who has been making his mark on Greek hip hop for a decade.
Saturday 8 October, 20.00 | Electronica
Vassilina
Vassilina went through various experiments until she settled in the last five years in electronica with a pop aesthetic and dark marks, somewhere "between chaos and the dance scene". Something we heard on her album Fragments, released last year to excellent reviews.
IOTA PHI
Electronic music as a storytelling medium, framed by string, sandalwood and analogue keyboard sounds and coordinated projections that visually enhance the atmosphere. This is Iota Phi's original anthropocentric performance-proposal that we will see at In Orbit.
Mononome
Based in Thessaloniki, Greece, Mononome has managed for a decade to build his name in the European beat making scene. Always starting from sampling, blurring the boundaries between future and old school, he has played on radios on both sides of the Atlantic and has shared the stage with names like Wax Tailor, Thievery Corporation, Nightmares On Wax, DJ Krush, among others.
Sworr.
Sworr. is one of the alternative scene acts with the biggest crossover in recent years. They are now a duo that makes different pop, squinting sometimes towards electronica and sometimes towards darker sonic paths. Based on the central themes of their second album Honest, they will present tracks from both their albums accompanied by a unique light show that completes their aesthetic proposal.
Sunday 9 October, 20.00 | Rock
Odysseas Phone Orchestra
Odysseus Girita's debut Gonzo Bliss couldn't hide two things: the pure rock 'n' roll brashness and the freshness of its young creator. Odysseas Phone Orchestra is the band that Giritas formed during his quarantine in the hopes of quickly returning to the concert stage. That time has come, the songs with the four-piece band have taken on a different live dimension and new material is already being rehearsed in the studio.
XOAN
Their debut album was released in "pandemic fever", as they say, and revealed a group that "moves between slacker rock and indie punk" as they also describe themselves. With a new member, a new mood and new material that "winks at the golden age of MTV", XOAN is one of the groups we're looking forward to seeing take their next step.
Godsleep
Taking a break from recording their third album to be released in 2023, the Athenian heavy/psychedelic rock foursome returns for one of the explosive live performances that has earned them participation in many prestigious European festivals. With the addition of Amy on vocals and the same core of fuzzy guitars and dense basslines, Godsleep come renewed and gassed on the In Orbit stage.
The Bonnie Nettles
Since they formed in 2016 we haven't decided whether we like them more because they remind us of the 60s or the Manchester bands we loved (and they do too). In any case, Bonnie Nettles are one of the most interesting indie offerings of this period and have shared the stage with the likes of Motorama and Myrrors. At In Orbit they will also present samples from their new record that will be released in the coming months, opening new paths in their already familiar guitar sound.
More information can be found on our website snfcc.org/InOrbit and on our social media pages @SNFCC.