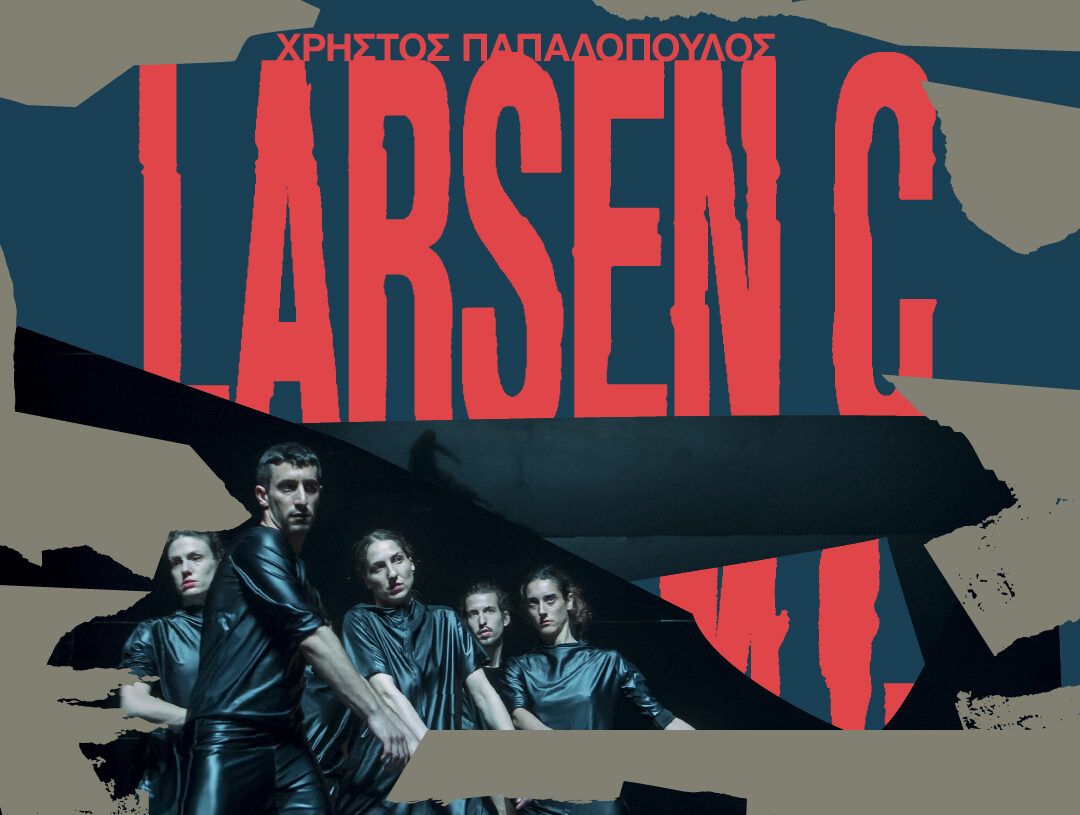 LARSEN C
Christos Papadopoulos
30.03 – 03.04.2022 | Main Stage | 20:30
Opening of general pre-sale: 9 March 2022, 17:00
Dancing like a glacier. A celebration of the movements that define the natural order of things. Christos Papadopoulos and Larsen C at the Roof.
A Glacier on the Roof. From Paris to Brussels, from Madrid to Rome, after conquering the biggest European stages in sold-out performances, Christos Papadopoulos' Larsen C now takes us to the Onassis Cultural Centre from 30 March to 3 April. "A name is released, praised for its audacity and for its minimalist but stunning virtuosity, for its performers. A revelation. He's Greek," reports the Belgian Le Vif and asks, "Was it an achievable mission to forge an innovative artistic idiom in a difficult environment?" Nothing seems difficult for Christos Papadopoulos and his team, who in his new production tackle the Larsen C glacier.
Glacier or ice shelf. That's the scientific term for the huge 10,000-year-old, immobile body of water Larsen C, located in Antarctica. Larsen C, twice the size of Wales, moves so slowly that this movement is not picked up by the human senses. It's as if the pulse of its movement is absorbed by space and time. In Christos Papadopoulos' new choreography of the same name, the human bodies resonate to the same perpetual rhythm, in a dreamlike sequence where they progressively appear as eerie as the polar landscape.
"A unique experience, like meditation", "a dance that melts like ice, emitting light", "madly precise, hellishly powerful and yet almost elusive, this dance captivates and at the same time liberates the gaze", "fascinating, with powerful, shocking, deceptive images". These are some of the comments written in the European press about LarsenC, the Roof's production touring Europe.
Four years after ION, Christos Papadopoulos returns to the Main Stage with his new choreography and once again becomes an observer of the movement of the minimum which, in its interiority and its repetition, produces life. Larsen C is a party-forum in homage to the silent transition of bodies. It is "a metaphor," he comments, "of life that, irresistible, goes on."
A few words about Christos Papadopoulos
Christos Papadopoulos studied dance and choreography at SNDO (School for New Dance Development) in Amsterdam and Political Science at Panteion University. He is also a graduate of the Drama School of the National Theatre.
He made his choreographic debut with Elvedon, a work for six dancers, based on "The Waves" by Vitrcinia Wolf. Elvedon was the first selection of the pan-European network Aerowaves 16 Dance Across Europe, and was subsequently presented with great success in Paris (Théâtre de la Ville and La Briqueterie), Amsterdam and other European venues. His second work, Opus, followed a course of major accolades.
Christos Papadopoulos is collaborating for the second time with the Onassis Cultural Centre of the Onassis Foundation. This was preceded by ION, a choreography inspired by the phenomenon of ionization. The performance began its international tour in March 2018, which was interrupted by the pandemic.
The interdependence of place and space, the relationships that tend from the microscopic to the everyday and the political, as well as the intensive observation of movement, characterize Christos Papadopoulos' research and work throughout time. In the same way, they reappear in Larsen C.
CREDITS
CONCEPT & CHOREOGRAPHY  CHRISTOS PAPADOPOULOS
WITH THE PERFORMERS:
MARIA BREGIANNI, CHARA KOTSALI, GEORGIOS KOTSIFAKIS, SOTIRIA KOUTSOPETROU, ALEXANDROS NOUSKAS VARELAS, IOANNA PARASKEVOPOULOU, ADONIS VAIS
MUSIC & SOUND DESIGN  GIORGOS POULIOS
LIGHTING DESIGN  ELIZA ALEXANDROPOULOU
COSTUME DESIGN  ANGELOS MENTIS
DRAMATURGY CONSULTANT   ALEXANDROS MISTRIOTIS
CHOREOGRAPHY CONSULTANT  MARTHA PASAKOPOULOU
ASSISTANT SET DESIGNER  FILANTHI BOUGATSOU
PRODUCTION MANAGEMENT  RENA ANDREADAKI, ZOE MOUSCHI
TOUR LIGHTING HEADS  STAVROS KARIOTOGLOU, EVINA VASILAKOPOULOU, ALEXANDROS MAVRIDIS
SET AND SOUND TECHNICIAN  MICHALIS SIOUTIS
TOUR MANAGER  KONSTANTINA PAPADOPOULOU
INTERNATIONAL DISTRIBUTION  KEY PERFORMANCE
A PROJECT BY   CHRISTOS PAPADOPOULOS // THE LION AND THE WOLF
PRODUCED BY ONASSIS STEGI
UNDER THE AUSPICES OF THE MINISTRY OF CULTURE AND SPORTS
SUPPORTED BY
THE FONDATION D'ENTREPRISE HERMÈS WITHIN THE FRAMEWORK OF THE NEW SETTINGS PROGRAM, NEON ORGANIZATION FOR CULTURE AND DEVELOPMENT
COPRODUCED BY
A-CDCN (LES HIVERNALES – CDCN D'AVIGNON, LA MANUFACTURE – CDCN NOUVELLE-AQUITAINE BORDEAUX · LA ROCHELLE, L'ÉCHANGEUR – CDCN HAUTS-DE-FRANCE, LE DANCING CDCN DIJON BOURGOGNE-FRANCHE-COMTÉ, CHORÈGE I CDCN FALAISE NORMANDIE, LE PACIFIQUE – CDCN GRENOBLE – AUVERGNE – RHÔNE-ALPES, TOUKA DANSES – CDCN GUYANE, ATELIER DE PARIS / CDCN, LE GYMNASE CDCN ROUBAIX – HAUTS-DE-FRANCE, POLE-SUD CDCN / STRASBOURG, LA PLACE DE LA DANSE – CDCN TOULOUSE / OCCITANIE, LA MAISON CDCN UZÈS GARD OCCITANIE, LA BRIQUETERIE CDCN DU VAL-DE-MARNE) (FR); THÉÂTRE DE LA VILLE , PARIS (FR); LES HALLES DE SCHAERBEEK, BRUSSELS (BE); JULIDANS, AMSTERDAM (NL); ROMAEUROPA FESTIVAL (IT); THÉÂTRE JEAN VILAR DE VITRY-SUR-SEINE (FR); NEON ORGANIZATION FOR CULTURE AND DEVELOPMENT (GR); FESTIVAL APERTO / FONDAZIONE I TEATRI – REGGIO EMILIA (IT); FESTIVAL DE OTOÑO DE LA COMUNIDAD DE MADRID (ES)
IN COLLABORATION WITH
DÉPARTEMENT DU VAL-DE-MARNE, AS PART OF THE CREATION RESIDENCY AID (FR), THE LAVANDERIA A VAPORE CHOREOGRAPHIC RESIDENCIES PROJECTS (IT)
"LARSEN C" TOUR IS SUPPORTED BY
ONASSIS STEGI'S "OUTWARD TURN" CULTURAL EXPORT PROGRAM
INFORMATION
TICKETS
Onassis Stegi Friends presale: from 4 MAR 2022, 17:00
General presale: from 9 MAR 2022, 17:00
Full price: 7, 10, 18, 25 €
Reduced, Friend & Groups 5-9 people: 8, 14, 20 €
Groups 10+ people: 7, 13, 18 €
Neighborhood residents: 7 €
Unemployed, People with disabilities: 5 €
Companions: 10 €
Group ticket reservations at [email protected]
Με την υποστήριξη:
ELECTRONIC TICKET SALES
The digitalticket / print@home service is available for online ticket purchases. Open the pdf on your smart device, alternatively save your ticket on your android or IOSwallet or print it and enter directly into the hall.
TICKET PURCHASE LINE
2111981784
TICKET PURCHASE LINE FRIENDS OF THE ROOF
2130178200
Disabled persons ticket line
2130178036 and [email protected]
TICKET OFFICE AT THE HOUSE (Sygrou 107)
The ticket offices of the Roof will remain closed until further notice
Read more
Translated with www.DeepL.com/Translator (free version)
https://www.onassis.org/el/whats-on/larsen-c-christos-papadopoulos
Υπό την αιγίδα               Σε συνεργασία          Με την υποστήριξη       Με την υποστήριξη