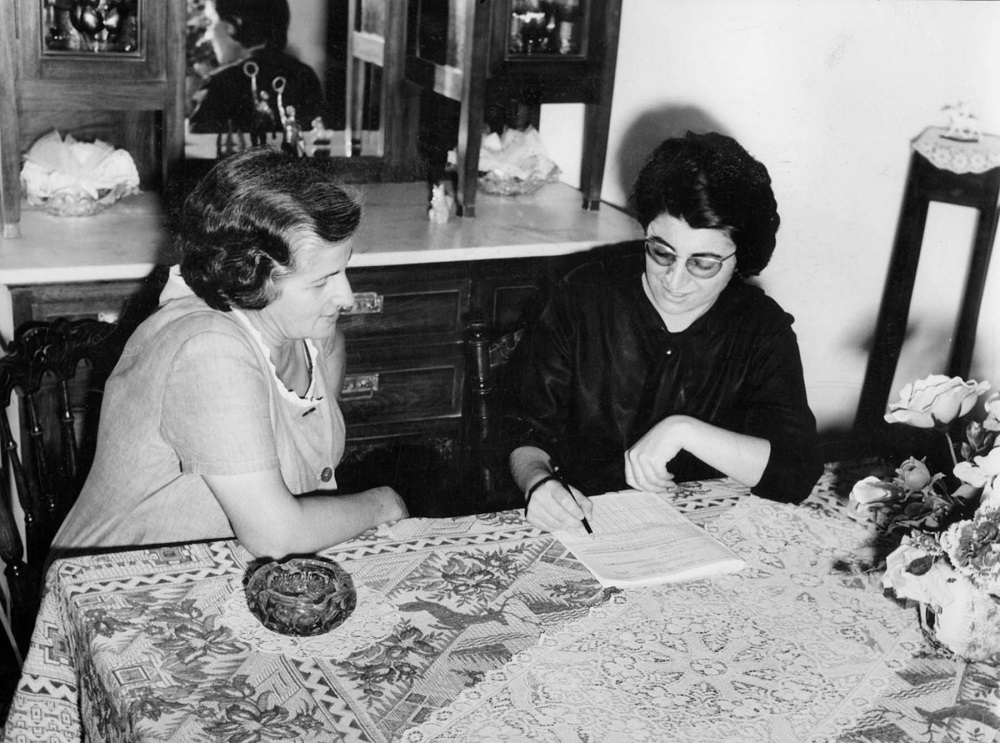 A report on data and human communities from the 60s to the present
Cities, computers and communities in an exhibition in two episodes. With material from the archive of Constantine I. But also with new research in modern Athens, the exhibition highlights how the post-war period is connected with our modern era, through ideas about data collection, urban space and people.
If our cities are the sum of our desires, what do the machines have to tell us about it? Inclusion and exclusion. Questionnaires and monitoring mechanisms. Eutopias and dystopias. Onassis stegi presents from January 28 to February 26, 2023 the exhibition "Konstantinos Doxiadis and informational Modernism – the machine at the heart of man" that examines one of the most decisive social conditions of the last fifty years: the collapse of cities, people, information and calculations, in two episodes.
The exhibition, conceived, researched, curated and designed by Farzin Lotfi-Jam and Mark Wasiuta and directed by Aphrodite Panagiotakos and Prodromos Tsiavos, is inspired by the work of Constantine I. Doxiadis, who through data collection attempted to answer the following question: How can people living in cities be happy? the report takes the discussion one step further and raises another question: how data collection is used nowadays;
The first episode covers the prophetic use of computers by the Greek architect and internationally renowned urban planner. In the 1960s, The Office of Constantine I. Doxiadis conducted the "human community" project, a survey of Athens residents, which measured their adaptation to the emerging pace and spaces of the post-war city. For the needs of the research, Doxiadis used a supercomputer of the time, which he placed in his office in the center of Athens. Subsequently, he prepared questionnaires distributed in eighteen Athenian neighborhoods, copies of which are presented in the exhibition. His inclusive project focused on the views of the citizens themselves on how they can be happy in their everyday life in the city. The second episode takes a big leap in time, as surveillance systems are rolled out in modern cities, which reinforce the exclusion of minorities. This is where the "new human community" is presented, a critical retrospective of Doxiadis ' research conducted with recently arrived immigrants and refugees. Overall, the report reveals how our current era and the post-war period are linked through data extraction and accumulation techniques. Together, these episodes show the emerging informational geography of Greece, tracing its boundaries and borders, as well as the underlying data they create.
Contributors
Conception, research, curation and design: Farzin Lotfi-Jam and Mark Wasiuta
Executive Director: Afroditi Panagiotakou, Prodromos Tsiavos
Custody assistants: Grace Alli and Meera Almazroei
Coordinating research on the "new human community": Jarrett Ley
Design and construction coordination: studioentropia architects_ (Giota Passia / Panagiotis Roupas)
Construction Consultant: Manos Vordonarakis
Curatorial research and Production Team: Grace Alli, Meera Almazroei, Jarrett Ley, Parker Limón, Austin McInnis
Digital Model Design Assistants: Jialiang Huang, Steven Xianxing Liu, Arseny Pekurovsky, Elina Varouxaki, Adam Lingjia Wang, Gina (Yiqing) Wei, Zifan Zhu
Model Assembly Assistants: Panagiotis Athanasiou, Elina Varouxaki, Emmanouela Lygerou, Valentina Farantouri
Athenian Group "New Human Community"
Coordination: Lefteris Papagiannakis
Production Team: Christos Lazaridis, Nasruddin Nizami, Angeliki Stamataki
Head Of Production: Vassilis Panagiotakopoulos
Producer: Ireilena Tsami
Production Coordination: Iraklis Papatheodorou
Production Manager: Dimitra Bouzani
Production Run: Yannis Iasonidis
Technical Director: Lefteris Karabilas
Deputy Technical Director: Yannis Dovas
Thanks: Polina Kosmadaki, Giota Pavlidou, George Tzirtzilakis
Assignment and production: Onassis Cultural Centre
In collaboration with the archive of Constantine I. Doxiadis & the Constantine and Emmas Doxiadis Foundation
With the support of the Greek Council for Refugees and the"Melissa" Network
With additional support from the Graham Foundation
The exhibition will also have parallel actions that will be announced soon
Info
Onassis Cultural Centre
Syggrou 107
28 January-26 February 2023 | OCC -1
Wednesday-Sunday
18:00 – 23:00
Free entrance with entrance tickets