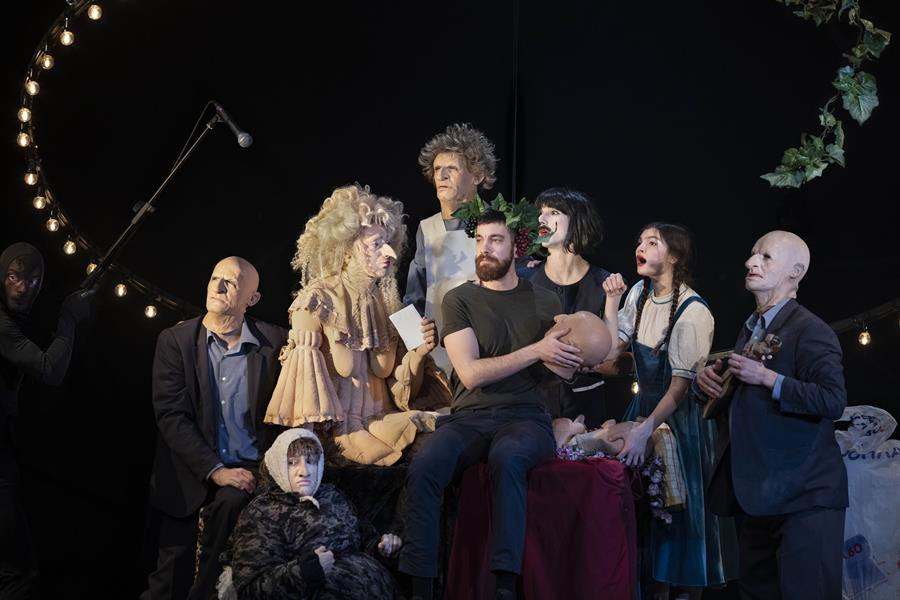 A dark comedy with subversive humor, a troupe of strange creatures. An international success, it makes a farewell stop at the OCC, after Canada and shortly before touring for the fourth consecutive year in Europe.
A tall lady with a special Komi and an even more special nose picks up the phone, sings alone and befriends other strange beings, speaking to them in her own language. It is Euripides Laskaridis in person, transformed into an adorable and outrageous persona, who welcomes us to a universe where dinosaurs and wind turbines, Stephen Hawking and a pile of sheet metal, a DJ's podium and victory of Samothrace live together.
A perfectly idiosyncratic stage language governs Elenit, the exquisitely funny and infinitely charming work of the acclaimed Greek artist inside and outside the borders presented for the second time at the OCC from 16 to 19 February 2023. They have been preceded by important stations in prominent cultural organizations and great festivals from Belgium to the Netherlands, from France to Canada, from Portugal to Italy, with rave reviews and sold out performances. International reviews describe Euripides Laskarides ' work as "anarchic physical theatre that will long be remembered" (Graham Watts, "dance Tabs"), "one of a kind unlike anything else" (Catherine Lalonde, "Le Devoir") and himself as "an artisan in times and Atmospheres, a creator of unusual characters, able to connect the domestic with echoes of the mundane" (Clàudia Brufau, "Núvol"). With his works labeled "tragic comedies", Euripides Laskarides is not easily categorized. It moves in a surprising way to the limits of happening, Burlesque and contemporary dance, inviting our gaze to dwell on the transformative "here and now" of every stage moment that makes the familiar unfamiliar and the absurd miraculous.
Shortly before its fourth tour abroad, Elenit makes a farewell stop at the roof, where, four years ago, it gave its world premiere.
ELENIT's international tour takes place with the support of the Onassis Cultural Centre's "extroversion" programme
The show uses smoke, laser and strobe lights.
Performance information
Onassis Cultural Centre
Syngrou 107
16-19 February 2023
Main Stage
Performances: Thursday to Sunday 20:30
Duration: 80'