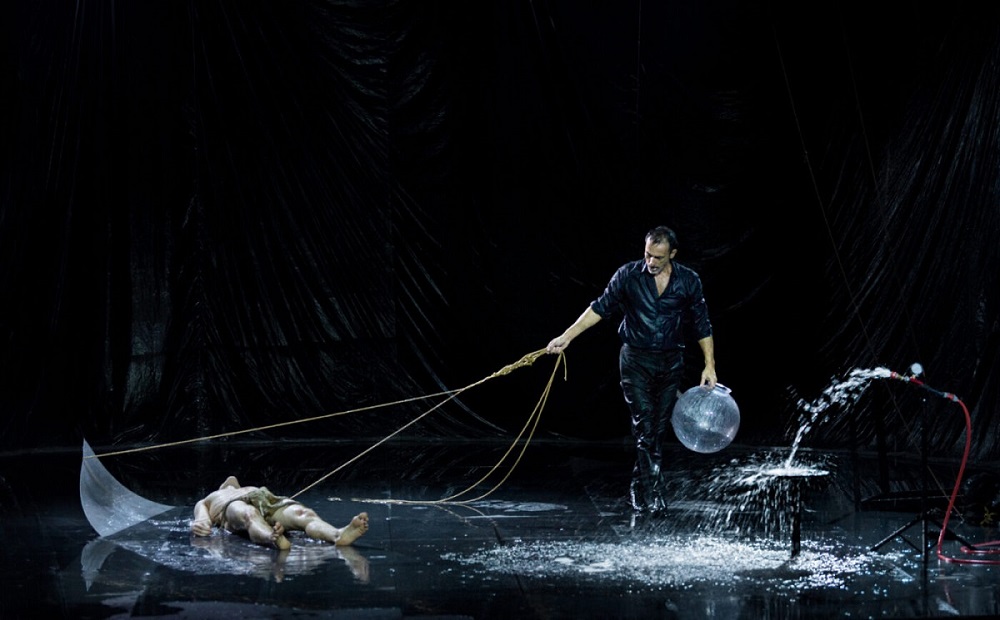 Dimitris Papaioannou, the leading artist, director, choreographer, visual artist and performer who enchants the audience in the biggest festivals and theaters of the whole planet with his hybrid creations and aesthetically revealing images, presents for the first time in Greece, at the Athens Concert Hall, "ΙΝΚ". A play flooded with water, which puts to the test body and soul, a bold immersion in the complexity of human desire that was honored in Italy with the Ubu award 2020-21 ("Best Foreign performance presented in Italy").
The project goes up to 12, 13, 14, 15, 19, 20, 21, 26 and January 27, 2023 at Alexandra Trianti Hall and is a co-production of D. Papaioannou and the Athens Concert Hall. Presale for all shows began on November 14.
"Inc" is a play for two created and performed by D himself. Papaioannou with Šuka Horn. Its first version was born in 2020 for two important Italian cultural institutions, the Torino Danza Festival and the Reggio Emilia Aperto Festival. This year, D. Papaioannou, artist in residence of the Megaron for the last five years, returns to the studio and completes " Inc " in view of his new world tour, which starts in January 2023 from Athens and will end in early 2024. Milan, Rome, Montreal, the National Theatre of Korea in Seoul, Sadler's Wells in London and the Lyon Biennale of Dance are just some of the intermediate stops of this journey, which has as its starting point the Palace.
The tour of  "ΙΝΚ " is a co-production of the Biennale de la danse de Lyon 2023, Sadler's Wells London and the Athens Concert Hall and is held with the support of the Ministry of culture.
The guardian of a dark, cataclysmic universe struggles to maintain order, balancing on a perpetual fragility. The invasion of a visitor from the bowels of the Earth disrupts his solitary existence, bringing him face to face with tenderness and suffering, even with cruelty. In a duet that soon turns into a duel, Dimitris Papaioannou, facing the dancer Šuka Horn, tests the limits of reality through the filters of science fiction and horror. The result is an immersive chase, a dreamy (or maybe nightmarish?) manhunt… or is it us trying to escape from our own subconscious;
With Šuka Horn and Dimitris Papaioannou
A creation by Dimitris Papaioannou
Set + costume design: Dimitris Papaioannou
Lighting design: Stefanos Drousiotis + Dimitris Papaioannou
Sound Design: David Blouin
Order and co-production: Torinodanza Festival / Teatro Stabile di Torino-Teatro Nazionale + Fondazione I Teatri / Festival Aperto-Reggio Emilia
Tour co-producers: Biennale de la danse de Lyon 2023, Sadler's Wells London, Athens Concert Hall
Supporter: Ministry of Culture and Sports.
The first presentation in Greece is co-produced by the Athens Concert Hall and Dimitris Papaioannou.