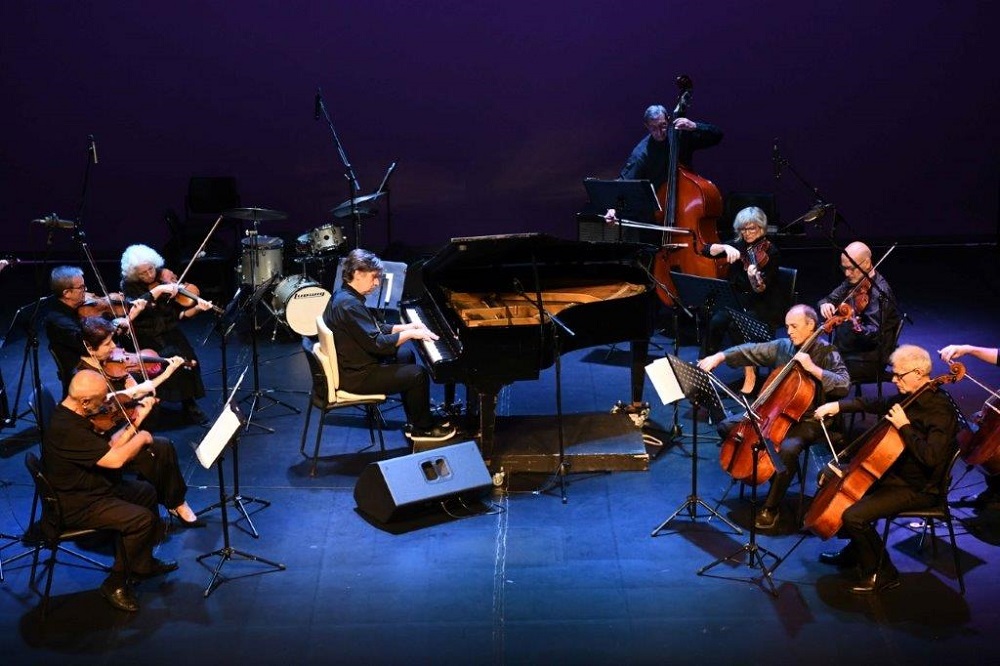 Anastasios Pappas (piano), Vilen Karapetian (double bass), Sotiris Douvas ( drums) and The String Orchestra of the Municipal Conservatory of Patras "Mikis Theodorakis", in a unique concert entitled "Pappas & Friends" will fill at 9.00 on the evening of Thursday, November 10, The "Dimitris Mitropoulos" Hall of the Athens Concert Hall with Bach, Mozart, rock, Broadway musicals, jazz, funk and the Greek tradition.
The concert " travels "to Athens and carries the" stigma "of the Municipal Conservatory of Patras, after the huge success it had during the two days of October 25 and 26 at the" Apollo " Theater of Patras where both days the tickets were sold out.
The Athenian audience and not only, will enjoy pieces by the classical and jazz pianist-composer Keith Jarrett, works for piano by W. A. Mozart, by Chick Corea. A program that "flirts" with classical music and Jazz will not be missing the adaptation on works by Bach. This is what composer and pianist Konstantin Vilensky took care of with four variations on well-known Bach themes.
Also one of Johann Sebastian Bach's well-known works the well-known aria on the string of G (Air on the G string) will be heard. With an imaginative cover for J's jazz piano trio. Loussier. (1st Panhellenic performance) and the work of the French composer and pianist Claude Bolling for jazz piano trio "Jazz a la Francaise". From this work has been chosen by pianist A. Pappas three characteristic pieces in which we can hear elements from classical(baroque and romantic period, bressionism) but also jazz swing to Latin (Bossa Nova).(1st Panhellenic execution)
An adaptation of Anastasios Pappas for jazz piano trio and orchestra of George Gershwin's well-known song "The Man I Love"will then be presented. Here the course of the arrangement is reversed: while the usual in pieces of classical composers such as e.g. Bach Mozart heard in the program. The cover takes them to jazz.).
"Serious" music soon after will hand over the baton to a cover of rock music's "anthem." The famous "Bohemian Rhapsody", F.Mercury-Queen) for piano trio Jazz and string orchestra.(1st Panhellenic execution)
The last piece to be heard has a special relationship with Patras since the first performance took place in 1987 at the Roman Conservatory of Patras. This work was an order of the then artistic director Thanos Mikroutsikos to Kyriakos Sfetsas for the Patras International Festival.