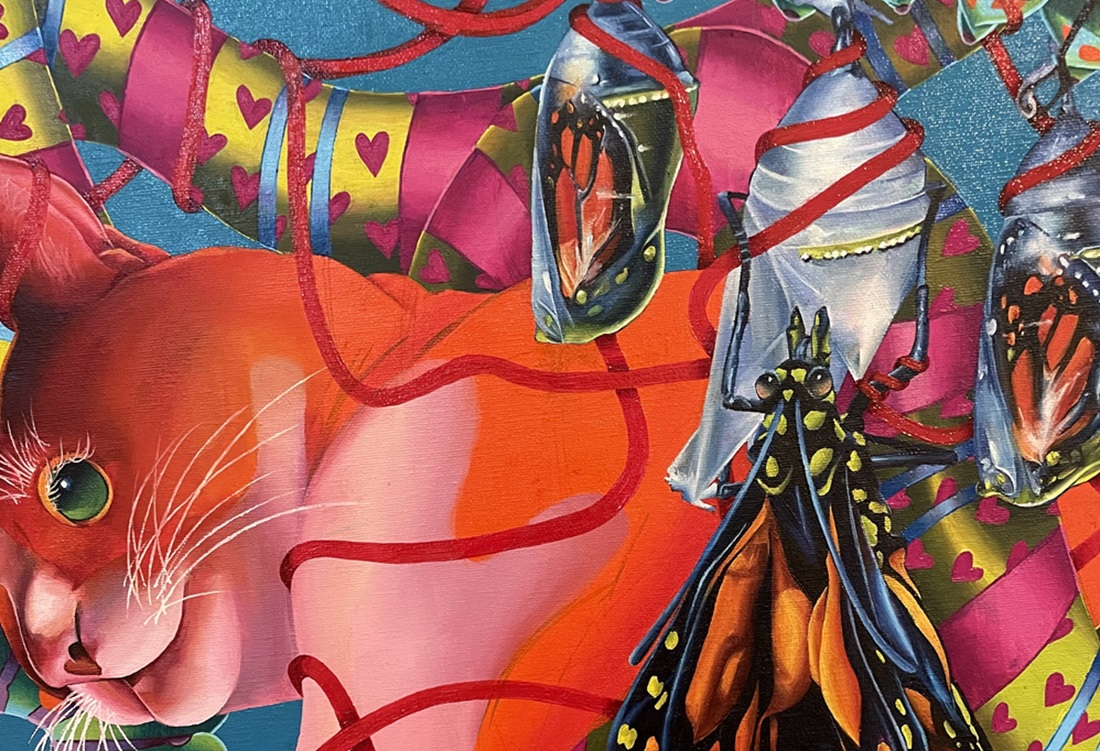 The contemporary art gallery BRAGGART presents the first solo show entitled Ecdysis: the process of skin shedding by the artist Irini Sinegalia, from 22 November to 15 December 2023, at the Art Box, 55 Papakiriazi & Skarlatou Soutsou, in the centre of Larissa. The opening will take place on Wednesday 22 November at 19:00. The exhibition explores how our everyday life can change from one moment to the next. How we can survive through the difficulties we encounter by losing carefree moments of our lives.
Ecdysis is the discarding of the covering before adulthood. Through skin change there is a simultaneous process of wear and regeneration. As through the removal of the old is revealed, the new comes to the surface. The process of wear and tear occurs over an ephemeral and rapid time frame. Both the snake and the caterpillar symbolize renewal, the brief and the transient. The snake changes skin while the caterpillar changes to a butterfly. At the same time, the shapes that the snake takes in the space bring to mind the children's game "snake", referring in turn to the warmth of family moments.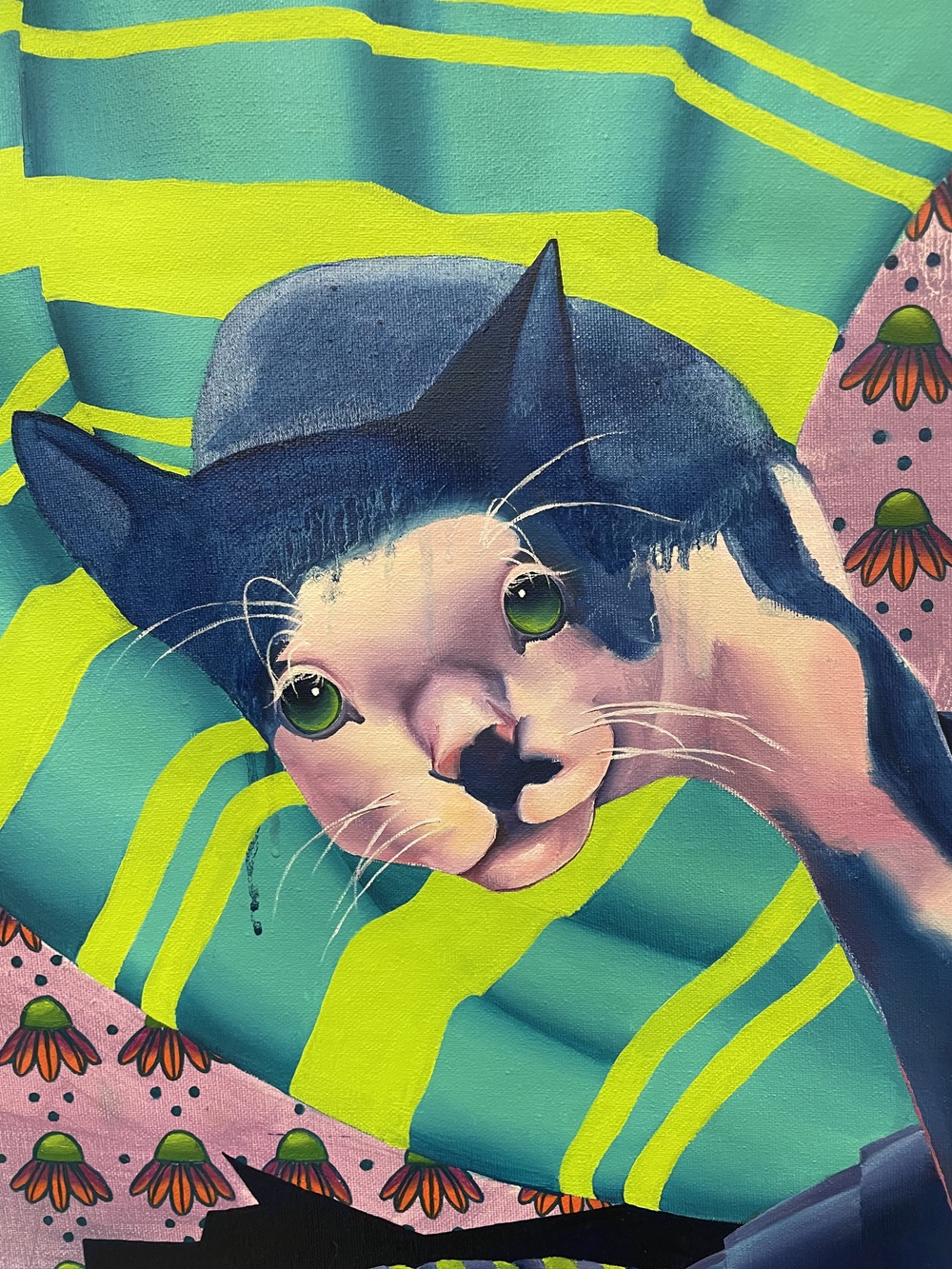 The cat, on the other hand, (an animal which the artist has grown up with) symbolizes the familiar, the home and the family, key factors for survival in these constant and often abrupt changes. Man in turn experiences situations of short or long periods of time that force him to change. In order to cope with them he resorts to withdrawing or acquiring feelings and thoughts, objects and things. He changes internally but often also externally so that he can gain strength to move on. In addition a companion of a small creature of a pet that offers tenderness and love through instinct is another solution. The figures' eyes are reminiscent of both children's toy-like buttons and animals, reminding us of the animal side of man that often comes to the surface. The recurring patterns throughout the works are a hopeless attempt to maintain control and order amidst these changes.
The artist Irini Sinegalia was born in 2001 in Athens. She graduated from the Arsakeio Tositseio of Ekali in 2019 with distinction, while since 2018 she attended drawing classes at the Plaka Arts Center with teachers Thodoris Angelopoulos and Alexandros Laios. She has been admitted to the Athens School of Fine Arts as an undergraduate student and has been in the 6th Painting Workshop since the beginning of her studies with professors George Kazazis and Panagiotis Siagris.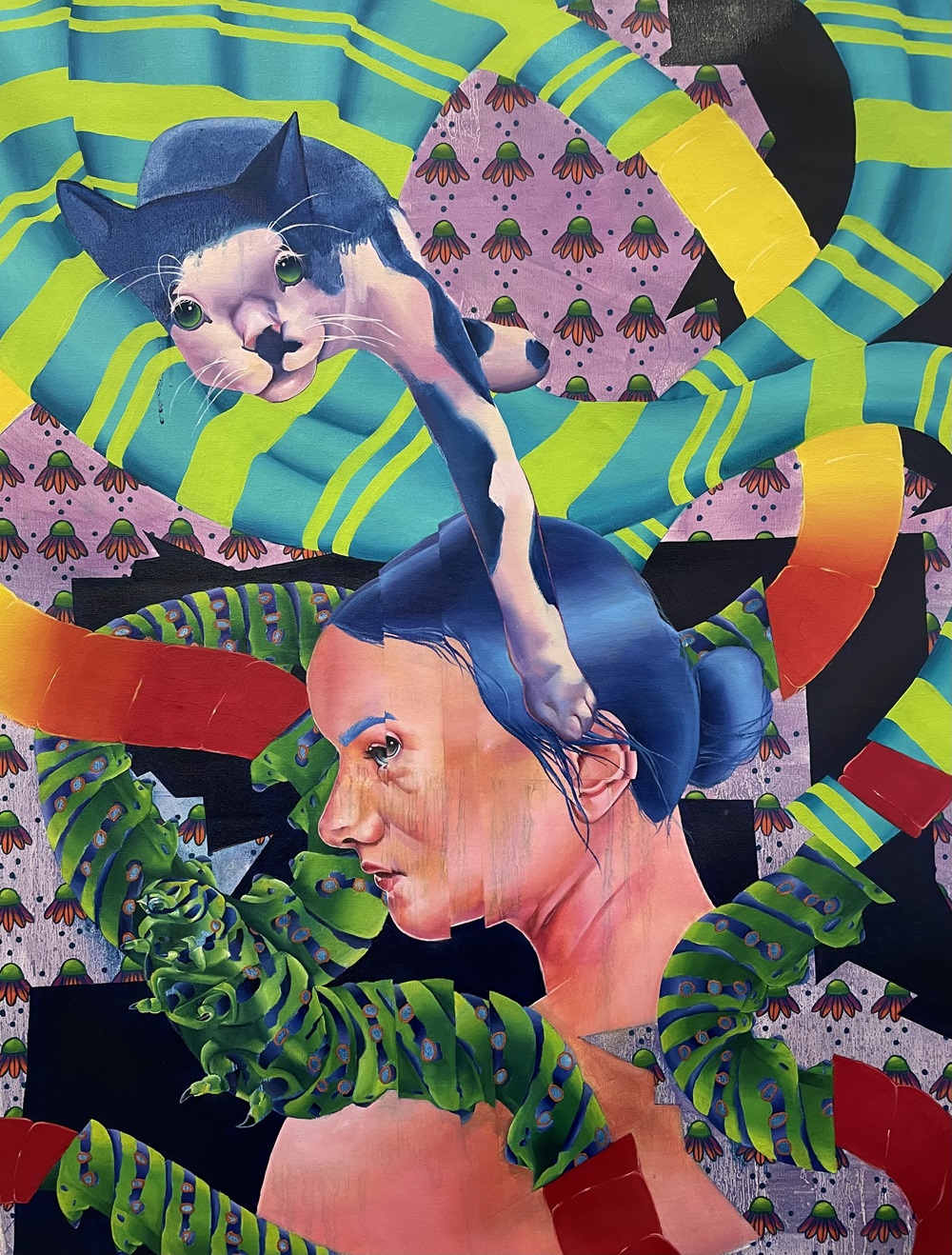 Organized by:Braggart Contemporary Gallery Founded by Androniki Daskalou
Opening Night:  22 November 2023, 18:00-22:00
Duration: 22 November- 15 December 2023
Opening Hours: Monday: Closed, Tuesday and Thursday:10:00-14:00 Wednesday and Friday 12:00-20:00, Saturday: 10:00-14:00 Sunday Closed
After Appointment Τ:6908622813
Location: 55 Papakiriazi & Skarlatou Soutsou, Larissa, Downtown