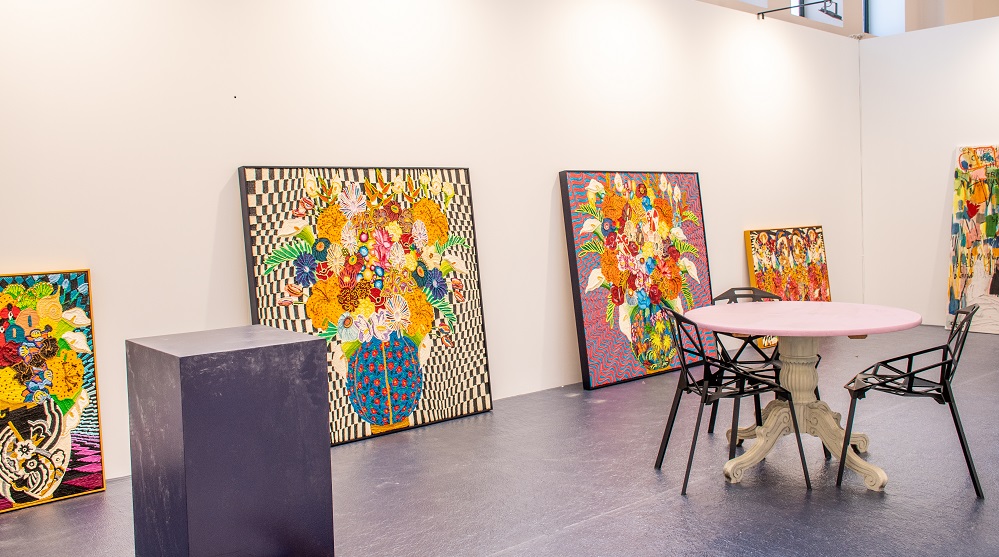 With a record number of participants, an enriched program and the physical presence of art galleries from Greece and abroad, artists and visitors, Art Athina returns with momentum.
The largest annual art event in Greece, which celebrates its 25th anniversary this year, will take place from Friday, September 16, to Monday, September 19, 2022, Under The Patronage Of H.E. The President Of The Hellenic Republic Ms. Katerina Sakellaropoulou at the Zappeion Mansion.
This year's exhibition, organized by the Hellenic Art Galleries Association, will be attended by 80 art galleries from Greece and abroad. The rich artistic program, directed by Stamatia Dimitrakopoulou, includes 15 sections covering a very wide range of fields and interests of the contemporary art scene.
The program is always composed of the Main sections, which also reflect the main exhibition program of Art Athina. Highlights, with new galleries from abroad, at the invitation of the Artistic Director of Art Athina 2022, Stamatia Dimitrakopoulos. Feature, with galleries from abroad selected by an invited independent curator for 2022 this is the independent curator Kate Caruso from the UK, who lives in Los Angeles. Projects, with independent art spaces. Design, with Greek and international participation.- Talks, including discussions with invited artists, museum directors and renowned curators. Film & New Media Space, with a tribute to the pioneers of Greek video art of the 80s and 90s. Art Athina X Daata, presenting videos created by international artists in collaboration with the online platform for video and NFT, Daata. Kid's Educational Program, developed by the non-profit international social organization for contemporary art and culture KROMA, for children from six years old, teenagers and their accompanying persons.
Art Athina All Year Round, which deals with actions and collaborations throughout the year, includes: The Art Athina Artist Residency Program, in which international artists represented by galleries participating in the Feature and Highlights sections of Art Athina stay in Athens for 30 days and create artworks that are exhibited at the Zappeion – this year's event is held in collaboration with the Brown Hotels chain – The Art Athina Educational Program, which takes place for the fifth time and involves students from Athens and Thessaloniki, under the responsibility of curator Daphne Politi and with the support of the AC Laskaridis Charitable Foundation and the initiative Make or Break – Art Athina podcasts, which are available on Spotify.
Art Athina, an institution that closely follows developments in the field of visual arts, this year, in addition to the basic themes that make up its program, has included new categories that broaden the spectrum of its interests, but also take into account the changes that technology is bringing to the field of visual arts.
In this context, Art Athina presents for the first time an exhibition of works which are exclusively NFT that have never been shown at any other event, while the Art Athina Pavilions section combines the world of contemporary art with that of architecture. In addition, this year, in collaboration with MOMus-Museum Alex Mylona, the Art Athina Prize will be awarded to an emerging artist.
This year's Art Athina is the first to take place in its established form after the pandemic, but it has not broken ties with the art-interested public in the past two years, despite the difficult conditions imposed by Covid-19. In 2020 it took place digitally through an Internet platform, and in 2021 a hybrid solution was adopted, combining the digital exhibition with the presentation of "compressed" (QR codes) artworks in a physical space in the lobby of the King George Hotel in Syntagma Square.
Main:
The MAIN section of the fair spreads in the central spaces of Zappeion Mansion, where Greek and international galleries will present their booths.
Participating galleries are: a.antonopoulou.art, Agathi-Kartalos, Alibi Gallery, Allouche Benias Gallery, Alma Contemporary Art Gallery, Anna Pappas Gallery, Argo Gallery, Art Appel Gallery, Artower Agora, Αrt Zone 42, Astrolavos Art Galleries, Athens Art Gallery, CAN Christina Androulidaki, Citronne Gallery, Crux Galerie, Cube Gallery, Dio Horia, DL Gallery, Ekfrasi – Yianna Grammatopoulou, Eleftheria Tseliou Gallery, Eleni Koroneou Gallery, EPsilon Art Gallery, Ersi Gallery, Gallery 7, Gallery Art Prisma, Genesis Gallery, Hot Wheels Athens, Ileana Tounta Contemporary Art Center, Kalfayan Galleries, Let Them Eat Cake / M.A.M.A. contemporary, Lola Nikolaou Gallery, Melas Martinos, Mihalarias Art, Papatzikou Gallery, Peritechnon Karteris Art Gallery, Rebecca Camhi Gallery, Roma Gallery, Sianti Gallery, Skoufa Gallery, Technohoros Art Gallery, The Blender Gallery, The Breeder, Zina Athanassiadou Gallery, Zoumboulakis Galleries.
Highlights:
The section Highlights will enable a wave of new generation international galleries to participate in Art Athina, under invitation by the artistic director of the fair, Stamatia Dimitrakopoulos.
Part of Highlights this year are galleries Voloshyn and Ya Gallery from Kiev. Art Athina covers their booth cost in support of the important contemporary art scene of Ukraine and the promotion of its contemporary artists.
Participating galleries are: Christian Andersen (Copenhagen), Chris Sharp Gallery (Los Angeles, Mexico City), Fitzpatrick gallery (Paris), High Art (Paris), Harkawik (Los Angeles), M + B (Los Angeles), Art Βeat (Tbilisi), Sophie Tappeiner (Vienna), South Parade (London), UNA (Piacenza, Milan), Voloshyn Gallery (Kyiv), Pavlo Gudimov Ya Gallery Art Center (Kyiv), Zeller van Almsick (Vienna)
Feature:
Every year, Art Athina invites an independent curator to invite galleries in Art Athina under a curated context. Art Athina 2022 Feature curator is Kate Caruso, an independent art writer and curator based in Los Angeles. Participating galleries: Arusha Gallery (Edinburgh), Bianca D'Alessandro (Copenhagen), Ciaccia Levi (Paris), Et Al. (San Francisco), Ginny on Frederick (London), Larder (Los Angeles), Laveronica gallery (Modica), Luce Gallery (Turin), Moskowitz Bayse (Los Angeles), The Valley (Taos,New Mexico)
Projects:
Selected independent project spaces present their programming in a special curated section in Art Athina 2022. Participating spaces: Aetopoulos, Arch, Alkinois, Callirrhoë, Sealed Earth Ceramic Studio and Gallery, SECCMA Trust, The Intermission x Balice Hertling
Design:
Outdoor architectural pavilions presented in the entrance of the Zappeion Mansion, inaugurating this new section of Art Athina. Art Athina Pavilions will be accessible by the public, standing outside the imposing Zappeion Mansion. For 2022, the architectural studios presenting their own individual pavilion are: LOT Office for Architecture and Point Supreme.
Art Athina Pavilions:
Art Athina presents for the first time the Art Athina Pavilions area. Various architectural structures will be exhibited at the entrance of the Zappeion mansion, making them accessible to the public throughout the day. The architectural firms LOT Office for Architecture and Point Supreme will participate in Art Arthina 2022.
Art Athina 2022 is organized by the Hellenic Art Galleries Association and is a production of Be Best. The event has been included in the Attica Regional Operational Program 2014-2020.
Opening hours:
Friday, September 16th – By invitation only
Saturday, 17th to Monday, 19th September – 12:00-21:00
Tickets:
Admission ticket: 10€
Reduced: 7€ (students, holders of unemployment cards and people over 65)
Free admission: people with disabilities, students of the Athens School of Fine Arts, members of the Chamber of Fine Arts of Greece (upon presentation of the appropriate ID), AICA members and children up to 18 years of age.
For groups of visitors with more than 15 people, the fee is 7€ per person.