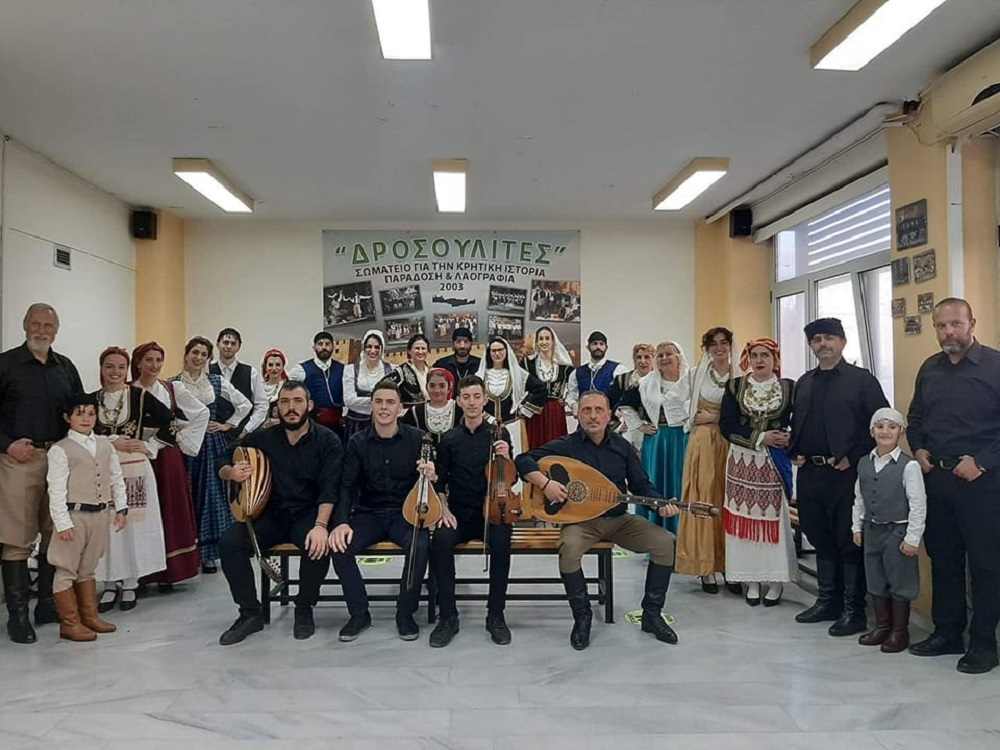 Drosoulites are an association dealing with history, tradition and folklore of the Crete, which forms part of the broader Greek cultural achievements.
Starting from the dance forms, it looks behind them to find which spirit led to the dances, music and songs, and contributed so intensely to high moments of history.
It also searches on the contemporary threats of the Cretan tradition, and how one can resist to today's spiritual decadence on one hand and to superficial reproduction of Cretan forms, which do not maintain their essence.
Under above context, Drosoulites, first of all, dance.
Not in a uniform way, soldier-wise, but in the manner each one expresses his personal style, his soul, on the dance forms. They also sing, and play instruments: Rizitika and mantinades, lyra, violin, lute, mandolin, percussion, constitute activities of the association with distinguished teachers and enthusiastic members.
Further, Drosoulites search for themselves. They study and present subjects on various matters involving Crete.
Drosoulites focus on the resistance spirit of Crete, as this was elaborated, in parallel with the one of the other Greeks, through centuries of slavery by Westerners and Turks.
This way, we manage to keep a holistic approach to Crete, interrelating all components of the island culture, not isolating just one, eg dance, since for one the feel a tradition, he needs to approach same in its entirety, through all its elements and aspects.
This image is presented outwards, through events combining speech, dance, song, music, touching historical, folk, music and dances issues, corresponding to the Association's concerns. Such events are prepared by Drosoulites themselves, and are presented either by the various departments of the association supplementing each other, or in cooperation with other associations. Synergies with organization sharing the same approach of culture and Cretan tradition is anyway within Drosoulites' goals.
The association operates based on the traditional communal way of Greeks, and focuses on collective work; this is introduced institutionally, as it is provided that nobody can be elected as President for two consecutive terms, precisely because the Association's activity is collective.
DROSOULITES, Association for the Cretan history, tradition and folklore
Gounari 49, Piraues, 1st floor.
Tel.: 697 726 8543, 697 637 3758