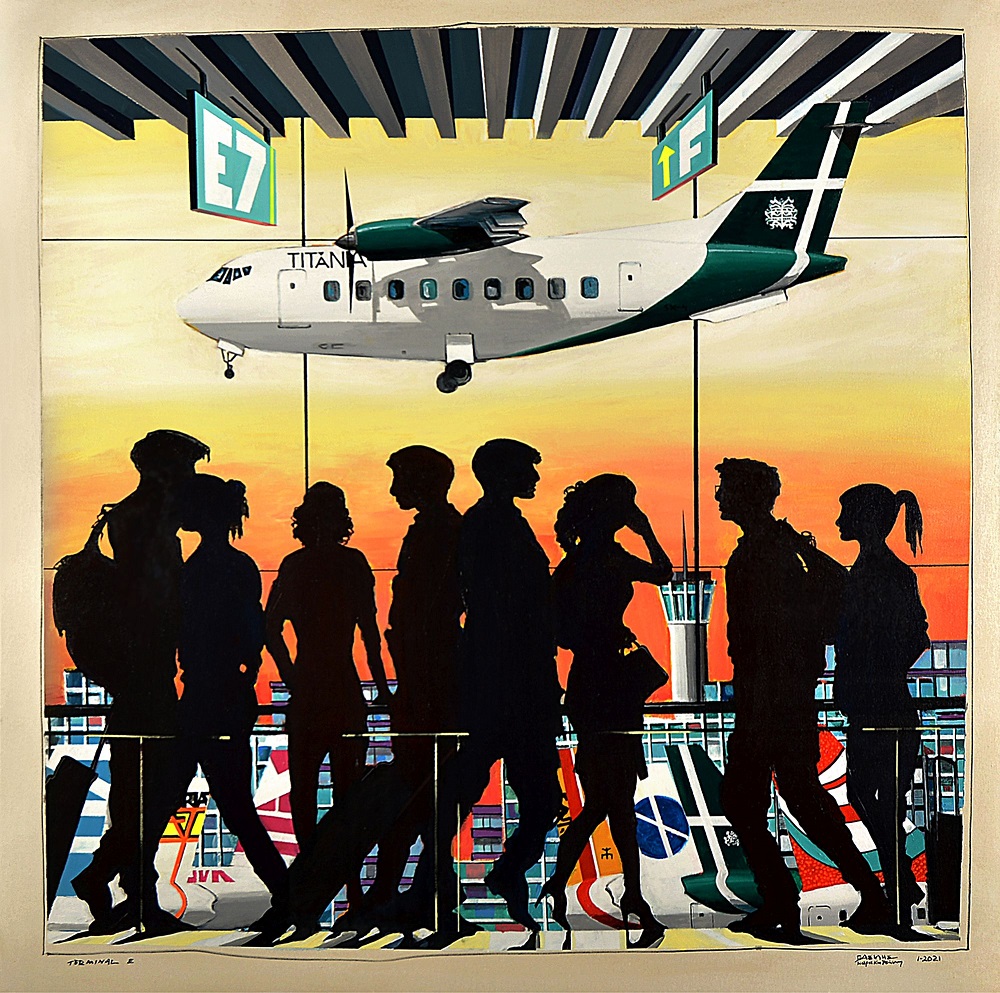 From 3 March to 8 April 2023, Marginalia Genesis of Nicosia presents the exhibition entitled "Titania" by the painter Vassilis Karakatsanis. An exhibition that concerns the artist's fantasy on the concepts of travel and freedom, in an original, fairytale and sweet way. It is the 16th solo exhibition of the painter in Cyprus, an artist with a long presence in Nicosia and Limassol from 1991 until today. The exhibition is curated by Michalis Vassiliadis and accompanied by a text by the art historian Louisa Karapidaki.
In 2022" Titania " was presented at the Genesis Gallery in Athens, curated by Louizas Karapidakis, with the support of Eleftherios Venizelos International Airport and the Vogiatzoglou Gallery
Athens, January 2023
Vassilis Karakatsanis
"Travel has always been a movement of liberation or escape in my life. The plane as a means of Transport has always moved me more, for its ability to take me to far-flung destinations within a few hours. I have always looked at the planes of the various airlines, their colors and logos. In my imagination years back I was thinking about the plane that would have a Greek name and would not need the Latin script for its international support.
The Titans were a race of supernatural beings of ancient Greek mythology, consisting of powerful deities born of Gaia and Uranus.
The idea was implemented. The new' fantastic ' airline Titan, is my visual vehicle for destinations that each of us, for some reasons, wants to find. I am glad because with this fairy tale I spent all this time, approaching places that I have been, but something turns me back and places that I want to see & live.
Titan has a fleet of aircraft types for all distances and destinations, while it does not collect a ticket for those who want to get on the plane with me and take off.
Good trip.»
"Titania's fascinating travels"
Athens, January 2022
               Louisa Karapidaki, art historian
"The artist Vasilis Karakatsanis, this time as" captain " of Titania's air fleet, travels us with his painting choices to enchanting destinations all over the world. He chooses countries of his experiential memory, activates the abundance of his travel experiences and guided by his memories and the aesthetics of his painting texture, he offers us the joy of exploring.
The artist transfers to the canvas his landscapes with design clarity and balanced formulations and handles with extra sensitivity a variety of colors, depending on the thematic needs and the specific characteristics of each representation. His compositions with peculiar descriptive skill eloquently depict a wealth of visual information with surrealist references, selective simplistic abstractions, but mainly with a realistic connotation without photographic rendering.
Vassilis Karakatsanis with his narrative writing, without nostalgic or embellishing mood, composes imaginary urban landscapes with clear naturalistic elements and incorporates standard decorative elements of the folk art of each country.
It captures building facades, interiors, seascapes, streets and alleys, cultural heritage monuments, religious buildings, heavenly Gardens, scenes of everyday life, flags and symbols to convey the different identity of each destination and the surrounding atmosphere. Remarkable is the human absence in his complex depictions, since only at the end of his long tour of 37 different destinations does the painter sketch travelers in waiting areas of imaginary airports and then concludes his story with a symbolic work, where Titania's aircraft is in the skies, ready for new adventures.
The thematic choice of Vassilis Karakatsanis to represent places from his travels with biographical references in order to bring alive the images engraved in his memory and his personal feeling is not accidental, nor ephemeral: "my inspiration […] in the 40 years of my artistic effort more or less moves around my own life, influenced by places, people, situations, emotions, objects".
Throughout his artistic career he returns systematically to his travels, among other themes, seeking each time a different morphoplastic expression, but also retaining many of the special features of his recognizable painting idiom and the virtuosic arrangement of spaces, the combinatorial ability, the pictorial formulations and the dynamic design line of the contours.
His first steps were in 1984, with the exhibition "Aragon 249, Barcelona 7", where he first presented his thematic preferences and stated: "There was always a decisive connection with the places where I lived. It is not the building itself or the street [ … ] people and objects within a space, within a city."
He continued his artistic pursuits with the exhibition " Cities "in 1986, while in the following years, he presented the urban maps until the emblematic exhibition" Maps 1987-travels 2012 "and described his works:"like the small drawers of an imaginary bedside table containing papers, scraps, pebbles, threads and many secrets, smells and flavors that make me smile slyly, smugly". In 2006 and 2020 he presented "unknown country" saying: "I wanted to make a small fairy tale with landscapes of a country reminiscent of marshmallows", while at the same time he was concerned with similar iconographic themes such as "urban details" (from 2011 to 2021) and "distinct region", with his own version of the city of Athens (2021).
Vassilis Karakatsanis conveys to us the sense of joy of experiences and freedom of travel. His works, with the Titanic fleet of planes conquering the world, create an uplift of Soul, an emotional bliss, and give hopeful expectations by traveling us to its conceivable and true colored States, since after all: "the journey is like a gate from which we exit reality to enter an unexplored reality, which seems like a dream", as the French writer Guy de Maupassant wrote.»
Opening: Friday, March 3, 2023 at 19:30
Duration: 3 March to 8 April 2023
Editing By Michael Vassiliadis
Text: Louisa Karapidaki (art historian)