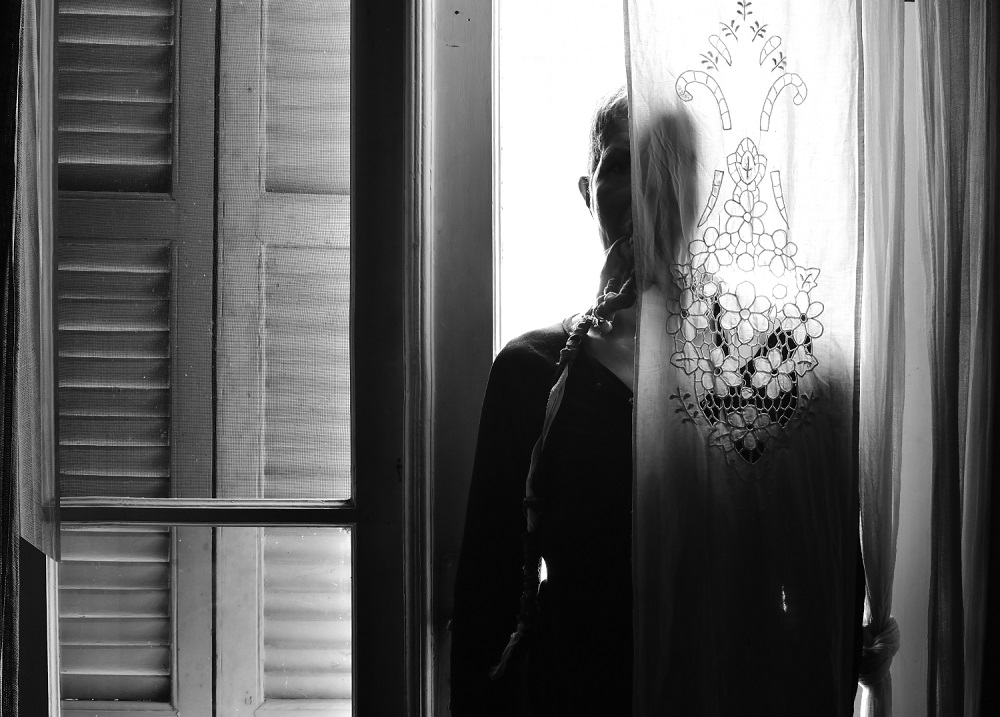 The Municipality of Ermoupolis – the Commission for Quality of Life of the municipality of Syros participating in the parallel events of the Syros-Culture 2022 present on Wednesday June 29th 2022, the performance of Elena Tokinidi "_ΕΥστέραΑ#", produced by Syros Art gallery.
Every single day a new feminicide is reported and announced by the news media in Greece. Witnessing the ongoing insanity and facing events of extreme violence, as citizens and humans, we must take a stand.
"With men's abuses: those proud lords, to blame. Make weak-made women tenants to their shame", wrote William Shakespeare in 1592 in his masterpiece poem of 2000 lines "The Rape of Lucrece".
Tenessee Williams was right to observe four centuries later "that creators and artists are similar to the nervous system of an era or of a country. If the nervous system is affected by the conditions of its environment, then it will reflect these conditions via indirect means or with violent immediacy."
The artist Elena Tonikidi as a creator and communicator of our times will showcase her artistic and personal relationship with this sensitive social problem, directly through a violent way – both embodied and political, through her personal, inner and persistent narrative, the magical and transformative performance "ΕYστέρΑ#".
The audience will encounter and experience throughout the 29th of June a methexis embedded in harsh conditions.
Using the human body as its prime driver, the performance seeks to create an open narrative, addressing the absence of women who have been perished by "the family's hand", beneath the placid surface.
From the rising of the sun and in two acts, the artist will offer her inner self, a tribute to the women that have been perished… She will try to communicate the true self, carrying her body with its protective shell, this membrane, an organ that restricts, and she will achieve a play/installation that creates a "liminal space". Woman's unconscious self will become three-dimensional, with its silent expression, the communication of the body that "speaks", reflecting the female self that breaks, disconnects, melts, sinks…
In Ovid's Metamorphoses, Hymen the god of marriage is covered by his yellowish veil. In defiance of our times and in spite of the enforcement of patriarchy, the creator wraps herself in her own play, the red throe, in order to protect the woman, the basilar membrane and her own existence.
Elena Tonikidi mediates, engages in, transforms herself, and suffers for, and with us, in the public, open space – the steps of the City Hall of Ermoupolis, in Syros.
By observing, interacting, communicating and showing solidarity, we refuse to remain isolated, rather, we choose to take a stand against the major issue of feminicide.
Wednesday, 29th of June 2022
Α' Αct 06.00 – 12.00 B' Act 18.00 – 24.00
Site of performance: The steps of Ermoupolis City Hall, Miaouli Square, Syros
Conceived and performed by Elena Tonikidi_ Abyss&Art
Project production / implementation: Syros Art gallery
Text capture/ Review: Μargarita Kataga, art historian/ theorist
Creator/Editor: Hristina Mauropedi, architect, artist
Photographer: Dora Tsitsikli
Video-editing/ Video documentary & trailer creator: Panos Boudouroglou, cinematographer
Performance photography: Dimitris Doumas, photographer
More information: [email protected]&[email protected]
Elena Tonikidou is an artist/art therapist, associate of the training programs for Mental Health at the University of Aegean – Therapy through art, with emphasis on visual works – Psychology – Art.
Most of her artistic career in painting, curative duties, and project coordination, focuses on the interrelation of mental health with art, as well as the promotion of artistic creativity of people with mental disorders, curetting project art as therapy, in collaboration with Public and Private bodies. ("1st International Symposium of therapy through art" 5th Biennale of Thessaloniki KMST 2015, "art.ψυχοΑρχιτεκτονική", labattoir, Municipality of Thessaloniki 2016, ,"Art _therapy_Now",ArtAthina, 2017, "εκείνο* το μικρό α",1st Biennale Larnaca, Klothogroup, 2018. and more).
Since 2011, she addresses and explores through performance the role of woman as a social construct ("SoMA", Asma Asmaton, 2011, hysTe(r)Ra ",WomeninRED, 2012,  "conversionOral",  ΕΝστίζωα√α,  2019, "Υ εις τη v ", 2nd Festival Phycotherapist, artist, spectator, 2022). Since 2020, she is responsible for the project "Allilenergeia – Texni & Dianemitiki Eumaria", in Kyklades, with first stop in Syros.
More information here: elenatonikidi.com