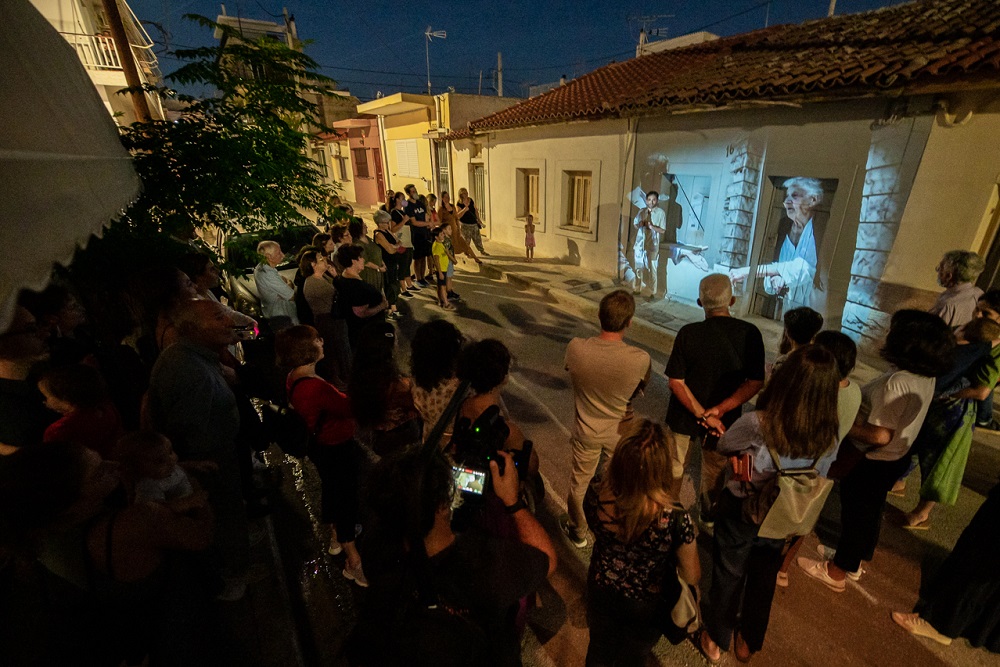 4 days / 13 working groups / 13 artistic projects and networking activities
at the Elefsina Labor and Labor Center (EKEDA), The X-Bowling Art Center
and in 7 more places of Eleusis
An international meeting dedicated to cultural professionals with guests from 13 countries, the Mysterio_56 3rd meeting culture 2030, returns from 10 to 13 November in Elefsina, under the curation of Kelly Diapouli, at the Elefsina Labor and Labor Center (EKEDA), The X – Bowling Art Center and 7 more venues in Elefsina. An important legacy program of the 2023 Eleusis European capital of Culture, a 4-Day celebration dedicated to arts and Culture open to all and a unique networking opportunity with the participation of theorists, artists and cultural professionals from Lebanon to Denmark, local and European institutions, residents and visitors of the city. It is necessary to pre-book here due to a limited number of seats until November 5th.
The Mysterio_56 3rd meeting culture 2030, in its third event focuses on three fundamental axes: the mission of art and culture, the values that guide their practices and the well-being of the communities in which they develop. Aiming to highlight ways of connecting contemporary art with the everyday life of a city and its communities, the program of action is developed around the issues of artistic citizenship, social art (art of sociability) and the cultural development of cities and communities.
The Mysterio_56 3rd meeting culture 2030 returns, creating first of all a natural meeting place for Greek and foreign cultural professionals from Lebanon, The Netherlands, Romania, the Czech Republic, Belgium, Portugal, Cyprus, Poland, Serbia, Germany, France and Denmark, representatives of European institutions, artists, cultural managers, theorists, institutional bodies from municipalities of Attica, the region, as well as for those citizens interested in the cultural development of the region, the arts and culture.
The program of the meeting includes 13 working groups and an equal number of artistic projects, spread throughout the city, as well as independent events, walks, gaming and other actions that have been created through cooperation and co-creation processes between artists, different communities in Eleusis and other parts of the world. Throughout, also during the 4-day, there will be experiential experiences of acquaintance with the physiognomy and the communities of Eleusis, as well as networking meetings with the guests of the action themselves. At the same time and for the first time in the context of the meeting, the "open space" will take place, a place of inspiration, networking and promotion of the activity of the participants. Limited number of seats. Pre-booking is required here until November 5th.
Date: 10-13 November 2022
Venues:
Elefsina center of West Attica EKEDA (Charilaou 28)
X-Bowling Art Center (Charilaou 12)
Museum Of Folklore Association "To Achrachti" (Iakchou 19)
Pontian Association Museum "Nea Trebizond" (Euclid & Filiki Eteria)
Museum of history and folklore Association of Asia Minor Elefsina (Lampsakou 13)
Port Of Elefsina – Location "Fonias" (Nikolaidou & Kanellopoulou)
Store / Atelier VESTIS (Iroon Polytechniou 43)
Bar Mikro Sour Cherry (Nikolaidou 64)
Clock, Archaeological Site Of Eleusis
Registrations in Mysterio_56 meeting culture 2030 here & applications for participation in the" open space " here until November 5th.
Free entrance | limited number of seats