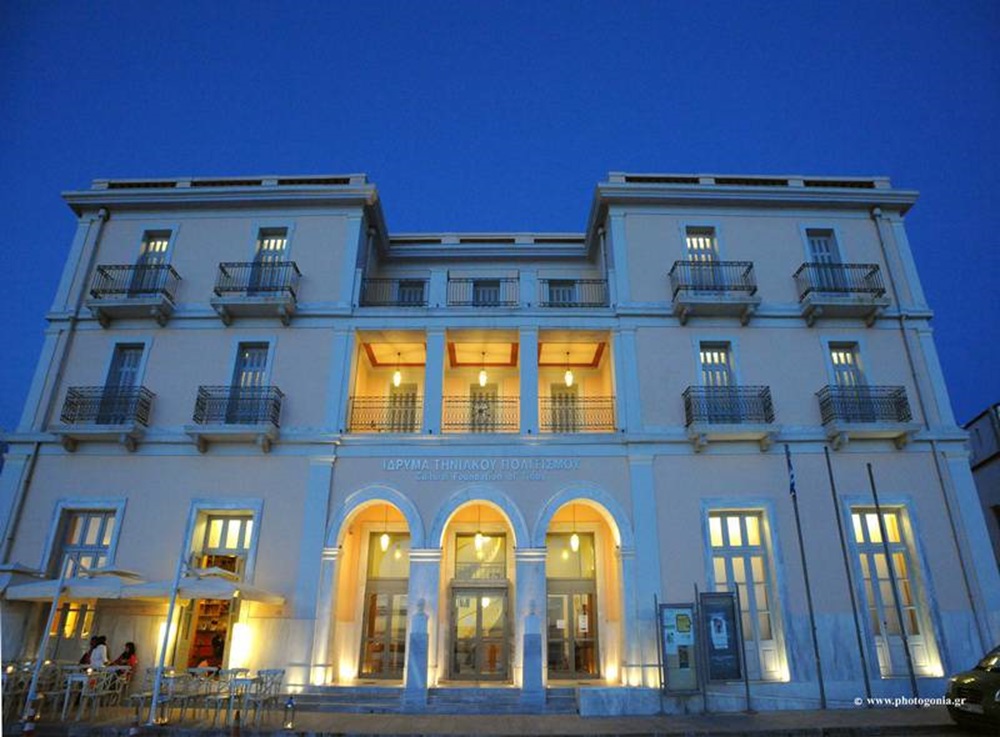 The Tinos World Music Festival presents the second edition of its cycle of musical creation with the title "Transformations", which aims to explore the relationship between the various manifestations of folk musical culture and contemporary artistic creation.
The Tinos World Music Festival was inaugurated in 2013 on the island of Tinos and is co-organised by the Cultural Foundation of Tinos and Creative Musical Island.It has hosted over 100 musicians from Greece and abroad and has been attended by hundreds of spectators from all over the world. Artistic director of the festival is Martha Mavroidi.
With the "Transformations" cycle of events, the festival aims to showcase a new musical community growing around the traditional music of Greece and the Eastern Mediterranean, that seeks new ways of artistic expression. Virtuosi of folk instruments who further develop the techniques of their instruments, transform the traditional musical idioms and create new musical genres, each one marking the result with their own particular artistic identity. Musicians from this community rarely have the opportunity to present their work at an institution dedicated to such genres. The "Transformations" cycle consists of three different versions of the festival (Transformations I, II, III), in three consecutive years (2022, 2023, 2024) and will include concerts and educational activities in various locations of Tinos. The goal of the three-year cycle is to provide a platform where new musical trends will interact with one another through musical partnerships and educational activities, but will also meet with a wide audience, creating a musical network to include both the local community of Tinos and the nearby islands, as well as an ever-growing audience from other regions of Greece and abroad.
Εducational Programms
For the third year, the Tinos World Music Festival organizes two educational programs with two musicians that participate in the festival. A workshop on bouzouki with Fotis Vergopoulos, one of the most important musicians of his generation, and a workshop on Armenian song with Shushan Kerovpyan, an exceptional musician from an Armenian musical family. The workshops will take place at the Cultural Foundation of Tinos on Saturday, 4 November at 12:30 – 14:30.
The participation in the workshops is free of charge.
Registration: [email protected]
Friday 3 November, at 20:00
Cultural Foundation of Tinos
Musafirat
Eleftheria Daoultzi | Giannis Rizopoulos | Kostas Tsarouchis
Musafirat presents a musical journey to Eastern Mediterranean countries and new compositions based on these ancient musical traditions with new approaches and an improvisational mood. Their name is inspired by the title of a book written by Vasileios Ladas, an author from Patras, and in Farsi it means "journey". Musafiri are the travellers, the visitors.
Eleftheria Daoultzi: qanun
Giannis Rizopoulos: percussion
Kostas Tsarouchis: oud
Manos Achalinotopoulos | Martha Mavroidi
Leading clarinet virtuoso Manos Achalinotopoulos shares the stage of the Tinos World Music Festival with Martha Mavroidi, Yiannis Papadopoulos, Giorgos Ventouris and Vangelis Karipis, in a concert with compositions from the album "Hyacinth" –which this year marks the 25th anniversary since its release– and new compositions that explore the place of folk traditions in the music of today.
Manos Achalinotopoulos: clarinet
Martha Mavroidi: electric lafta, vocals
Yiannis Papadopoulos: piano
Giorgos Ventouris: double bass
Vangelis Karipis: percussion
Saturday 4 November, at 20:00
Cultural Foundation of Tinos
Taxiarchis Georgoulis | Nikolas Palaiologos | Vangelis Karipis
Two Greek virtuosi of the oud join forces in a unique concert, that aims to highlight the potential of the instrument and its affinity with other string instruments of the Eastern Mediterranean such as the rabab and the saz. Taxiarchis Georgoulis and Nikolas Palaiologos meet Vangelis Karipis in percussion, in a program containing their own compositions but also traditional songs from the Greek, Turkish and Arab world.
Taxiarchis Georgoulis: oud
Nikolas Palaiologos: oud, rabab, saz
Vangelis Karipis: percussion
Manolis Christodoulou Quintet
The quintet was founded during the pandemic. It was essentially a spark of creation in an otherwise dark period for humanity. Its members are bound together by a mutual affection towards the traditions of both Greece and the wider Eastern Mediterranean region. In theircompositions, there are also clear influences and elements of western music and harmony. The result of the recordings and the first compositions of the quintet is their debut release with music that tells a unique story, one that each listener can imagine differently. The absence of lyrics gives everyone the opportunity to create their own story when listening to each track.
Manolis Christodoulou: qanun
Nikos Kochilas: violin
Ptolemaios Armaos: guitar
Giorgos Ventouris: double bass
Vangelis Karipis: percussion
Sunday 5 November, at 18:00
Museum of Marble Crafts, Pyrgos, Tinos
The third day of the festival is organized for the third year in collaboration with the Piraeus Bank Group Cultural Foundation's Museum of Marble Crafts in Pyrgos, Tinos.
Giorgos Papaioannou | Nikos Papaioannou
Giorgos Papaioannou (violin, viola and lavta) and Nikos Papaioannou (cello and lavta) will present a program of mainly their own compositions but also works by other composers that have inspired them, based on the modal music traditions of the Mediterranean region.
Giorgos Papaioannou: violin, viola, lavta
Nikos Papaioannou: cello, lavta
Fotis Vergopoulos | Shushan Kerovpyan | "From Greece to Armenia"
A six-string bouzouki, one double bass and two voices take us on a journey between Greece and Armenia, with some interesting detours to other latitudes and longitudes. The minimal instrumentation of the ensemble contributes to an authentic approach to these repertoires, always from a contemporary perspective.
Fotis Vergopoulos: bouzouki, vocals
Shushan Kerovpyan: double bass, vocals
Admission for the public is free.
Organisation Cultural Foundation of Tinos, Creative Musical Island
Co-organisation Region of South Aegean, Piraeus Bank Group Cultural Foundation
With the financial support and under the auspices of the Ministry of Culture and Sports
Artistic Director Martha Mavroidi
Website https://tinosworldmusicfestival.com
Email [email protected]
Facebook https://www.facebook.com/tinosworld
Instagram https://www.instagram.com/tinosworldmusicfestival/