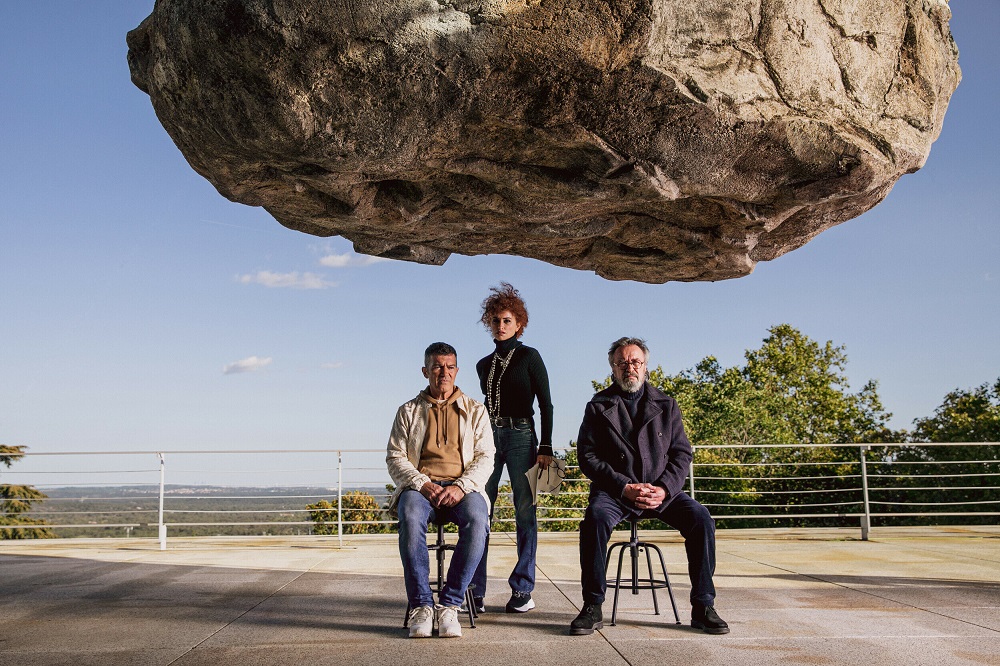 Trailer: https://vimeo.com/710251460
FB Event: https://www.facebook.com/events/3096962100556377
The Athens Hispanic Film Festival – FeCHA returns for the 6th year with the flavour of Spanish-speaking cinema to mark the beginning of the summer film season for another year.
11 fiction films, a tribute to the Goya Awards 2022 with 6 selected short films, two documentaries with an eye on the environment and a tribute to Mexican filmmaker Arturo Ripstein make up the galaxy of the beloved film festival of Spanish-speaking cinema embraced by the city's residents.
The 6th FeCHA will premiere on June 2 with the ultimate Spanish film of the year, "El Buen Patron," a big winner at this year's Goya Awards with Javier Bardem in the lead role. The film won 6 Goya Awards including Best Film, Best Director, Best Screenplay and Best Performance by an Actor, and made history at the Spanish institution with a total of 20 nominations. The finale of this year's program is the Argentinean film "Official Participation" with Penelope Cruz and Antonio Banderas.
Special guest of the Festival, this year, is the award-winning director Óscar Aibar, who will present to the audience his new film, "El Sustituto", a story inspired by real events that gives its own message about the rise of the far right in Europe. The film will be screened with the support of Acción Cultural Española (AC/E).
A music-dance, dramatic film from Mexico, "El rey de todo el mundo", from Cannes and Berlin Film Festival award-winning director, Carlos Saura, the premiere of "El Olvido Que Seremos", a big screen adaptation of Colombian author Hector Abad Fassiolinsé's sensational novel, as well as the struggles against the dictatorship in Uruguay and El Salvador in the films "El año de la furia" and "Llegaron de Noche" respectively, continue FeCHA's cinematic journey to Central and South America.
Special mention goes to Javier Fuentes-León's delightful black comedy "Las Mejores Familias" aka "Parasites from Peru" and Dani de la Orden's hilarious, Spanish comedy "Mama o Papa", an adaptation of the 2016 French comedy of the same name.
The cortoFeCHA short film programme includes a special tribute to the 2022 Goya Awards with a selection of 6 short fiction short films that were nominated or won a Goya Award. While docuFeCHA turns its gaze to the environment and the marine wealth of the oceans by hosting the award-winning documentaries "Pacificum: El retorno al océano" and "Una Isla en el Continente" from Peru and Mexico. The cortoFeCHA and docuFeCHA screenings will take place at the Hellenic American Union with free admission.
The 6th FeCHA is proud to host a mini tribute to the legendary Mexican filmmaker Arturo Ripstein in collaboration with the Embassy of Mexico in Greece and the Instituto Mexicano de Cinematografía (IMCINE). As part of the tribute, the film "El Castillo de la pureza", produced in 1973, which is considered the Mexican "Fang", will be presented in a warm-up, pre-festival screening on Wednesday 1 June. On June 15, and in collaboration with Athens Pride 2022, FeCHA's film summer will conclude with a special screening of the film "El lugar sin limites", with free admission, as part of the official Pride Week events. The screenings will take place at the Trianon Filmcentre Europa Cinemas.
The 6th Athens Hispanic Film Festival – FeCHA would like to thank the Embassy of Spain in Athens, Acción Cultural Española (AC/E), Instituto Cervantes, the Embassy of Mexico in Greece, Instituto Mexicano de Cinematografía (IMCINE), the Honorary Consulate of Colombia, the Embassy of Peru, the Embassy of Argentina in Athens and the Embassy of Uruguay for their valuable support.PROGRAMME
Summer Triennial FilmCentre
(21 Kodringtonos Street, Athens – Station: Victoria)
PROGRAMME
Wednesday 1 June
21.15
THE CASTLE OF IGNORANCE/EL CASTILLO DE LA PUREZA
Arturo Ripstein, Mexico, 1973, 110′
A father, in order to protect his wife and three children from the evil influence of the outside world, keeps them isolated at home for 18 years.
Admission 3 euros at the box office of the Trianon Cinema
Summer Hellenic Cinemax Europa Cinemas
(29 Kifissias Street, Athens – Metro: Ambelokipi)
Thursday 2 June
21.30
THE PERFECT BOSS/EL BUEN PATRÓN
Fernando León de Aranoa, Spain, 2021, 120′
Blanco is the charismatic owner of a family business who seeks to win a "Business Excellence" competition. Everything must be perfect! But the image of a perfect company falls apart as Blanco has to manage a series of irregular situations
The screening will be followed by a Fischer beer party
Friday 3 June
20.50
THE REPLACEMENT/EL SUSTITUTO
Óscar Aibar, Spain, 2021, 117′
A young policeman finds himself embroiled in a bizarre case over the death of his predecessor. His investigation will lead him to a seaside hotel where a community of old Nazis – wanted for war crimes – lead a life of paradise.
In the presence of the director
23.15
THE PROMISED LAND?/EL ÚLTIMO BALSERO
Carlos Betancourt & Oscar Ernesto Ortega, USA/Cuba, 2020, 89′
A Cuban immigrant will arrive on the shores of Florida at the moment when the legal status of recognition of Cuban immigrants will change. At the risk of deportation, he will start looking for his father and begin to wonder where he really belongs.
Saturday 4 June
20.50
THE ROBBERY WE WILL BECOME/EL OLVIDO QUE SEREMOS
Fernando Trueba, Colombia, 2020, 132′
Based on the book of the same name by Hector Abad Fasolines (Pataki Publishing), the film is the story of the author's father, the doctor Hector Abad Gomes. A family man who dedicated his last years, until the day he was murdered in the centre of Medellín, to the defence of social equality and human rights in Colombia in the 1970s. With Javier Camara in the leading role.
23.30
DREAMS OF FREEDOM/MIS HERMANOS SUEÑAN DESPIERTOS
Claudia Huaiquimilla, Chile, 2021, 85′
Angel and his younger brother Franco have been incarcerated in a juvenile prison for a year. Their lives are about to change when the arrival of a young rebel offers a potential escape.
Sunday 5 June
20.50
WITH MAMA OR PAPA/MAMÁ O PAPÁ
Dani de la Orden, Spain, 2021, 103′
Flora and Victor are the ideal parents. However, when the moment comes when they decide to separate, an unprecedented professional opportunity will arise for both of them. But there is one problem: child custody. So Flora and Victor, each in their own way, will try to convince their three children that life with them will be unbearable and the children will have to decide who they will stay with: mum or dad?
23.00
THE YEAR OF RAGE/EL AÑO DE LA FURIA
Rafa Russo, Spain/Uruguay, 2020, 102′
Uruguay 1972. The country is inevitably heading towards a terrible dictatorship. Diego and Leonardo, writers of a well-known comedy TV series, struggle to maintain their integrity under constant pressure to reduce political satire against the military.
Monday, June 6
21.30
THE KING OF THE WORLD/EL REY DE TODO EL MUNDO
Carlos Saura, Mexico/Spain, 2021, 95′
Carlos Saura's new film.
Manuel prepares his new show, a musical about a musical. He asks Sara, his ex-wife and accomplished choreographer, to direct the show. During the filming, the passion and tension between the dancers will come to a head and Ines, a new rising star will try to get her father out of the mafia. Tragedy, fiction and reality intertwine to the sounds of Mexican music.
The screening will be followed by a cocktail party sponsored by Jose Cuervo
Tuesday, June 7
20.50
THE BIG NIGHT/LLEGARON DE NOCHE
Imanol Uribe, Spain, 2021, 105′
Film based on real events. On the night of 16 November 1989, during the civil war in El Salvador, 6 Jesuits are murdered at the university. The government blames the rebels, but Lucia, a witness working as a cleaner at the University of El Salvador, refutes this narrative. She claims they were murdered by the army. Now Lucia must choose between the truth and protecting her family.
23.00
AND IN THE BEST FAMILIES/LAS MEJORES FAMILIAS
Javier Fuentes-León, Peru, 2020, 99′
Lucmila and Peta are sisters who work as housekeepers in the homes of aristocratic families. The two sisters are almost family members but… maybe not for everyone. Everything changes when a well-kept secret turns the tables on the two families, who see their hierarchy crumble in the midst of a big birthday party.
The family dinner table becomes a field of merciless conflict in this hilarious comedy from the producers of Pedro Almodovar's "Talk to Her". This year our "Parasites" comes to us from Peru.
Wednesday 8 June
21.30
OFFICIAL PARTICIPATION/COMPETENCIA OFICIAL
Gastón Duprat & Mariano Cohn, Spain/Argentina, 2021, 114′
A billionaire impulsively decides to become the producer of an iconic film and demands to have the best cast. First, acclaimed director Lola Cuevas is hired to lead the ambitious project. Then the all-star cast is completed by two top actors with big talents and even bigger egos : Hollywood heartthrob Felix Rivero and radical theatrical leading man Ivan Torres.
The screening will be followed by a party with Fischer beer
Hellenic American Union
(22 Massalias Street, Athens – Metro: University)
Thursday 9 June
19.30
cortoFeCHA – Free entrance
Short Films | Tribute to the Goya Awards 2022
YALLA (Carlo D'Ursi, Spain, 2020, 10′)
FARRUCAS (Ian de la Rosa, Spain, 2021, 18′)
MINDANAO (Borja Soler, Spain, 2021, 17′)
VOTAMOS (Santiago Requejo, Spain, 2021, 14′)
TÓTEM LOBA (Verónica Echegui, Spain, 2021, 23′ Goya Award
THE MONKEY (Lorenzo Degl'Innocenti & Xosé Zapata, Spain/Portugal, 2021, 17′) Goya Award
Friday 10 June
docuFeCHA – Free admission
Documentary films | Tribute to the sea
18.45
PACIFICUM: EL RETORNO AL OCÉANO
Mariana Tschudi, Peru, 2017, 74′
Four scientists take us on a spectacular and delightful exploration of the land, waters and skies of Peru's imposing coastline.
20.15
A CONTINENTAL ISLAND/UNA ISLA EN EL CONTINENTE
Juan Pablo Miquirray, Mexico, 2019, 69′
A journey into the depths of the mythical peninsula of Baja, California. Ultimately, only one question remains: will we be able to live in harmony with nature?
Summer Triennial FilmCentre
(21 Kodringtonos Street, Athens – Station: Victoria)
Wednesday 15 June
21.30
HELL WITHOUT LIMITS/EL LUGAR SIN LÍMITES
Arturo Ripstein, Mexico, 1978, 110′
La Manuela is a trans woman who runs a brothel with her daughter. Pancho's arrival will complicate their lives, as he will be attracted to La Manuela and will feel his "manhood" threatened.
Free admission