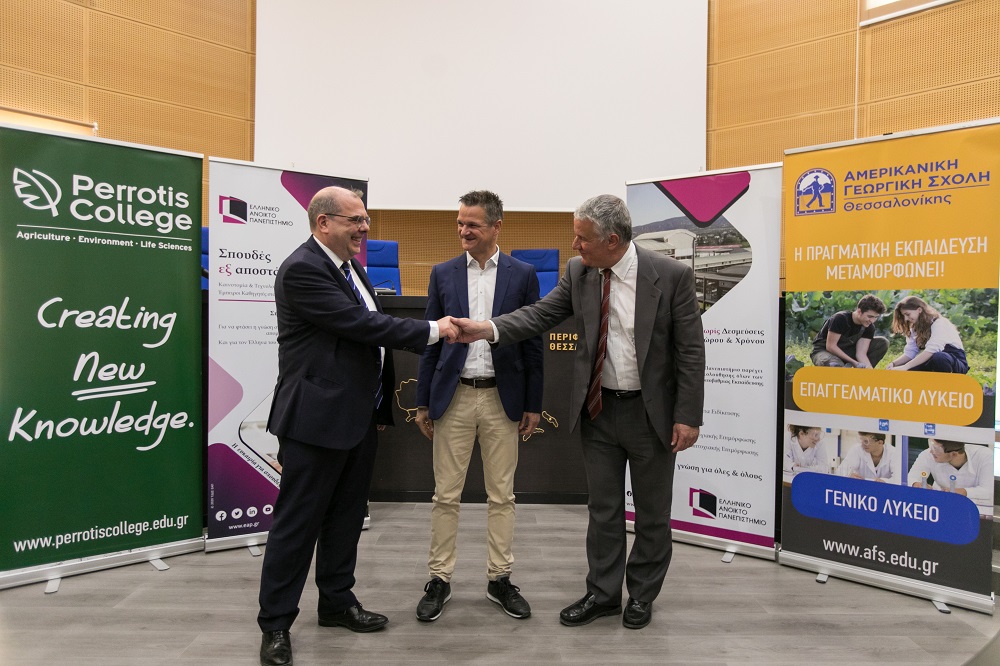 The Hellenic Open University and the American Agricultural School with the cooperation and support of the Region of Thessaly announced today in Larissa the start of their collaboration in the field of training agricultural technicians and farmers in modern methods of agricultural production. The HOU and the AAS developed four new innovative short training programmes on modern agricultural development issues.
These programmes will be implemented using the certified distance learning methodology, based on the EAP's certified methodology of training, while the facilities of the EAP in Patras and of the GSC in Thessaloniki will be used for their practical aspects.
On behalf of the HOU, the Vice President for Academic and Administrative Affairs and Professor Stathis Efstathopoulos, presented the University, emphasizing its special social role, but also the very high quality education it offers, a fact that ranks it, according to all international evaluations, places it in the top five of Open Universities worldwide.
Special thanks to the Regional Governor of Thessaly, Kostas Agorastos, for the cooperation and his support for the whole effort. On behalf of the American Farm School, the Director of Perrotis College, Mr. Konstantinos Rotsios, supported the need for continuous education of the agricultural community and population of the country, stressing the dramatic position of Greece (26th ) compared to the the rest of Europe in terms of agricultural production efficiency. He also justified the choice of the city of Larissa for the presentation of the innovative educational and training programmes in the field of agricultural production.
Finally, the Conference was greeted and honored with the presence of the Vice-Regional Governor of Larissa Mr. Vassilis Pinakas, who stated that the Regional Administration of Thessaly is continuously at the side of the agricultural world of the Thessalian plain.