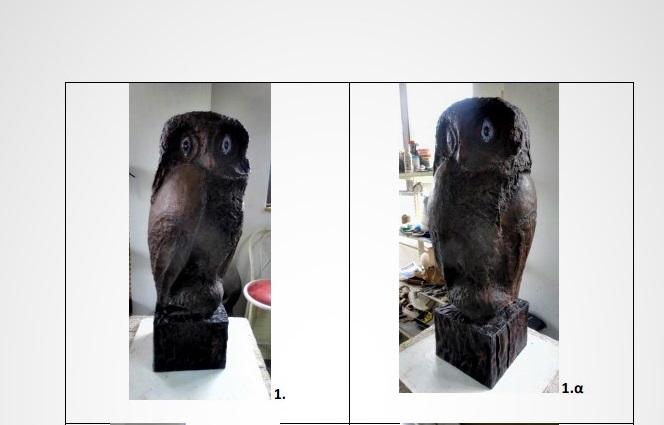 The Cultural Organization of the Municipality of Patras continues the effort to enrich the collection of the Municipal Gallery with works by artists who had Patras as a reference point.
In this context, a sculpture by Memos Makris, on the theme of the 'owl', will be acquired and included among the works that make up the collection. It is a brass sculpture measuring 75X23X22 cm.
The work will either be exhibited in the halls of the Municipal Gallery, or more generally in the premises of the Municipal Library, Alternatively, it is being considered whether it could be placed in another internal municipal space – such as that of the mayor's mansion – which will be visited and easily accessible.
With the purchase of the sculpture "Owl", from the Cultural Organization, will follow the donation to the municipality of Patreon of the monumental sculpture of Memos Makris, 'Couple' c. 1960.
It is a sculptural composition with two full-face seated figures made of metal – Dimensions of the female figure 178X226X110 cm -, Dimensions of the male figure: 183X224X100 cm – in order to be placed in an open public space in the artist's hometown.
The first donation of the Memos Makris family to the Cultural Organization was made with the album of Zizi Makris, entitled "In Prison", which includes twenty-four [24] engravings, measuring 66 x 46 cm (each engraving), which was accepted by the Board of the Cultural Organization's acceptance decision no: 74/20.
The family of the sculptor also intends to offer part of the purchase price -as a donation- to the Association "Friends of Memos – Zizis Makri", in order to support its action, which aims at the wider protection and promotion of the artistic production of the two creators.