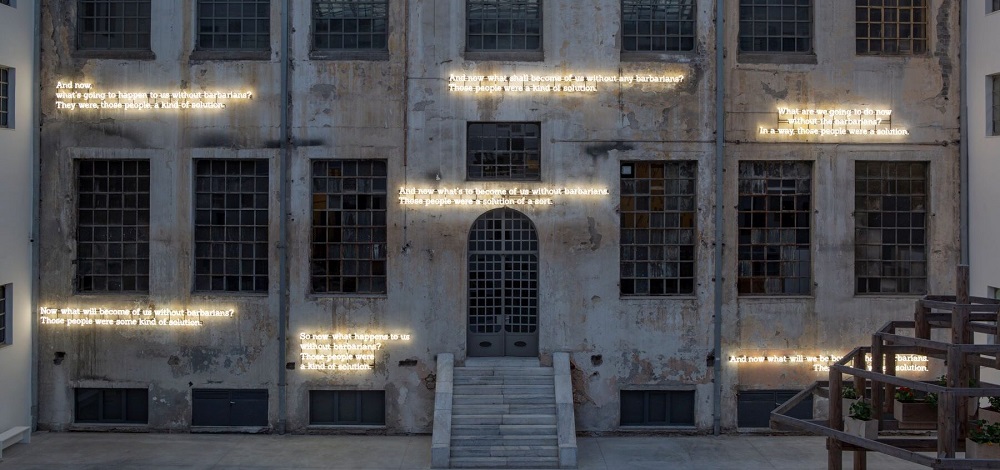 After three years of residence in the former Public Tobacco Factory on Lenorman Street and the organization of two international exhibitions of Contemporary Art, the neon organization returns to the Greek Parliament this new space, renovated and recognized in Greece and internationally as a new center of contemporary culture.
Neon's collaboration with the Greek Parliament, which began in 2020, is an example of Public-Private Cooperation and yielded to the organization's overhaul of a large part of Lenorman's emblematic building and its activation to star in the city's cultural life. With a surface of about 6,500 sq.m. inside the emblematic building of the former Public Tobacco Factory, the new modern cultural space, of high aesthetic and functional value, is ready to become a dynamic meeting and exchange of ideas.
The collaboration with the Hellenic Parliament echoes the philosophy of neon to expand the public's contact with art-and especially contemporary art – in historical and cultural spaces within the urban fabric in order to upgrade the everyday life of the citizen. Within the framework of its activity for 10 years, neon collaborates with public and private institutions and utilizes emblematic spaces that often remain unexploited culturally, in order to highlight them and bring them to the forefront of cultural action, strengthening their relationship with the local community.
The new cultural area of the former Public Tobacco Factory is the result of the overhaul and radical upgrade of its infrastructure, at a cost of 1.4 million euros. euro funded entirely by NEON and its Founder Dimitris Daskalopoulos. The aim was to keep alive the space and the memories of the building's history, and at the same time to open a new chapter as a modern cultural center, open to all.
The venue has welcomed two major exhibitions of contemporary art with international appeal and free access for the public. In 2021, at the time of the National anniversary and the pandemic, the Portals exhibition was organized, approaching the new reality of our time with the participation of 59 artists from 27 countries and 15 new assignments of works. Then, in 2022, the Dream on exhibition was held with 18 large-scale installations by international and Greek artists, as well as a new assignment, works which will then adorn the collections of major museums of Britain, USA and Greece as parts of the D collection donation.Daskalopoulos.
For two whole years, this emblematic building, as a center of culture and a new social capital for the city, hosted important works of contemporary artists as well as international personalities of culture, politics, economic and social spheres, contributing to the emergence of Athens among the important metropolises of art. The two exhibitions were visited by a total of 96,000 people.
The site now remains under the management of the Hellenic Parliament.
For more information:
EFI Lazaridou, Reliant Communications, 6932296850, [email protected]