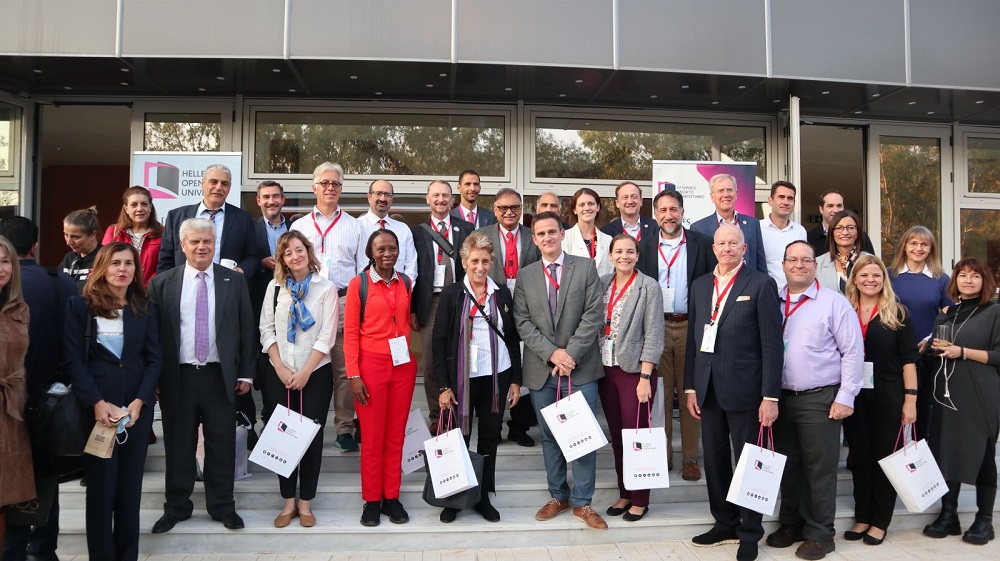 The Administration and Academic of Hellenic Open University welcomed , on Wednesday, November 9, 2022, 14 representatives from leading universities in America, within the framework of the program of the Ministry of Education and Religious Affairs, "International Academic Partnerships Program (IAPP)-Greece", carried out in collaboration with the Institute of International Education (IIE).
The delegation and the officials of the Ministry were welcomed by the president, the members of the Administrative Committee and the deans of the Faculties of the University.
The event began with the greeting of the president of D.E. Professor Ioannis Kalavrouziotis, who referred to the extroversion of the foundation through the partnerships that have been developed and the cooperation agreements that have been signed. In addition, he presented the School of Science and technology underlining the excellent work that is being implemented in it.
Then the Vice-President of D.E., Professor Ioannis Sympateros, presented the physiognomy of the institution, emphasizing that the E.P.It has adopted and uses the most modern technological means, offering in this way high level distance education.
This was followed by the presentation of the existing and new innovative undergraduate and postgraduate programs by the deans of the faculties of Hellenic Open University, teachers Emm. Koutouzi, Aug. Dimitra and the Faculty Member Professor Styl. Zerefo.
The director of the curriculum "Natural Sciences" and the laboratory "Applied Mathematics", Professor Mar. Hatzinikolaou referred to the Memorandum of cooperation of E.P.P. University of South Alabama.
Finally, the director of the Laboratory of educational materials and educational methodology, As. Professor E. Koumanakos and the representative of the internal evaluation unit Dr. Alex. Liapis presented the actions and the research work that is implemented over time.
The event ended with the visit of the delegation to the laboratory premises of the University.
American academics have highlighted the dynamics of distance learning, which is an educational feature of E.P.P for more than 25 years and thanked the administration of the institution for the hospitality.