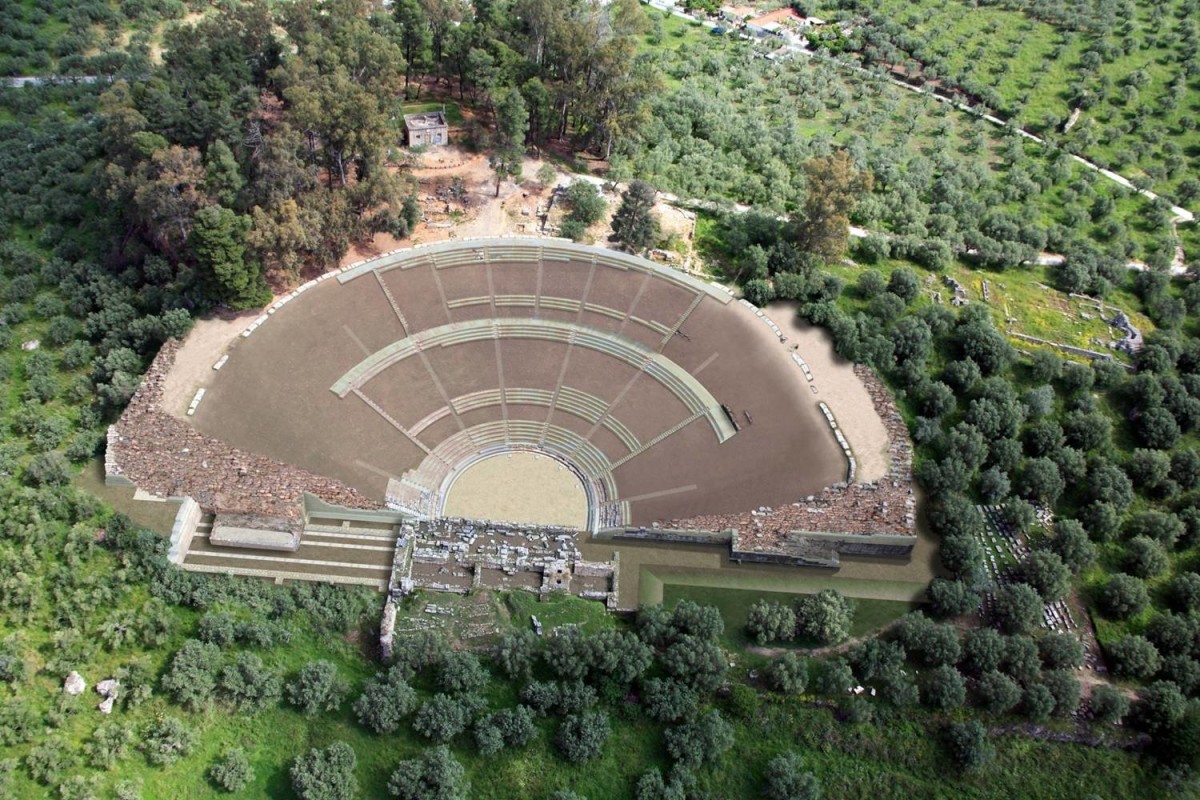 "From Eurycles to Saint Nikon: the timeless human presence as an important parameter and challenge for the restoration project of the Ancient Theatre of Sparta"
Evangelia Pantou: head of the Ephorate of Antiquities of Laconia (EFALAK)
"The Ancient Theatre of Sparta: white stone, the view and the image. Recovering the values of the monument through archaeological work"
Maria Tsouli: archaeologist and department head of prehistoric and Classical Antiquities and Museums of the Ephorate of Antiquities of Laconia (EFALAK)
Hara Giannakaki: archaeologist of the Ephorate of Antiquities of Laconia (EFALAK)
Prefaced and coordinated by Stavros Benos, president of the DIAZOMA Association
With a new series of lectures, DIAZOMA Association returns to the Athens Concert Hall this year. The first event focuses on the Ancient Theatre of Sparta and the restoration of its monumental character.
The project "first phase of the restoration of the Ancient Theatre of Sparta" -funded by the Kaplan Foundation grant and the act "restoration of the Ancient Theatre of Sparta" included in the NSRF 2014-2020 – is carried out by the Ephorate of Antiquities of Laconia, constituting the first substantial intervention for the protection and promotion of a monument-landmark, which has been associated with the ancient city since its construction, in the 1st century. E. g., until the present day. Ephorate officials will present the updated archaeological data, the history and rationale of the interventions in the monument, the restoration of which will make it a vehicle of memory and self-awareness and will enhance the developmental prospects of the site and its inhabitants.
The event will begin with Evangelia Pantou, head of the Ephorate of Antiquities of Laconia (EFALAK) and the lecture "from Euryclis to Saint Nikon: the timeless human presence as an important parameter and challenge for the restoration project of the Ancient Theatre of Sparta". Then, Maria Tsouli, archaeologist and department head of prehistoric and Classical Antiquities and Museums of the Ephorate of Antiquities of Laconia and archaeologist Efalak Hara Giannakaki will present the talk "the Ancient Theatre of Sparta: white stone, Thea anxion. Recovering the values of the monument through archaeological work". The president of DIAZOMATOS, Stavros Benos, who has also taken over the Coordination of the discussion.
In the context of the event of DIAZOMATOS and Megaron Plus, the audience will have the opportunity to watch at the same venue the concert of the choir of The Musical gymnasium of Sparta, with songs from the Greek and foreign repertoire.
Admission to the lecture and the artistic event is free with priority vouchers (distribution start: 5: 30 m.m.).
After the end of the lecture and the artistic drama, a treat will be offered in the foyer of the Dimitris Mitropoulos Hall, with products of the Laconian land: wine from the Domaine Theodorakakos and the winemaking Monemvasia-Tsimidis family, olives from the Terra Sparta company of Maria Karabela (member of the DIAZOMA Association), cheese from the Karabela Cheese Factory in Chrysafa Laconia and lalangia (offered by the Drosopigetes Association of Laconia "Tserova").
In cooperation with the DIAZOMA Association