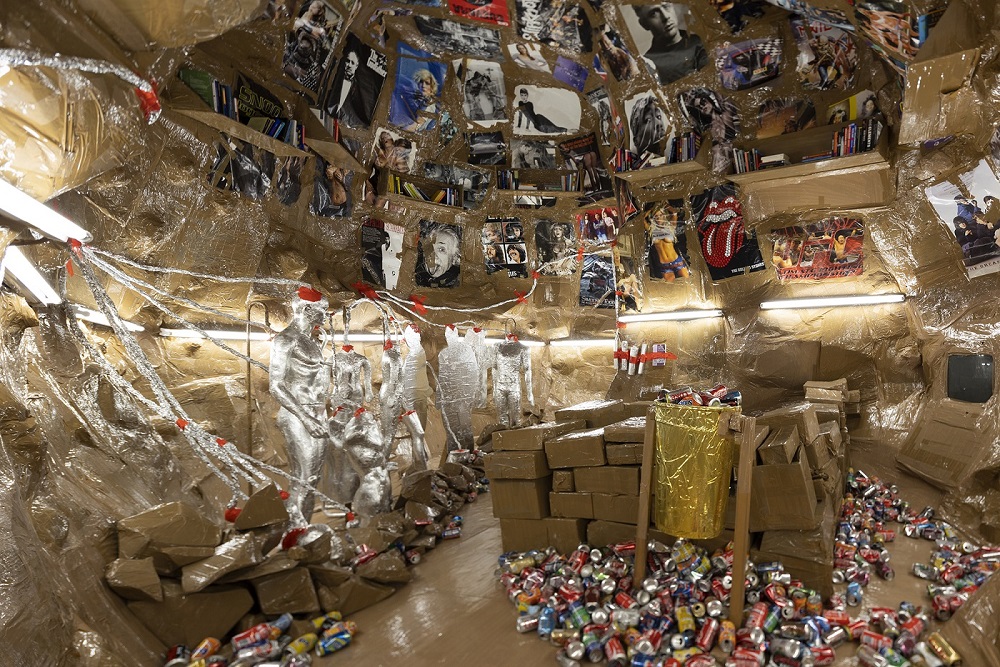 A speech by Swiss artist Thomas Hirschhorn and a discussion with art historian Dimitris Paleokrassas is organized by Neon on Thursday, November 3 at 19: 00 at the former Public Tobacco Factory, with free admission.
The artist will talk about his work and especially the Cavemanman installation presented in the space of the former Public Tobacco Factory as part of the dream on exhibition.
Cavemanman is an immersive environment, a labyrinthine "cave" made in life size from materials such as wood, cardboard, insulating tape. An environment is formed that represents the collective mind and consists of books, posters, videos, shelves, aluminum cans of soft drinks and display dolls.
According to Dimitris Paleokrassas, curator of the dream on exhibition, "little can be said about this magnum opus, in fact perhaps there are no words in front of the shock and awe caused by this overly ambitious installation, this ultimate dream".
Hirschhorn describes his work: "I feel that as an artist I have to do too much. I have to do everything. My work always concerns the whole world. It is about the whole possibility, the totality. And, of course, it is pretentious and ambitious, but also somehow foolish to wish to do such a thing. As an artist, I have to bring out the ridiculousness of this ambition and this affectation. What I do always concerns the whole world. That's why I like to impose myself on the form, to do too much, to contain everything. To try again and again, to put everything into my work.
I'm part of this chaotic world. I am part of this ambiguity that dominates the world. I think part of my mission as an artist is to work within that ambiguity, within that chaos. Not to bring clarity and clarity, but to struggle with chaos."
Dream On Exhibition
Former Public Tobacco Factory – Library and Printing House of the Parliament, Lenorman 218,
Greek parliament + neon cooperation
Curated By: Dimitris Paleokrassas, Art Historian
Duration: 8 June – 27 November 2022
Opening hours:
Monday, Tuesday: closed
Wednesday, Thursday, Friday, Sunday: 11:00-19: 00
Saturday: 12:00-20: 00
Free entrance
It is necessary to reserve a seat in neon.artsvp.co
Information at neon.org.gr