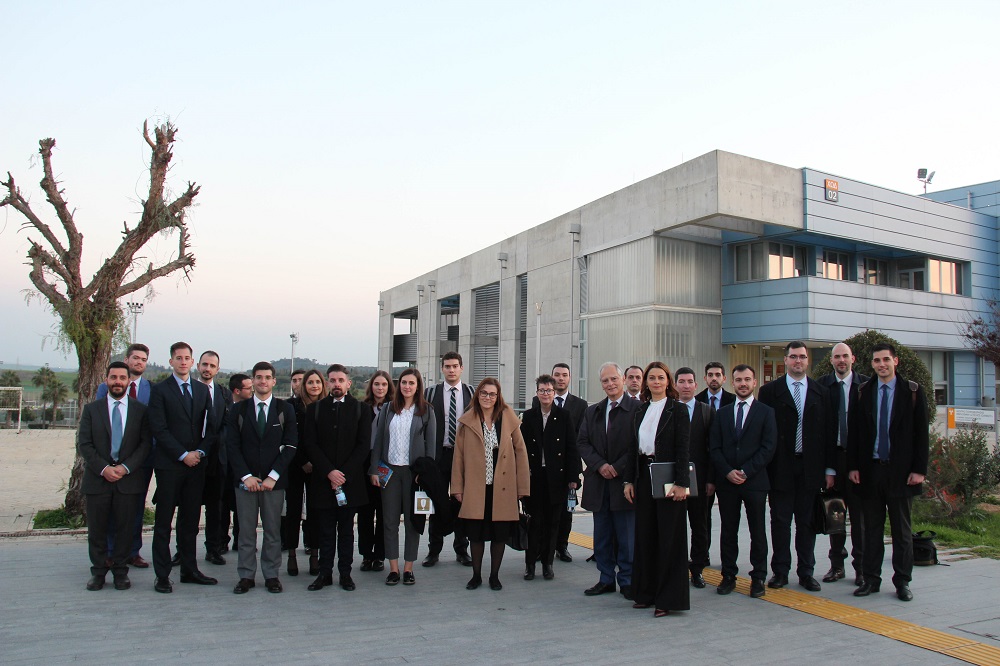 More than twenty candidates from the Diplomatic Academy of the Greek Ministry of foreign affairs visited the University of Cyprus on January 25, 2023, giving them the opportunity to be guided around the campus premises by the University of Cyprus ' representative, Mrs Doxa Komodromou and to be informed about the operation and the educational, research and social role of the higher academic institution. During their visit, they were informed about the legal aspects of the Cyprus problem and the developments in relations between Turkey and the Turkish Cypriot community by the Associate Professor of the Department of law, Mr. Aristotle Konstantinidis and the lecturer of the Department of Turkish and Middle Eastern Studies, Mr. Nikos Moudouros, respectively.
Konstantinidis presented the most important legal aspects of the Cyprus problem in its various phases, starting in 1964 with the establishment of UNFICYP and the renewal of its presence since then with the consent of the Cypriot government. He then referred to the Treaty of guarantee and the Turkish invasion of 1974, the statehood of the Republic of Cyprus and the non-recognition of the pseudo-state through Security Council resolutions and the rules of general international law. He also presented the Security Council resolutions rejecting a two-state solution, but providing for a solution on the basis of a bicommunal and bizonal Federation with political equality, while he made special reference to the recent developments in Varosha and the relevant Security Council resolutions condemning the Turkish actions.
Mr. Moudouros spoke about Turkey's role in Cyprus and the policies of the colonial Press. He referred to the military invasion as "operation of Happy peace" (Mutlu Barış Harekatı): construction and transformation of the site from "threat" to a site of State Building and The Taming of the war landscape and "normalization". In addition, he spoke of the colony that ontologically exists by virtue of its dependent status. Turkism, he said, creates conditions of alienation, extirpation. He underlined the impossibility of normalizing the exception, the strengthening of different geopolitical visions and the survival of the Turkish Cypriot opposition, but also the creation of the political – economic system of the occupation that leads to a "new homeland".
He also analyzed Erdogan's "New Turkey" and the three "states" of the Turkish Right: solid, liquid and gas. In addition, he talked about the status quo, the "TRNC" as an emblematic Kemalist existence, and the Turkish Cypriot community as "Western and southeastern Turkey", that is, as an area "under conquest" that is not completed.
The head of the mission of the diplomats was the director of the Diplomatic Academy, Ambassador Nikolaos Garilidis and they were accompanied by the Secretary B of the Embassy of Greece in Cyprus, Mr. Charis Kavetsos.