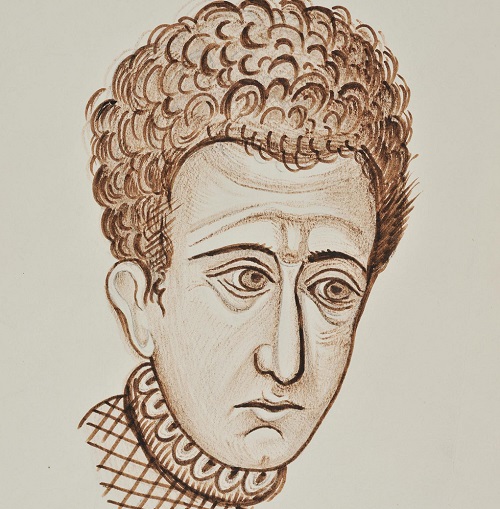 The Hellenic Parliament Foundation for Parliamentarism and Democracy is organizing a conference entitled Visit by Fotis Kontoglou on Wednesday, 4 May 2022. Fotis Kontoglou (Aivali, Asia Minor, 1896 – Athens 1965), painter, hagiographer, and writer, was one of the most important and influential creators of the 20th century.
He sought and brought to light the tradition of byzantine iconography and imposed it on the iconography of churches. From Aivali, he first moved to Athens and Paris for studies, while after the Asia Minor Catastrophe he forcibly left his homeland forever with the multitude of refugees of the Asia Minor Greeks. How important were the years around the Asia Minor Catastrophe, and also immediately after the tragedy, in the in the formation of Fotis Kontoglou's worldview, his literary consciousness, and his visual work?
The aim of the conference is to explore his work, and to re-approach the visual, artistic, and cultural conception of his work, during the 1920s. The conference inaugurates the rich program of scientific and cultural activities that the Foundation of the Hellenic Parliament has prepared in the context of the commemorative events for the 100th anniversary of the Asia Minor Catastrophe.
The event will take place in the Senate Hall of the Hellenic Parliament, in compliance with the prescribed sanitary measures and with simultaneous webcasting.
Please register your attendance at
(https://foundation.parliament.gr/el/happenings/imerida-episkepsis-foti-kontogloy )
PROGAMME
10:30 Arrival – Reception
10:45EvanthisHadjivassiliou
Greeting
THE WRITER KONTOGLOU
1st CONFERENCE
PRESIDENT: Elizabeth Kotzia
11:00 Costas Karavidas
Aivali – Paris – Athos: FotisKontoglou and his routes
modernism in the 1920s
11:20 Kostas Spatharakis
The Modernism of Pedro Kazas
11:40LambrosVarelas
"I prefer to make enemies, because I speak the truth, rather than
friends, because I tell lies': anekdotal writing
byFotisKontoglou in 1923
12:00 Discussion.
12:20 Break.
CHAIRMAN: TasosSakellaropoulos
12:30 Stavros Zoumboulakis
The Kontoglou of the Society of Friends (1925)
12:50 Joseph Vivilakis
The theatrical Kontoglou. From Hecuba to Moliere and
to Molière and Molière to Karagiozis
13:10 Discussion
13:30 Break
CONFERENCE PROGRAMME
Visit of FotisKontoglou
SENATE CHAMBER
4 May 2022
SCIENTIFIC COMMITTEE OF THE CONFERENCE
Stavros Zoumboulakis [chairman] – Joseph Vivilakis
Christos Margaritis – IriniHorati – Dimitris Pavlopoulos
THE PAINTER KONTOGLOU
3rd CONFERENCE
CHAIRMAN: ThodorisKoutsogiannis
15:00Eugenios D. Matthiopoulos
Ideological and aesthetic pursuits of FotisKontoglou
during the years 1923-1934
15:20 Dimitris Pavlopoulos
Illustrations by FotisKontoglou during the decade of
1920
15:40YannisBolis
FotisKontoglou's secular painting in the 1920s
1920
4th CONFERENCE
CHAIRMAN: Christos Margaritis
16:00 Michalis Asfendagakis
Artistic explorations and works by Kontoglou during the period of his life
during the 1920s-1930s
16:20 Irini Horati
The Astrolabe: The first Greek artist's book
PARTICIPANTS
Michael Asfendagakis, Dr. Christian and Byzantine Studies
Archaeology
LambrosVarelas, Associate Professor of Modern Greek
Philology, Department of Philology, Aristotle University of Aristotle
University of Thessaloniki
IosifVivilakis, Professor, Department of Theatrical Studies,
National and Kapodistrian University of Athens
Stavros Zoumboulakis, Writer
Kostas Karavidas, Dr. of Modern Greek Philology / member
Cretan philologist, Cretan philology professor, University of Ioannina, Greece
Elizabeth Kotzia, Literature Critic
ThodorisKoutsogiannis, Dr. History of Art
Art Collection of the Hellenic Parliament
Christos Margaritis, Researcher
Eugenios D. Matthiopoulos, Professor of Art History,
Department of History and Archaeology, University of Crete
YiannisBolis, Art Historian / Head, Department of History, University of Athens, Greece
Department of Contemporary Sculpture MOMus – Alex Mylonas Museum
IriniOrati, Art Historian
Dimitris Pavlopoulos, Professor of Art History,
Department of History and Archaeology, National and Kapodistrian University of Athens
TasosSakellaropoulos, Historian / Head of Historical
Historical Archives, Benaki Museum
Kostas Spatharakis, Translator
Evanthis Hadjivassiliou, Professor, National and Kapodistrian University of Athens
University of Athens, National and Civic University of Athens / General Secretary,
Foundation of the Hellenic Parliament for the Parliamentary
Parliament and Democracy