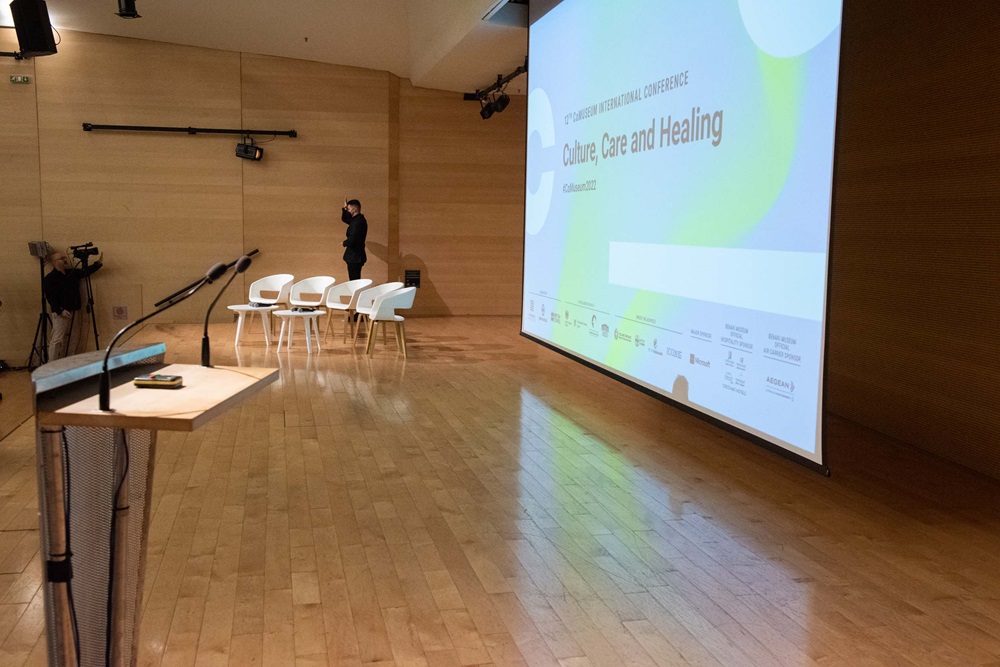 On December 6–8, 2023, the Benaki Museum, the U.S. Embassy in Greece, and the British Council will present the 13th International CoMuseum Conference: Museums and Justice. This year's Conference will take place on December 6, from 12.00 to 18.00, at the Amphitheatre of the Benaki Museum/Pireos 138 and will also be available through Live Streaming. Pre-registration is required for both options.
This year's Conference is about justice and representation: being fair within and through museums and cultural organizations. We will discuss the degree to which DEIA (Diversity, Equity, Inclusion, Accessibility) principles are being considered or applied internally in cultural organizations in terms of employment, governance, and programming, and how in turn this process, or lack of, affects cultural action around the world.
On December 6, during the Plenary Session of the 13th CoMuseum, professionals from international museums and cultural organizations, civil society representatives, educators, artists, and academics, will examine the above issues through keynotes and panel discussions. On December 6, from 18.00 – 20.00, following the conclusion of the Conference, there will be a networking event at the Benaki Museum/Pireos 138.
On December 7, the CoMuseum will present a series of workshops and masterclasses for museum and cultural professionals at the Benaki Museum/Pireos 138, from 10.00 – 15.00. Workshops and masterclasses will only be available in-person. The CoMuseum will also host a series of stakeholders' meetings and visits, for the conference speakers / delegates from the EU, UK, and U.S.A. (CoMuseum Satellite program).
On December 8, the CoMuseum Thessaloniki edition will take place at the Thessaloniki Concert Hall (Megaron), at the EmiliosRiadis Hall, from 11.30 – 15.00. The Thessaloniki program will feature a Plenary session, as well as masterclasses for museum and cultural professionals and civil society groups from 15.00 – 16.30.Pre-registration is required for both options.
The working languages for the Conference are English and Greek with simultaneous interpretation, as well as Greek sign language interpretation.
REGISTRATIONS
Registration for the conference in Athens and Thessaloniki will open on Tuesday, November 7 on the CoMuseum website.
Useful information

Admission in the 2023 CoMuseum International Conference is free.
Online pre-registration is required for all events. As demand is high the event operates on a first come first served basis, so please arrive early to ensure your seat at the Conference and Masterclasses.
Certificates of attendance will be provided only for on-site
Confirmed speakers so far include (in alphabetical order):
Hanouf Al-Alawi​, National Outreach Manager, The British Museum​ (UK)
Anders Bettum, Senior Curator, Oslo Museum; Coordinator of the National Museum Network of Minorities and Diversity; Associate Professor, University of Oslo (Norway)
Giovanna Brambilla, Art Historian, Consultant in Pedagogies for Cultural Heritage, Member of the Knowledge Community of CCW (Cultural Welfare Center-Turin) (IT)
Anastasiia Cherednychenko, Historian, Museologist, Chair of the ICOM Ukraine (UA)
Epaminondas Christophilopoulos​, Head, UNESCO Chair on Futures Research–FORTH | President, MOMus (GR)
Oana Drăgulinescu, Founder of Museum of Abandonment (RO)
Annie Fletcher, Director, Irish Museum of Modern Art (IMMA) (IE)
Andromache Gazi, Professor in Museology, Department of Communication, Media and Culture, Panteion University (GR)
Skinder Hundal MBE, Global Director of Arts, British Council (UK)
Maria Kotti​, Dancer, Exis Inclusive Dance Company (GR)
Eva Michailidou​, Dance therapist, Dance teacher, Dancer, Exis Inclusive Dance Company (GR)
Karalyn Monteil,Head of Programmes& Stakeholders Outreach Unit, UNESCO Culture Sector, Diversity of Cultural Expressions Entity
Lizzy Moriarty, Independent Museum Consultant – Museum Expert, Museums Revisited, British Council (UK)
Afroditi Panagiotakou, Director of Culture at the Onassis Foundation (GR)
Christos Papamichael, Artist – Director liminal (GR)
Sarah Schleuning, The Margot B Perot Senior Curator of Decorative Arts and Design, Dallas Museum of Art (U.S.A.)
Natalia Sielewicz, Curator, Head of Programming, Museum of Modern Art in Warsaw (PL)
Micah Parzen,Chief Executive Officer, Museum of Us (U.S.A.)
Dr. Barbara Plankensteiner, Co-founder of the Benin Dialogue Group, Director of the MARKK Museum (DE)
Elvira DyanganiOse, Director, Barcelona Museum of Contemporary Art, MACBA (ES)
Angelos N. Vassos, Director "Now" Creativity Platform (GR)
Esme Ward, Director, Manchester Museum, University of Manchester (UK)
For more information contact [email protected].
To register for the conference visit: https://thecomuseum.org