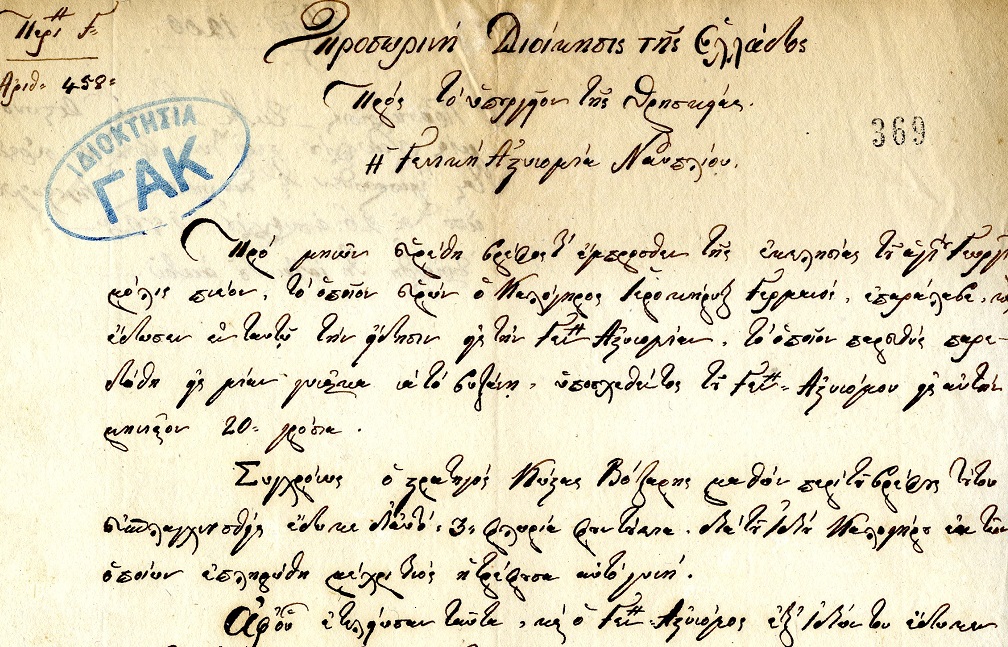 A few months before April 1825, after Ibrahim had landed on the Peloponnese, while war conflicts and civil animosity were erupting, it becomes known that a baby has been found before the church of Saint George in Nauplion by the preacher Germanos. The monk receives the baby and notifies the General Police, in which Kyriakos Moralis serves as General Policeman, having arrived at the seat of Greek Administration in autumn 1824.
Moralis delivers the abandoned baby to an unknown woman in order to nurse it, promising that he will supply her with a monthly salary of twenty piastres. At the same time the General Kostas Vozaris is informed of the exposed baby, by whose discovery he is touched, and out of sympathy he presents the monk (who until recently paid the baby's  wet-nurse) with three gold coins.
Then, the General Policeman gives additional money of his own to the wet-nurse, as she is poor, and the baby, unless appropriate treatment is provided, is in danger of dying, a thing "alien to every kind of benevolence, let alone to the sacred religion".
As the baby's survival relates to issues of faith, religion and charity, the Nauplion General Police turns to the Ministry of Religion for financial support, informing the Ministry of the death in Nauplion of a monk, who left in his will an amount of money to be distributed among the poor. Given the opportunity, the Ministry is asked to make the dead monk's trustee deliver   the money necessary for the survival of the baby, who is in danger.
The document from file/folder 8a of the Ministry of Religion of the Struggle-period, which is kept  in the General State Archives Central Service, bears the seal of the Nauplion Police and has been  signed on 26 April 1825 by the General Policeman Kyriakos Moralis and the Secretary Kyriakos Kallinikos Kitoboulidis.
The specific document is not accompanied by papers  clarifying either the reasons that led to the baby's exposure in a public space during that period (financial, illegitimacy, psychological or other) or its subsequent fortunes. Nevertheless, in a period which was at once critical for the Revolution and beset with civil strife and serious problems of policing, it highlights the intervention of the police as an institution, and the goodwill  and concern of third parties for the baby's fortunes, and touches upon the issue of the newborn baby's survival  through its delivery to a woman who had recently given birth in order to breastfeed it.
                                                                                                                                       Anna Koulikourdi
General State Archives-Central Service