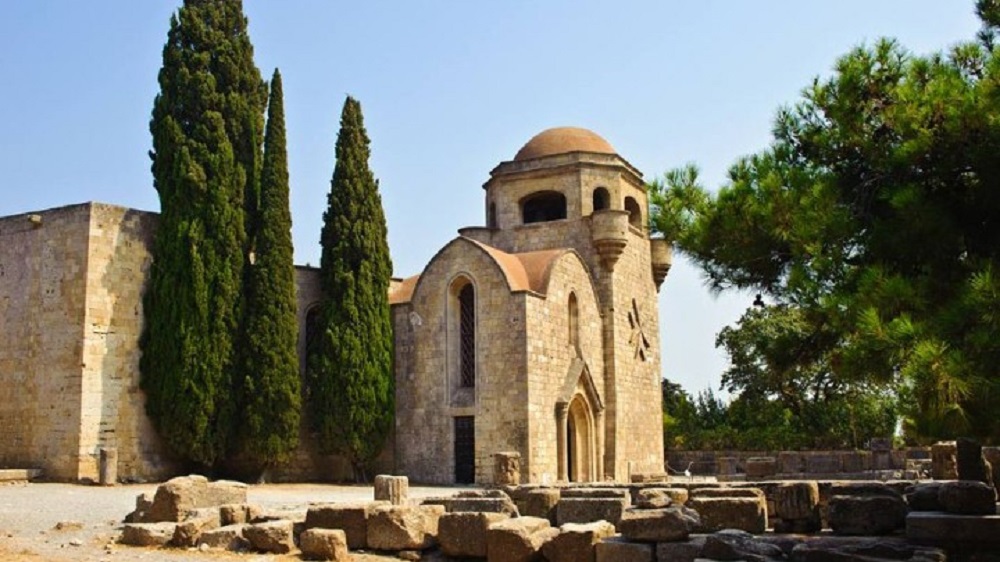 The Minister of Culture Lina Mendoni and the Dodecanese Regional Governor George Hatzimarkos presented to Rhodes the redeveloped archaeological site of Filerimos, after the completion of the reconstruction and restoration project, which was implemented by the Dodecanese Ephorate of Antiquities, with funding of 1,350,000 euros in the framework of the South Aegean Regional Development Programme – NSRF 2014-2020.
The hill of Filerimos occupies an area of about 2,500 acres of dense forest. It dominates the wider area, offering a unique view of the northwestern coast and the hinterland of Rhodes. In essence, it is a peripheral environmental park of archaeological and historical importance, as it includes ancient and early Christian building remains, ruins of a Byzantine castle with annexes of the Hippocratic and Italian occupation, a medieval church, an Italian monastery and the 15th century church of St. George of "Hostos". The organized archaeological site of Filerimos is a popular tourist destination with a steadily increasing number of visitors.
In her speech, Lina Mendoni pointed out the importance of the integrated protection of cultural assets, which is completed with their preservation, promotion and presentation to the public, for the self-awareness and cohesion of local communities and for local and regional development. He particularly thanked the Regional Governor George Hatzimarkos for his contribution to the completion of the delivered project, but also the dozens of other projects underway on the islands of the South Aegean Region.
Lina Mendoni did not fail to thank the head of the Dodecanese Ephorate of Antiquities Mania Michailidou, the Ministry's officials for their contribution to the execution and completion of the projects. The Minister stressed that at the moment in Greece two worlds are colliding: "The healthy forces that work, offer and invest in a Greece that is winning back the children of the braindrain, a Greece that is moving forward dynamically with a new model of development" and those "who are primarily entrenched in their personal interests, insisting on a status that primarily favours themselves and trying, by keeping acquisitions, to hold Greece back in obsolete schemes".
With the completion of the project, the archaeological site was delivered, with upgraded services to its thousands of visitors, as existing buildings in the Byzantine castle were maintained and modernized and new exhibition infrastructure and cultural event spaces were created.