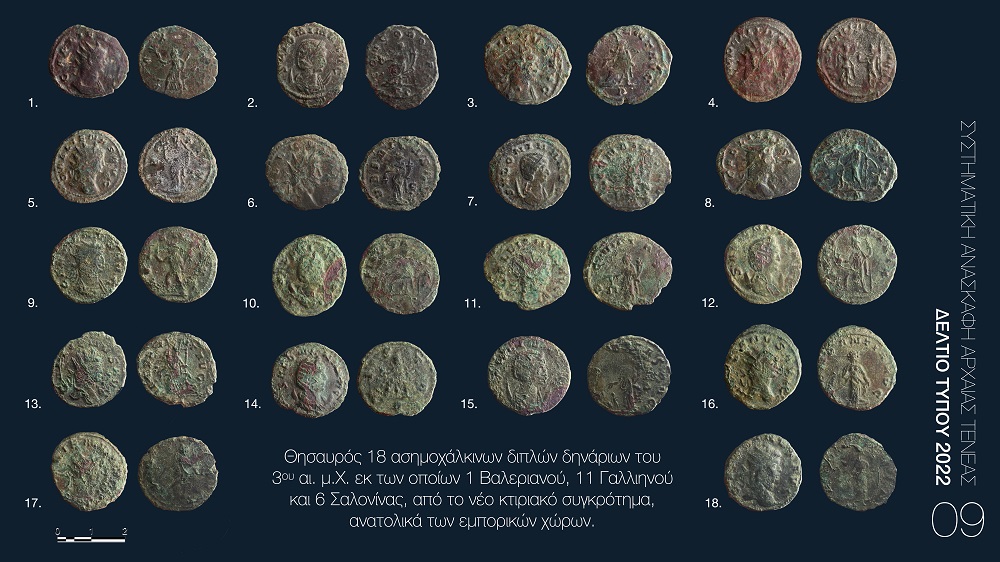 During the systematic archaeological survey 2022 in Chiliomodi of Corinth, in the framework of the research program of Ancient Tenea, the settlement area of the city of the classical times of ancient Tenea was identified for the first time. The research is carried out under the direction of archaeologist Dr. Elena Korka, with the implementation body of the Directorate of prehistoric and Classical Antiquities of the Ministry of Culture and Sports.
The excavation revealed a public building, excavated in an area of 145 sq.m., with important findings, including a large dispersion of votive figurines, probably associated with a neighboring cult site. At the same time, a strong retaining wall of the early Classical period was excavated at the city boundary.
The size and dynamics of the Roman city continues to impress with this year's excavation results. In the area of the Roman shops of the city, about 2100 coins and a stand were revealed in a room of the building, which is identified with the headquarters of a local official. In addition, a second above-ground funerary monument came to light that demonstrates, in combination with the first one found in 2016, the financial strength and prosperity of Roman Tenea.
Finally, an oversized tank of about 130 T was excavated.m., probably the central water supply of the Roman city, showing the dynamics of its population at that particular period.
In particular, during this year's excavation period four excavation areas were investigated, one of which is a continuation of the excavation of the sites of commercial activity, adjacent to the Roman Baths, while the remaining three areas are new sites in the East and northeast of them.