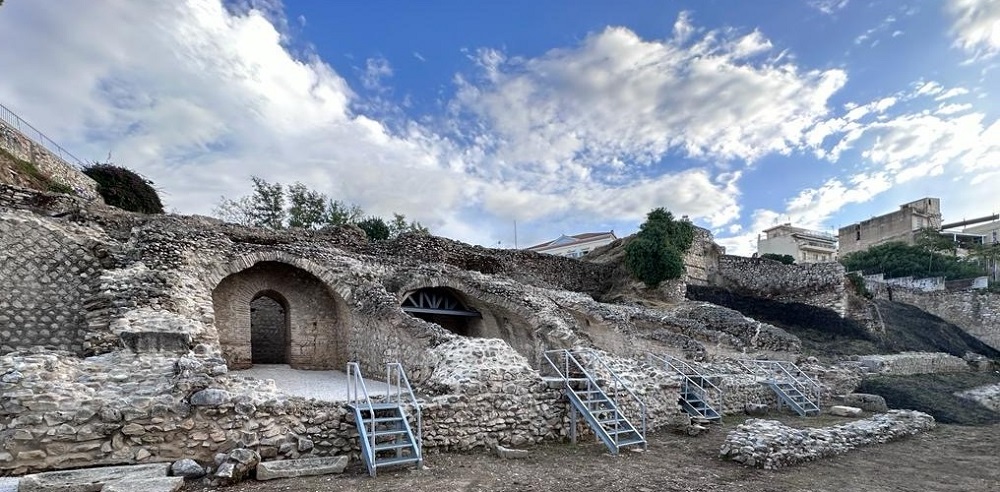 The Minister of Culture, Lina Mendoni, inaugurated the preserved and restored part of the Roman Stadium – a monument that illuminates the Roman period of Patras- attributing it to the citizens of the city and its visitors.
The Roman stadium is a monument, perhaps the largest of that period in Greece. It was built in the last quarter of the 1st century. A.D. in the heart of the Roman city, which, as Lina Mendoni pointed out, "due to its geopolitical position, it was founded as a colonia Augusta, an imperial colony, as the emperor recognized its enormous strategic advantages".
The construction of the stadium is attributed to the offer of the emperor Domitian and is related to the celebration of the centenary of Patras as a Roman colony, in 86 AD. Artistic and athletic competitions, the Caesarea, as well as gladiatorial competitions took place in the stadium.
"A new archaeological site in Patras is now, as of today, accessible to everyone," the Minister of Culture emphasized, "ready to join the development process of the city, of the wider region, as the basis of a large archaeological unit that will highlight other hidden , today, parts of the Stadium, but also of the adjacent Roman conservatory, in order to form a single area of attraction for citizens, but also a pole of attraction for cultural tourism".
The monument was buried, as newer buildings had been built on top of it, which, since the 1970s, the Ministry of Culture has been gradually expropriating. Already, some of them belong to the Ministry of Culture and the relevant demolitions are imminent. "For this purpose, said Lina Mendoni, to highlight the largest possible part of the specific monument and give it to the city, other expropriations are required and are underway."
The Minister of Culture also referred to the great project "of the restoration of the "Apollo" theater, whose studies are in progress. "The stadium, the conservatory, the "Apollo" theater", noted the Minister, "are the important cultural infrastructures that, together with the effort to highlight the great intangible heritage of Patras, the carnival, will contribute to social cohesion, education and entertainment of the citizens, while at the same time they act as drivers of development creating new perspectives giving the city their additional surplus value".
In addition to the implementation of the initial study of fixing and restoring the monumental remains of the Roman stadium, a series of interventions were carried out that were deemed necessary for the restoration and completion of the promotion of the stadium and its surrounding area, such as fixing and restoration works, geotechnical works and of stormwater management, improving and facilitating accessibility for all and especially for disabled people.
The opening event of the Roman Stadium was organized by the Ephorate of Antiquities of Achaia and the Region of Western Greece.