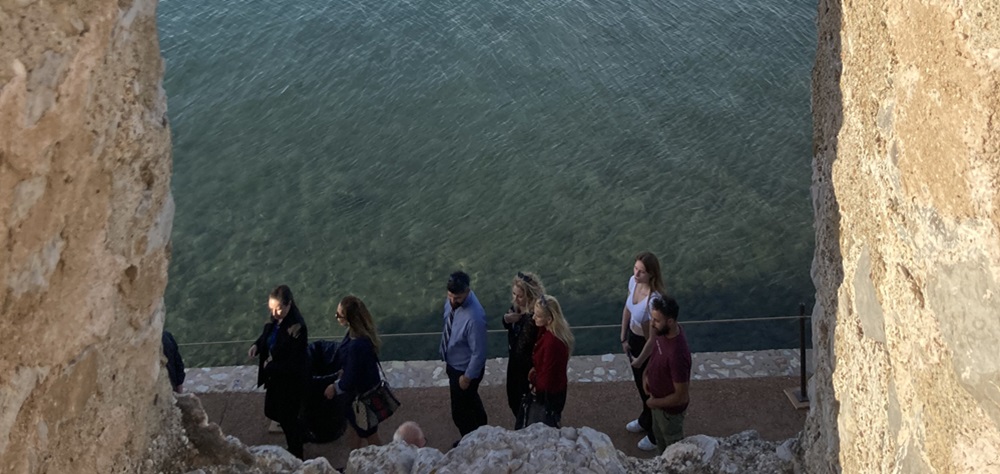 Days of Art in Greece visited Nafplion on Friday, October 27, where the opening ceremony of the renovated Bourtzi Castle took place with great success. The weather conditions and especially the high temperature for the season favoured the festive atmosphere of the opening, which was honoured with the presence of the Minister of Culture, Lina Mendoni and the Curator of Antiquities of Argolida, Dr. Alkistis Papadimitriou. The opening ceremony was also attended by former Prime Minister Antonis Samaras, the newly elected Regional Governor of the Peloponnese Dimitris Ptochos, the Secretary General of the Ministry of Culture George Didaskalou, the newly elected Mayor of Nafplion Dimitris Orfanos, the outgoing mayor of Nafplion Dimitris Kostouros, the president of the Panhellenic Union of Retired Health Care Workers of the Peloponnese and newly elected mayor of Argos – Mycenae Yannis Maltezos, the MP of Argolida Yannis Andrianos, the mayor of Epidaurus Tasos Chronis, regional councillors and others. Metropolitan Nektarios of Argolida presided at the consecration ceremony. In her speech, Lina Mendoni stressed among others that "Bourtzi is the most important brand name of Nafplion".
After the consecration and the official opening ceremony, Lina Mendoni and the guests toured the renovated castle, which has been open to the public since the beginning of last August. The event concluded with a lunch in the surrounding area of the fortress.
It is noted that the work of the Ministry of Culture included extensive maintenance and restoration of all the original parts of the castle. In addition, repair and reconstruction was carried out in all the functional parts of the inner and outer spaces of the castle (floors, walls, stairs, frames, railings, coloring, highlight lighting) and a radical renovation of all networks (water supply, drainage, electrical installation, heating, refrigeration, telecommunication).
A small exhibition space and shop were created in the bastions and the old use of the small restaurant and refreshment room was preserved. The above areas will be open to the public for the next period of time, while in the current first phase of its operation, visitors will be able to tour the exterior areas of the monument.
Finally, auxiliary uses were installed in the northern buildings and access for disabled people was ensured by the construction of an elevator that allows access to the main level of the Fortress. Inside the south tower, the layout of the hotel room was retained and its furnishings and movable equipment were restored to reflect the former use of the fortress.