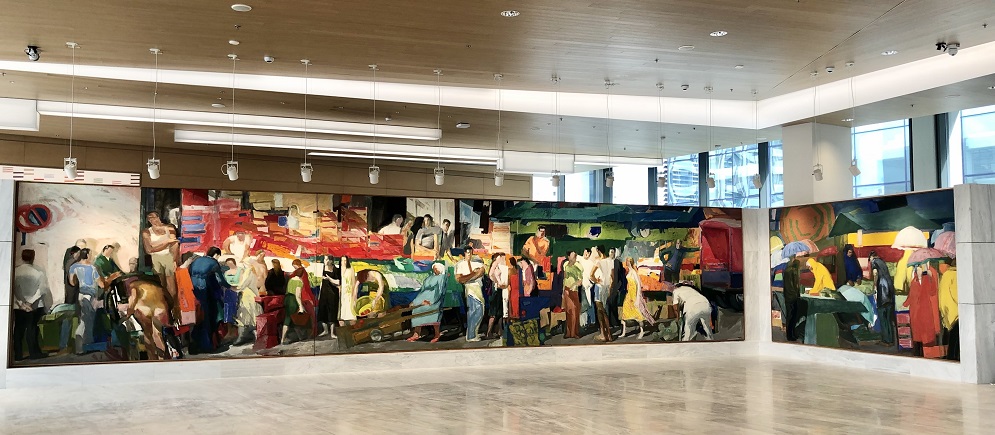 In its first year of operation, the National Gallery welcomed tens of thousands of visitors to its new, upgraded premises, hosted two temporary exhibitions ("1821 in painting. Greece demands its historical Gallery" and "Seeking immortality. The art of portraiture in the Louvre's collections"), together with the approximately 1,000 works from the permanent collection exhibited on three floors and in 20,760 square metres of its premises.
The new design of the National Gallery, which was integrated into the urban environment of Athens, in addition to creating a building comparable to the major museums of major European capitals, soon became a landmark for the city.
For its design, the National Gallery received its first major international award. The Golden A' Design Award Winner for Interior Space and Exhibition Design Category in 2022 was awarded to the architectural team "GiorgosParmenidis, Christine Longeppe, Iphigenia Maris", which had undertaken the study and supervision of the National Gallery's museum design. The design team has extensive experience in more than 50 similar projects and constructions of exhibitions and art exhibition spaces.
The A' Design Award is an international design award, established to recognize and promote good design in the fields of industrial design, art and architecture. The competition was founded in 2009 by OMC Design Studios. On its 10th anniversary in 2019, the A' Design Award & Competition SRL was established in Como, Italy, as a separate organisation under the auspices of both BEDA, The Bureau of European Design Associations.
At the National Gallery, the exhibition spaces are designed as a walk through an open space. The interior is designed as a sequence of transitional spaces for information with wood panelling, and white exhibition halls with specially designed suspended ceilings for each exhibition function. By controlling the directions of the gaze, the depth of view in the halls and towards the city, the general lighting in relation to the exterior light, and subordinating the materials and technical details to the artworks, the space symbolically gives a sense of free movement and choice.