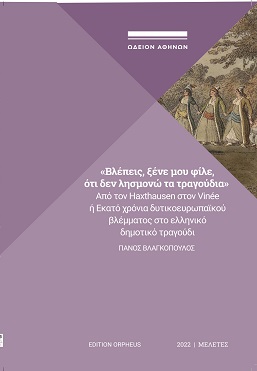 Publication presentation: Elli Droulia
Title: You see, my stranger friend. That I do not forget the songs": from Haxthausen or Vinée or a hundred years of Western European gaze to Greek folk song.
Author: Panos Vlagkopoulos
Scientific Editing: Haris Xanthoudakis
Publications: Orpheus
Category: Study
Publication year: 2022
Pages: 348
Dimensions: 17 x 24 cm
Publication presentation: Elli Droulia
The emergence of Greek folk song from the West
A book that reveals new aspects, unknown, of Greek folk song, that wishes to raise new questions and provoke discussions, to be a cause for other research but also to be used artistically. In other words, the songs should be studied and integrated into the contemporary repertoire, enriching it, since they are of both historical and artistic interest. The second part (p. 115-348) includes manuscript collections of Schefer, Aramis, and Vinee published for the first time. Haxthausen's are based on a 1935 edition and Bourgault-Ducoudray's on the first edition of 1876. The Greek folk song aroused the research attention of Western European researchers initially and then followed by Greek scholars. The introduction yields the atmosphere and philosophical tendencies of the time, that of Goethe and herder. The Appendices carry identical sources: Haxthausen's letter to Goethe in July 1823, the preface to the 1823 edition of nine Greek folk songs, and Aramis ' lecture at the Parnassus Society in 1903.
Elly Droulia is former Director of the library of Parliament