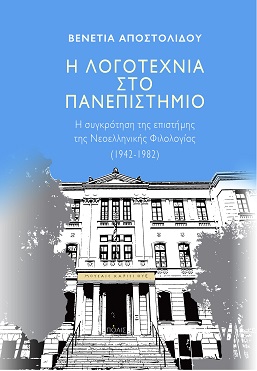 Title: Literature at the University. The formation of the science of Modern Greek literature (1942-1982)
Author: Venice Apostolidou
Publications: Polis
Category: Review – Essay
Pages: 560
Dimensions: 24 x 17 cm
The shocking events of the 1940s, as well as the radical national and social crisis they caused, turned interest to the study of the history and literature of modern Hellenism.
During the dictatorship and the post-dictatorship period, interest in modern Greek literature intensified. How are these developments reflected in the study of literature at the University, in the consolidation and development of the science of Modern Greek Philology? development of a science means determining its relationship with neighboring Sciences, in our case Ancient Greek philology and modern history. Development of Science also means clearly articulating its differences from related extra-university activities, such as literary criticism, but also responding to new challenges, such as the theory of literature.
The book traces the course of development of Modern Greek literature in the philosophical schools of Athens and Thessaloniki. In its entirety questions are asked such as: what is the scientific device with which the philologist is called to teach? what are his perceptions (beliefs, values, prejudices) about literature, about language, about criticism, and theory? What is the educational capital that the study of modern literature brings in relation to the absolutely indisputable chapter of antiquity; The answers to the above questions are given and given again with different variations at each time of the period under consideration, and perhaps, their re-examination will help our collective self-knowledge and the search for answers that fit our own times.
Biography of the author
Venice Apostolidou was born in Thessaloniki in 1961. She is professor of Modern Greek literature and literary education at the Department of Primary Education of A.P.I. He has written the books:
Kostis Palamas historian of modern Greek Literature, Foundation, 1992, literature and history in the post-war left: the intervention of Dimitris Hatzis 1947-1981, Polis, 2003 (essay prize of approx. Read), trauma and memory: the prose of political refugees, Polis 2010 (State Prize for an essay from half a century). Also, in collaboration with Panagiotis track the book focusing on the "Big Square". An overview of the prose work of Nikos Bakolas, Sokoli publications, 2009.