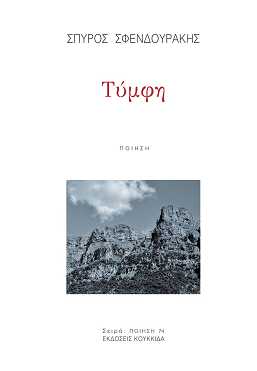 Title: Tymfi
Author: Spyros Sfendourakis
Publisher: Koukida
Pages: 58
Dimensions: 14 x 21 cm
Year of publication: 2022
The new book by the poet, writer, and Professor of Ecology and Biodiversity Spyros Sfenthourakis entitled "Tymfi" has been released by Koukkida Publications. The author's second poetry collection, following "Study in Life" (Vakxikon Publications, Athens, 2020), has a personal tone while, according to poetry critic Dimitrios Mouzakis, "his references to internal osmosis (are) more accessible and his invocations to everyday performances more substantial".
COASTLINE
A moon
A short breath from the edge
The leaves have lost their color and fall
A sea
A body naked, and sand
Froth on the legs and in the eyes light and thoughts
A wind
Two branches fighting
Coolness on the skin, only horror and ideas
A meteor
Burned out without been seen
The night that lost the color of fire
A sun
Never before so white
Without a day at infinity's frontiers
A victory
Dead seaweed on a dead body
The mouth does not laugh tasting saltness
A life
A nothingness that rises
A hum that is unable to reach the moon
Spyros Sfenthourakis was born in Agrinio (Greece) and grew up in Volos and Marousi. He studied Biology at the University of Athens, where he received his PhD. He worked for a decade at the University of Patras and today he is Professor of Ecology and Biodiversity at the Department of Biological Sciences of the University of Cyprus. He has published numerous scientific papers in the fields of Biogeography, Ecology and Systematics, in international scientific journals and has many noteworthy participations in national and international conferences.  He has edited and translated at least twenty scientific textbooks and popular science books, most of them on evolutionary biology and ecology. In addition to his scientific work, he is very interested in disseminating science to the general public, especially with regard to evolution. He is the President of the Hellenic Evolutionary Society (HEVOS), and member of the Boards of the Hellenic Zoological Society, the Hellenic Ecological Society, and the Society of Biological Sciences in Cyprus (SBSCy).