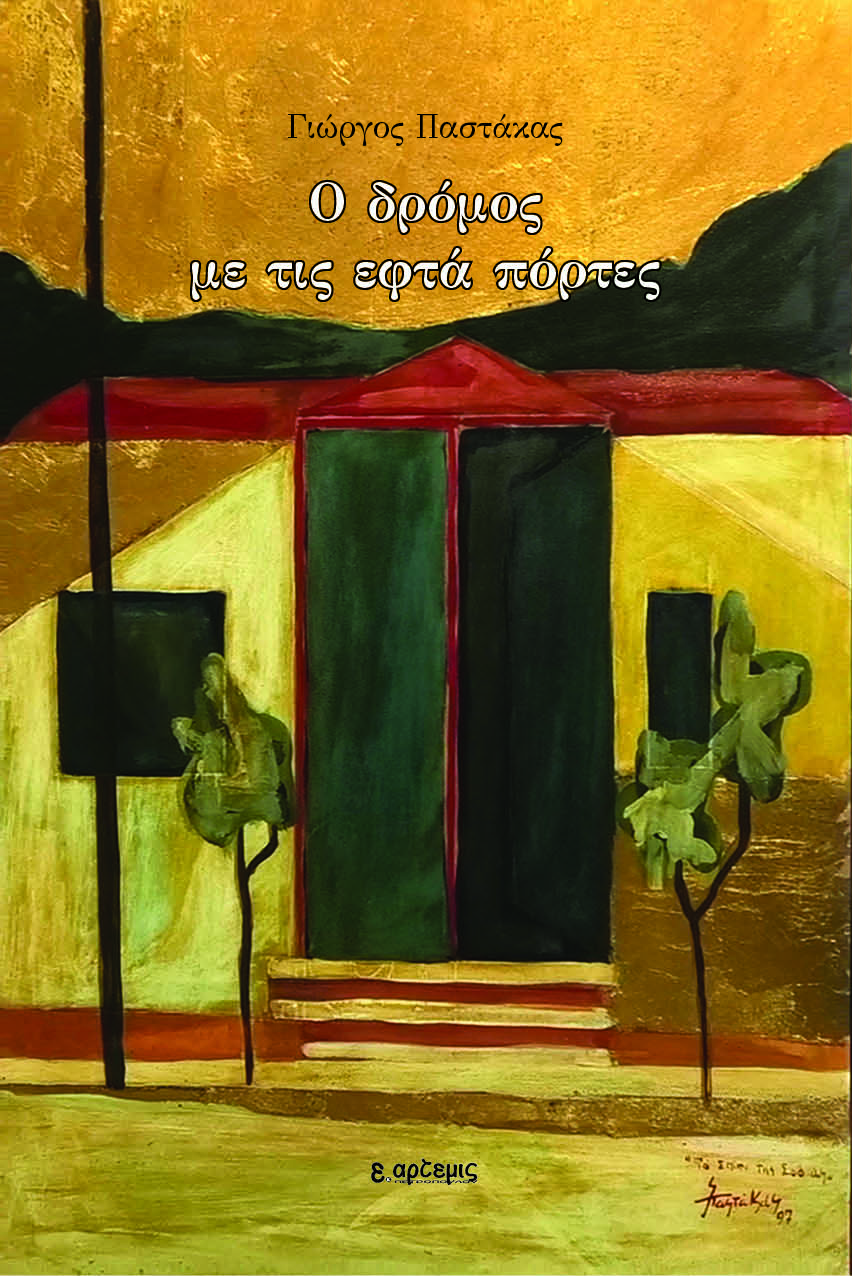 Title: The Road with Seven Doors
Author: Giorgos Pastakas
Date of publication: 2023
Publications: Artemis
Subject: Literature
Pages: 240
On Wednesday, June 14, the presentation of the book by Giorgos Pastakas The road with seven doors
Cafe restaurant "Ena nero…" (Foklionos Negri 57, Kypseli)
About the book will talk:
Kaiti Papadaki, philologist / writer
Argyro Proskolli, professor emeritus of EKPA
The event will be coordinated by the publisher Artemis Petropoulou
"I was born in August, on Athinon Street. The door was number 19.
It was red, at least that's how I remember it.
Heavy, iron, with two silver stars on the bottom.
I was born in August, on the street that led to the river.
My door red, like the month I was born, August 1956.
At its feet, water ponding after five in the afternoon,
and the cats licking the water from the puddles of broken concrete.
My door red, and her arms black and white,
likePantanassa in a Macedonian chapel in Prespa."
The first attempt on the literary path, of a sensitive man and artist, whom we have come to know so far through his painting creative process. Today we also know the writer George Pastakas, whose writing was a great surprise for us and motivated us to publish his work.
Giorgos Pastakas was born in Florina in 1956. He studied at the Royal Academy of Fine Arts in London. Since 1979 he has participated in group and solo exhibitions in Greece and abroad. His work and the course of his career are mentioned in the new Dictionary of Modern Greek Painters published by Melissa (published in 2000). From 1992 until today he has been engaged in the study and production of Byzantine icons, both with the traditional method and with the method of burning. Indicatively, he has exhibited in 1986 in Stuttgart, 1987 in Copenhagen, 1993 at La Defence in Paris with the exhibition Sacrae – Divinae, in Greece in 2014 at the Michael Cacoyannis Foundation and elsewhere. From 1992 to 2004 he collaborated with the Olympic Committee for the works that officially represented Greece during the Olympic Flame Lighting and the Awarding of the Olympic winners. In 2010 the artist began collaborating with the Piraeus Bank Group Cultural Foundation at the Museum of Marble Art of Tinos with the series The Traumas of Stone. Since 2015, he has been exhibiting at the Museum of the Environment of Stymphalia the artwork EktosAthlos, to which GiorgosKoumentakis has contributed with his music and Giorgos N. Maniotis with his text.