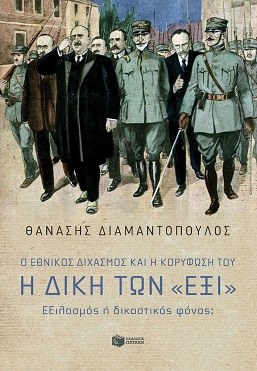 Title:
The national division and its culmination. The Trial of the Six. Atonement or judicial murder?
Author:
Thanasis Diamantopoulos
Kind:
Humanities and Social Sciences – History – Archaeology
Publications:
Pataki
Language:
Greek
Year of circulation:
2022
Pages: 320
Dimensions: 14 x 21
Public and Pataki Publications have the honour to invite you to the Public Café Syntagma for the presentation of the book by Professor Thanasis Diamantopoulos "The National Schism and its culmination The Trial of the "Six" Atonement or judicial murder?"
The presentation of the book will take place on Monday 31 October, the centenary of the Trial, at 20:30
The author will be joined in a conversation with the author on the issues highlighted in the book by
Former deputy prime minister and foreign minister,
Professor of Constitutional Law, Aristotle University of Thessaloniki.
Minister of State, Professor at the National and Kapodistrian University of Athens
Former Minister of Interior
Professor of the University of Athens, General Secretary of the Foundation of the Hellenic Parliament
The book will be presented by Professor Evanthis Hadjivassiliou, while the author will then discuss with the speakers the major issues highlighted in the book, such as extreme divisive fanaticism, the role of nationalist maximalism, as well as politically motivated criminal persecution of opponents.
A few words about the book
"A Schism without end.. Between two factions identified by the opposing side as "traitorous".. However, until the tragic 1922 at least, they were expressions of different versions of Greek "revisionist/liberationist" grand idealism and nationalism.. A Schism with a personal-centred background, of course (the conflict of the "two B's"), but also a social and ideological one, as well as one of economic goals and attitudes.. A prolonged quasi-civil war, which engulfed hatreds unimaginable and indelible.. And which led to judicial murders of "traitors", i.e. political opponents. Completing my research for this book – the most laborious and, in my eyes, the most important of all I have written – I was left with the question recorded in Winston Churchill's "war memoirs": "With so much done to them.. And so much that [they] did to themselves.. How did the Greeks survive?"
Th.D.
A few words about the author
For decades, Professor Thanasis Diamantopoulos has been a "struggling teacher" of Political Science/Political Science, political analyst and columnist, and is the author of a large number of scholarly works (primarily dealing with the Party Phenomenon, Political Regimes, Contemporary Political History, Systems of Governance, Electoral Systems and Political Institutions in general), but also of some literary works, of the historical novel genre. His works Institutions: crisis and rupture, Electoral systems. Theory and practical applications, The political system of the U.S.A., The parliamentary system of the coalition, The portrait of a leader. From the history of Mitsotakis to Mitsotakis of History, The National Schism and its culmination. The Trial of the Six. Atonement or judicial murder.