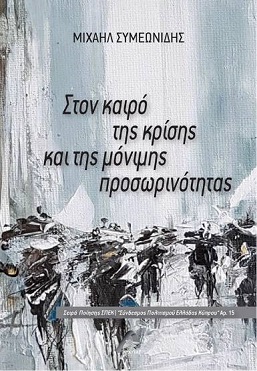 Title: Ιn the time of crisis and permanent temporality
Author: Michalis Simeonidis
Genre: Poetry
Publications: Archytas
Dimensions: 14cm X 20,5 CM.
Pages: 52
Michael Symeonides was born in Thessaloniki in 1986 and lived in Sykies, Thessaloniki until he became an immigrant. He studied political and Social Sciences at the Aristotle University,
the Democritus University and the University of Lausanne. Today he continues
his doctoral studies in political science and history. His main research
objects are those of immigration, the history of Greek political refugees
as well as Pontic Hellenism in the former USSR. He has been living away from Greece since 2016. Especially in the last five years he intervenes publicly with articles and notes in
newspapers and publications, while he also deals with poetry. After living in Lausanne, Switzerland, he now resides in Berlin. Among other activities he is involved with the Association of Greek scientists Berlin, of which he is president.
The collection "In the time of crisis and permanent temporality" is his first poetry collection to be published and is the fruit of the last five years of his life as an immigrant.
Archytas Publications, December 2022. Spec, Culture Association of Greece Cyprus
Poem: stranger among strangers (free translation from the greek version)
That's how you learned to live.
Stranger among strangers.
You the other and those others.
From another country.
How many more like you
from other countries and other continents
other language and other customs.
But there is something in common.
Look.
That look of worry but also of fearlessness.
For a country and a life you left behind.
A concern about the future you're building
and you hope to catch up.
What if you go back to big cities;
They are filled with empty people.
Empty from exploitation,
alienation and alienation.
Symptoms of the weather you will say.
You won't be wrong.
It's not fair to let them make you sick.
Because you know how to win.
Instead of a stranger within strangers,
become one with the many.