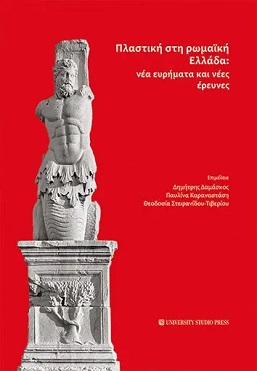 Title
Plastic in Roman Greece New findings and new research
Author:
Cooperative
Editing:
Dimitris Damaskos, PavlinaKaranastasi , Theodosia Stefanidou-Tiveriou

Subject:
Archaeology
Publication:
University Studio Press
Language:
Greek
Date of publishing
2022
Pages: 344
This volume contains the twenty-four papers presented by Greek and foreign speakers at the third international conference entitled "Roman plastic in Greece: new findings and new research", which took place in Athens in December 2019.
This was preceded by the 2009 conference in Thessaloniki entitled 'Classical tradition and modern elements in the plastic art of Roman Greece' and the 2014 conference in Rethymno entitled 'Sculpture and society in Roman Greece: artistic products, social projections'. The continuation of the organization of conferences and the publication of their proceedings stems from the organizers' conviction of the necessity of systematic engagement with the sculpture of this period in Greece.
The thematic axis of the third conference was the presentation of new findings, which were presented in a geographical classification (Athens, Attica, Peloponnese, Peloponnese, Euboea, Cyclades, Crete, Thessaly, Macedonia), while studies of a general and supra-regional nature were included at the end. Their internal classification is based on the type of sculptures. "Marble and style: permanent or selective relationship?", "Portraits of distinguished Athenians of the late third century AD", "The sculptural decoration of the Royal Gallery at Thera", "The imperial presence in Larissa through sculptures and inscriptions", "Burial monuments of Thessaloniki: False and disputed attributions", "Two Marble Statues from the Temple of Isis at Stobi" are some of the titles of the presentations.
Dimitris Damaskos is Professor of Classical Archaeology at the University of Patras.
PavlinaKaranastasi is Professor of Classical Archaeology at the University of Crete.
Theodosia Stefanidou-Tiveriou is Professor Emeritus of Classical Archaeology at the Aristotle University of Thessaloniki.