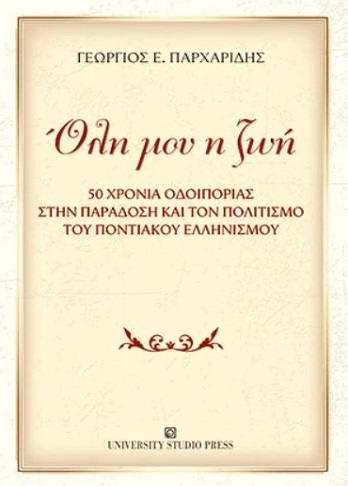 Title:
My whole life 50 years of travelling in the tradition and culture of the Pontic Hellenism. University Studio Press
Author:
George E. Parcharidis
Subject:
Literature
Edition:
University Studio Press
Lanjuage:
Greek
Year of publication:
2022
Pages: 432
In this book George Parcharidis writes about his Pontian ancestry. With his personal view he narrates everything he experienced during his journey. From the tobacco fields of Protochorio and Kozani, he reached the highest offices of medicine and cardiology, and served the Pontian community for five decades from all positions of responsibility.
Undoubtedly, George Parcharidis' entire life is Pontos. His works exude the aura of his unforgettable homeland. Student, doctor, university professor, family man, in all of his qualities the Pontian identity dominates… He was fortunate with his quiet and discreet presence, with the undivided support of Mrs. Foula to give his soul to his vision, to internationalize to the ends of the world the sacred and sacred of his native land.
(George Kyousis, from the preface of the book).
He belongs to the generation of children who started from the villages after the Second World War, experienced hunger, misery and injustice and was persuaded to escape from this situation with education as a guide. The discrimination he and his entire generation experienced as descendants of refugees was not few. But they steeled their will. They proved that the children of the Greek refugees of Pontus, despite all the difficulties, can succeed and proudly hold the Greek flag as primates.
(ForrisPetalidis, from the foreword of the book).
Ο Γιώργος Παρχαρίδης είναι ομότιμος καθηγητής ιατρικής του Αριστοτελείου Πανεπιστημίου Θεσσαλονίκης.