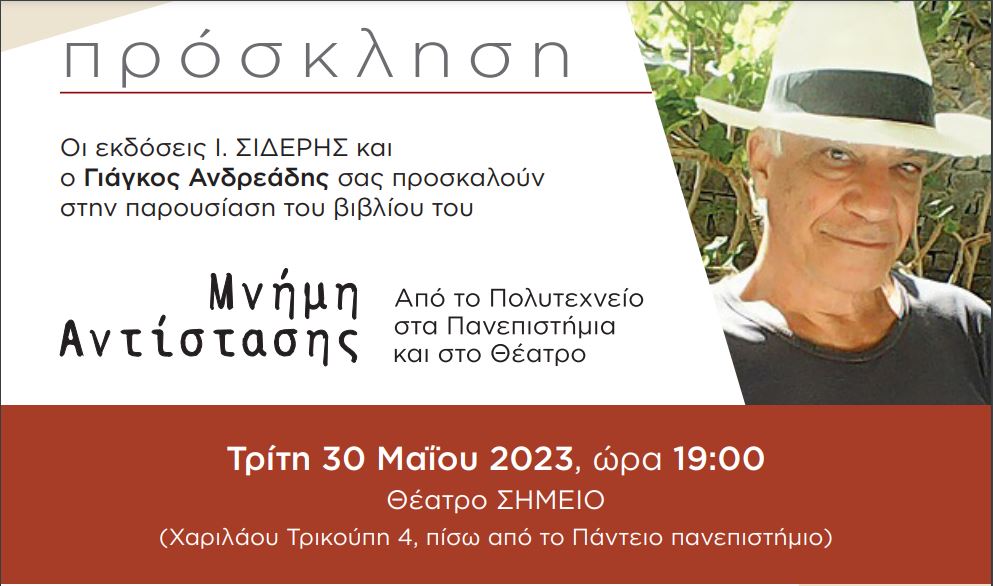 The book by Yagos Andreadis Memory of Resistance. From Polytechnic to Universities and the Theatre, the book is presented by I. SIDERIS Publications at the "Point" Theatre, 4 Charilaou Trikoupis Street, Kallithea, behind Panteion University, on Tuesday 30 May at 7 pm.
The motivation for the writing of this book was the debate in the previous parliament on the political management of the 1973 Polytechnic uprising in relation to security at universities and the students' mobilizations against the law on the university police and the PD 85/22 which equated the degrees of the higher theatre schools with high school diplomas. These issues are very important in themselves, but the book focuses on something that exists beyond them and will continue to exist whether they are resolved or not. It is about highlighting and defending the collective memory that is the foundation of politics, education, and culture: That which relates to the often forgotten or forged resistance of our people against the dictatorship and also to our cultural memory, in every field of education and creativity, starting with the theatre, which is particularly important for our country and for the world. In appendices to the book, the reader will find texts by Pepi Rigopoulou on the memory of the Polytechnic and by Pericles Korovesis on the torture he suffered in Bouboulinas and five interventions by leading university teachers from foreign countries on the guarding of the institutions in which they work.
The book will be presented by the historian Tasos Sakellaropoulos, the journalist Petros Efthymiou, the composer and performer Nena Venetsanou, and the leading actress of the Art Theatre Katia Gerou. The author will close by introducing a short performance inspired by a shocking performance of a tragedy in 51 BC in Asia, performed by Ms. Gerou.
The event will also feature twenty of the author's paintings – oils, tempera, and crayons – inspired by the theme of the book.