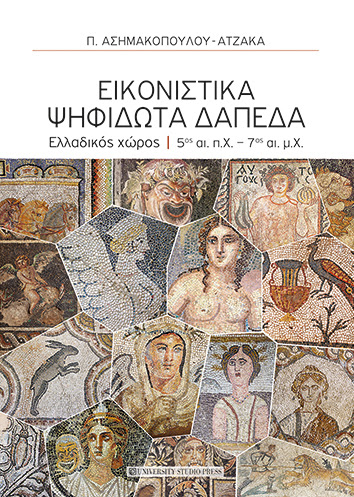 Title: Iconic mosaic floors, Greece, 5th century BC – 7th century AD.
Author: Panagiota Asimakopoulou-Azaka
Date of publication: 2023
Publisher: University Studio Press
Subject: Archaeology
Pages: 440
This is a panorama of the art of mosaic with figurative representations in Greece from the time of its appearance to the time of its final decline. The impressively large number of mosaic floors, which come to light every day, constitutes a true archaeological treasure, as it contains valuable information on almost all research areas: history, iconography, epigraphy, worship and religious beliefs, society, everyday life, artists, and their workshops. The publication pays great attention to the photographic material through which the issues raised are documented. The captions of the photographs complement the texts, while in the chapter 'Origin and bibliographical documentation of the images' the relevant bibliographical references are given separately for each image.
Greece was an important center for the production of mosaics – a place in which all the stages of the development of this art are represented. The geographical and chronological range covered by the book allows the reader to pass through all the mutations that this particular decorative genre has undergone in its long history: from the pebbled mosaic to the cut tessellated mosaic; from the opus tessellatum to the opus vermiculatum and the masterpiece emblems; from the polychrome to the black and white mosaic and from the black and white again to the polychrome; from the central representations to single layers; from national buildings to Christian ones; from the transformations of pagan representations into Christian ones and from the survivals of pagan iconography in the Christian world.
Panagiota Asimakopoulou-Azaka is Professor Emerita of the Department of History and Archaeology of the Aristotle University of Thessaloniki.