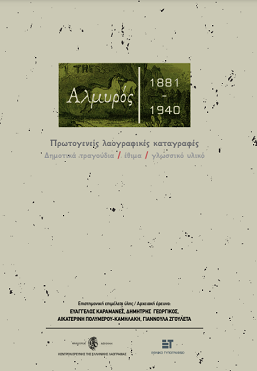 Title: Almiros 1881-1940. Primary folklore records. Folk songs, customs, language material
Scientific curation / archival research: Evangelos Karamanes, Dimitris Georgikos, Aikaterini Polymerou-Kamilaki, Giannoula Zgouleta
Genre: Folklore
Publications: National Printing Office
Pages: 102
The reason for the creation of the publication was the initiative of the National Printing House for the publication of primary archival and other material about Almyros and his region from the incorporation of Thessaly into the Greek state in 1881 until the Second World War with reproduction of the original documents.
In the publication are published two handwritten collections of folk songs by Christos K. Priakos, philologist, Student Of Nikolaos Politis at the School of Philosophy of the University of Athens, originating from the Kokotoi Almyros that come from the tutorial of N. C. Citizen at the Faculty of Philosophy.  They were deposited in the folklore archive of the Academy of Athens (SIM. Keel) after the death of The Citizen in 1921, by his family.  XP. Priakos compiled them as a graduate of the Faculty of Philosophy a few years earlier.  Also, the edition includes the one published in 1915, by N. C. Citizen in the journal "folklore" (Vol. E) collection of Priakos with Carols of the Epiphany and relevant customary material of the Almyros area as well as a small collection of songs of Harikleia Priakos.  This collection is kept in the manuscript archive of the Folklore Center (1954)and comes from the folklore tutorial of George I. Professor of Folklore at the School of Philosophy of the University of Athens.  Finally, a variety of linguistic material collected in Almyros by D is published. Poulakis which is kept in the Research Center of Greek dialects and Idioms – Historical Dictionary (Kedi-ILNE) of the Academy of Athens (1941).
The publication includes a preface by Evangelos Karamane, director of Keel and Dimitrios Georgikos, Special Secretary of the National Printing Office, texts by Evangelos Karamane entitled "Early folklore records in the area of Almyros" and Aikaterini Polymerou-Kamilaki on "the popular culture of the area of Almyros".