Event "Poetry for Poetry", for the World Poetry Day,
by the Cultural Organization of the Municipality of Patras, in cooperation with the Patras Music School
The Cultural Organization of the Municipality of Patras, on the occasion of the World Poetry Day, in collaboration with the Music School of Patras, organizes an event entitled "Poetry for Poetry". Students from the Literature Workshop of the Music School of Patras will read poetry for poetry and students from the Art Workshop will present an illustration-visual-poetry. There will be poetry set to music by Odysseus Elytis, Nikos Gatsos, Yannis Ritsos, Tasos Livaditis and George Seferis. The event will take place on Monday 21 March at 7.00 pm at the Municipal Theatre "Apollo". It is curated by the Patras Music School.
Performers:
Literary Workshop (Maria Psachou, Panagiota Milioni)
Choir conductor (Elena Droukopoulou)
Orchestra conductor (Iatridou Maria)
Associate Teachers (Gioni Evi, Samaras Theodoros, Syrrou Angeliki)
Art Workshop (H. Aedonidis, M. Kanistra)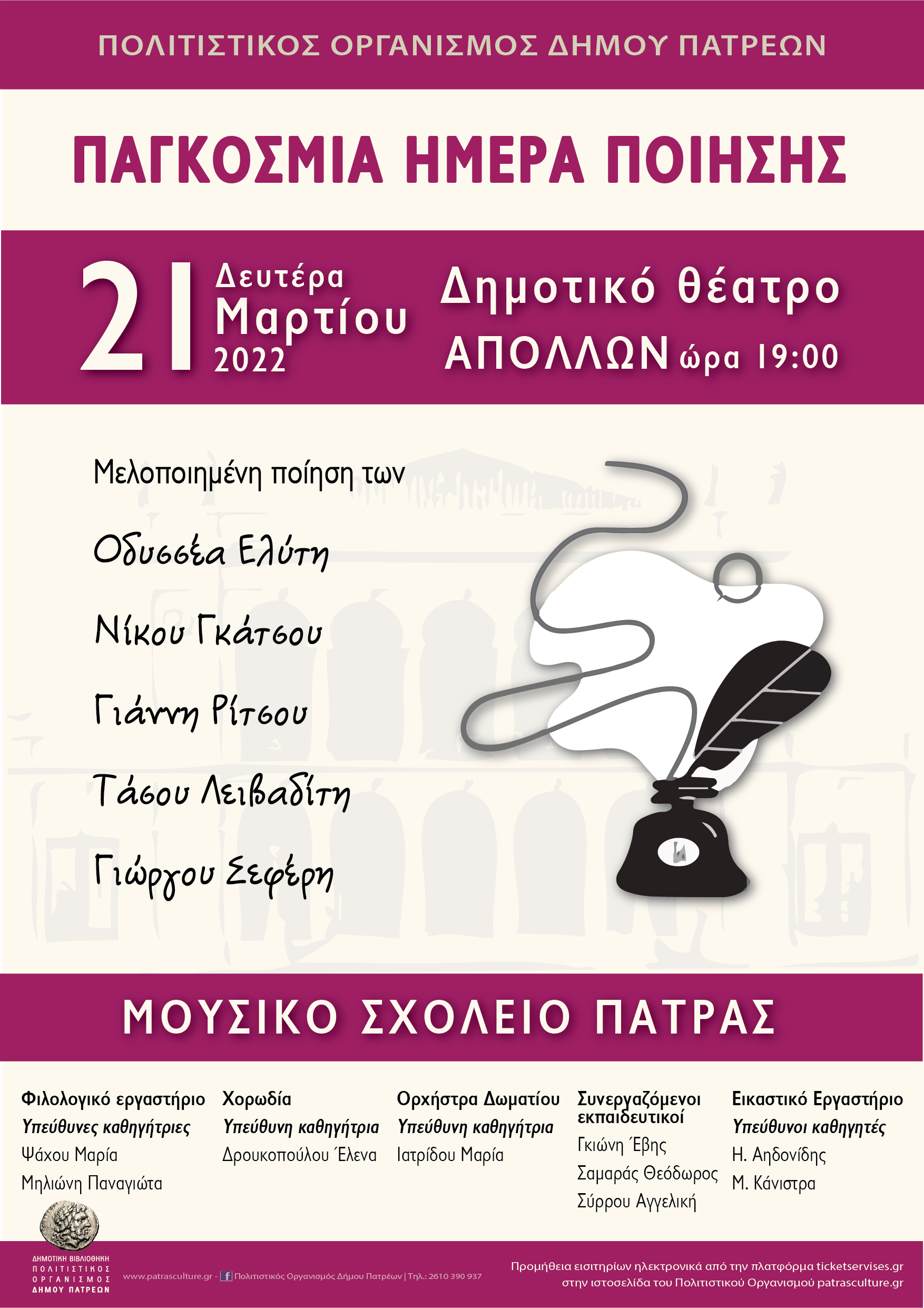 Admission to the event is free, with commission
tickets online from the platform ticketservises.gr
on the website of the Cultural Organization patrasculture.gr
During the event all the rules will be observed
During the event, all health protocols will be followed. The venue is open
as "pure" in accordance with the applicable health regulations.
For the admission of the public to the event, for spectators over the age of 15
17 years of age is required to show a valid certificate
vaccination certificate or certificate of disease.
For children from 4 to 17 years of age, alternatively
a self-diagnostic self-test declaration of the last
24 hours, or a PCR diagnostic test certificate (72 hours) or
rapid (48 hours). Admission is by wearing the mask and
by observing the distances both on arrival and during
and during the events.
In any case of demonstration of an official document, it will
an identity check shall be carried out at the same time
holder.