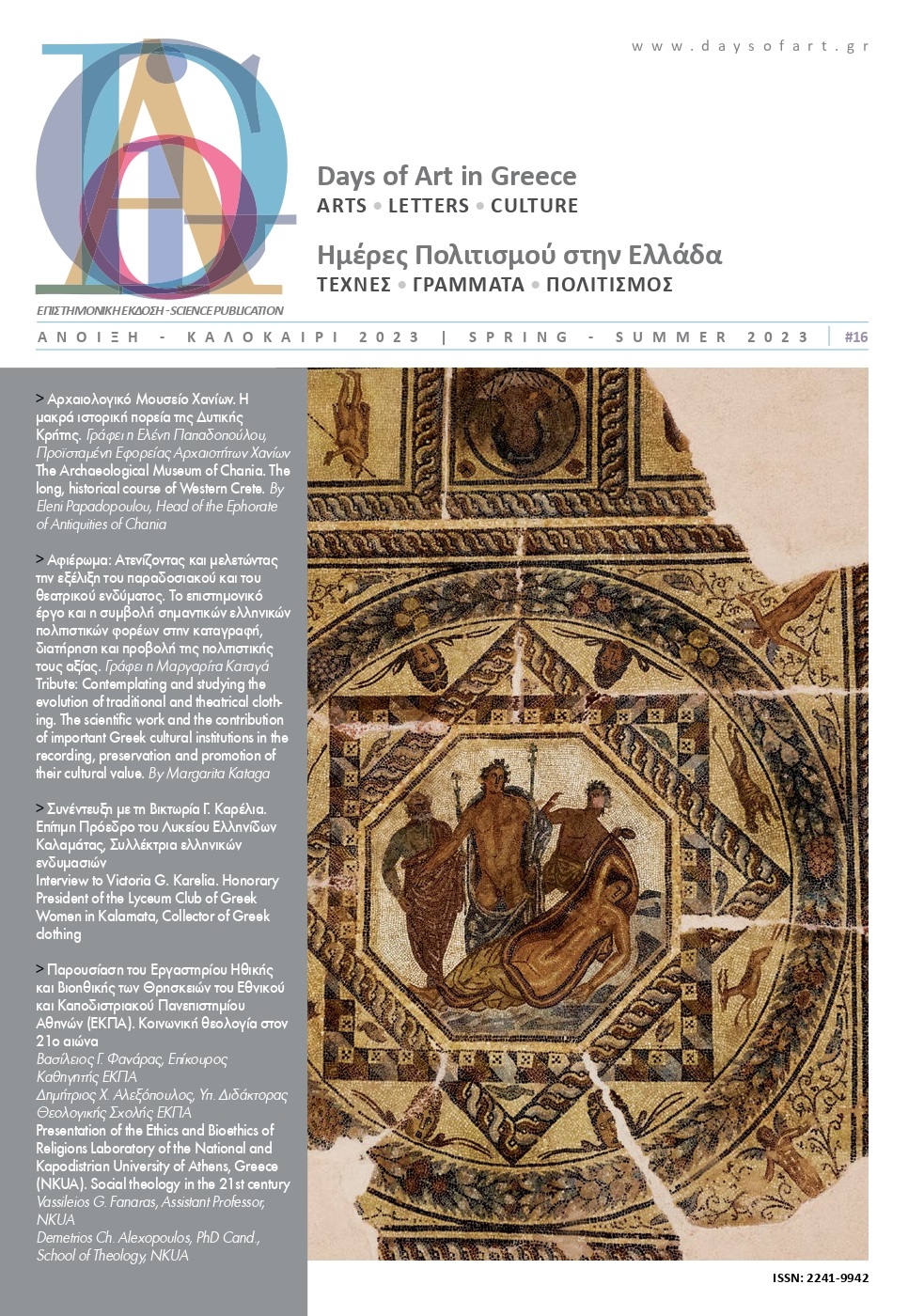 Days of Art in Greece published its 16th bilingual issue with the aim of promoting contemporary Greek cultural production in the country and abroad.
We have the pleasure, also in this issue, to host articles by people with great careers in the artistic, scientific and academic fields.
Continuing the effort to highlight contemporary Greek culture, the pages of the issue highlight artistic production, philosophical thought, scientific research, publishing activity and the work of Greek artists.
The contents of the issue include, among others:
The Archaeological Museum of Chania. The long, historical course of Western Crete.
By Eleni Papadopoulou, Head of the Ephorate of Antiquities of Chania
Tribute: Contemplating and studying the evolution of traditional and theatrical clothing. The scientific work and the contribution of important Greek cultural institutions in the recording, preservation and promotion of their cultural value.
By Margarita Kataga 
Interview to Victoria G.Karelia. Honorary President of the Lyceum Club of Greek Women in Kalamata, Collector of Greek clothing.
Presentation of the Ethics and Bioethics of Religions Laboratory of the National and Kapodistrian University of Athens, Greece (NKUA). Social Theology in 21st century
Vassileios G. Fanaras, Assistant Professor, NKUA 
Demetrios Ch. Alexopoulos, PhD Cand., School of Theology, NKUA
And the permanent sections
Museum-Destinations
The Kotsanas Museum of Ancient Greek Technology

Basil Papantoniou Foundation

The folklore Museum of Koita
The Library of the Holy Monastery of St.John the Theologian at Patmos
The Diachronic Museum of Larissa
The Mountain Museum of Karpenissi
Caratheodory Museum
Botanical Museum of the Siatista Mountaineering Association "Bourinos"
Days of Art
Days of Reading
Index 
At the same time we continue to expand our list of subscribers by adding important libraries of universities, museums, foundations and cultural institutions in Greece and abroad.
The publication Days of Art in Greece has been certified by OSDEL as "scientific".
The website www.daysofart.gr is updated daily. The aim of the online publication is the systematic and daily promotion of culture, art and literature.
Days of Art in Greece
Year: 2023
Pages: 258
Technical Features: 17 x 24 εκ.
Paper: garda pad kiara and writing paper.